CREATIVITY-COMMUNITY-COMMERCE / The Business of Jazz
March 13, 2018
5 pm
The Business of Jazz
Bedford Concert Hall  |  Mar 13  |  5 pm
As part of our Jazz Week, we have invited John Dye, the owner of the Jazz Estate, a cocktail lounge and jazz club in Milwaukee. In an interview format, he will discuss his commitment to jazz music and his inventive strategies that enable musicians who play it to thrive. The conversation will begin in the Bedford Concert Hall at 5 pm followed by an "Arts Mixer," sponsored by the Kenosha Commission on the Arts, and a Jazz concert—We Six—at 7 pm.
Contact(s):
Rita Box Office
2625952564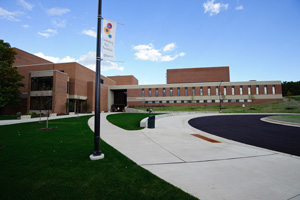 Rita Tallent Picken Regional Center for Arts and Humanities
Rita Tallent Picken Regional Center for Arts & Humanities anchors the west side of campus. "The Rita" features theatres, art galleries, classrooms, rehearsal halls, Fireside Theatre Scenic Studios and the magnificent Frances Bedford Concert Hall.