Public Speaking Night
May 07, 2019
7 pm
Student Center Cinema
The bigger the crowd, the better the experience for a lineup of students hand-picked by their peers to represent their class in a high-energy speech competition designed to transform classroom presentations into a full-on and friendly public speaking battle.
The purpose of Public Speaking Night is to give beginning speech students experience talking to a large audience. Contestants were elected by their peers to give a 6-minute persuasive speech showcasing the skills taught in our SPCH 105 classes.
Agenda
7 pm  |  Welcome
Bonnie Peterson, Bianca Ruffolo
7:05 pm  |  Introductions
7:10 pm  |  Student Speeches
8:20 pm  |  Door Prize Drawing
Must be present to win
8:25 pm
Award Presentations
Selection Criteria
Accuracy of Time
Audience Analysis
Extemporaneous Style
Persuasive Technique
Verbal & Nonverbal Delivery
Call to Action
PowerPoint

Public Speaking Night Contestants
Crystal Egbo, Sophomore, Pre-Law
Fredrick Apeh Jr, Sophomore, Biological Sciences
Cheyenne Grant, Senior, Marketing/Graphic Design
Chris Hook, Senior, Pre-Engineering 
Yianna Kirimis, Sophomore, Economics
Sierra Sansudsavat, Sophomore, Elementary Education
Thomas Wortz, Freshman, Political Science/Secondary Education

Public Speaking Judges
Elizabeth Snyder is a Kenosha native and a graduate of Bradford High School, Carthage College and UW-Madison. She has worked as a newspaper journalist for almost 30 years, including reporting/editing jobs with the Shelbyville News in Shelbyville, Ind. and the Kenosha News, where she is a local columnist and entertainment writer/editor. In her spare time Elizabeth Snyder is also charter member of the University of Wisconsin-Parkside Community Band and a member of the Kenosha Pops Concert Band, playing in the bands' flute sections.
Joanne Williams graduated with honors from Northwestern University then working for WTMJ- TV in Milwaukee. She moved to WGN-Radio & TV in Chicago as a reporter, writer and part-time weathercaster. Ms. Williams returned as WITI-TV's Community Relations Director in 1978.  In 1982, Joanne joined WITI newsroom as a reporter and anchor. Today, Joanne is the host and segment producer for Milwaukee Public Television's award-winning "Black Nouveau".  She is an independent filmmaker, producing a new documentary "Kaukauna & King: 50 Years Later" which explores Wisconsin's hidden history.
Sponsors
Speech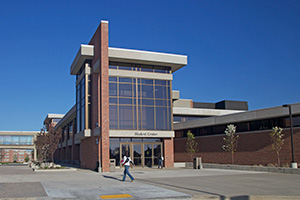 Student Center
The Student Center is a place to grab a quick bite, meet a friend for coffee, hold a meeting or simply sit in a comfortable chair and study. It also houses Academic offices such as Admissions, New Student Services, and the Student Involvement Center.