MUSIC: UW-Parkside Wind Ensemble and Community Band
April 26, 2018
7 pm
University of Wisconsin-Parkside
Wind Ensemble and Community Band
Thursday, April 26
7:00pm
Bedford Concert Hall, University of Wisconsin-Parkside
Admission: $5 student/faculty/staff/senior  $10 general public
Parkside Concert Features Two Faculty Soloists
Faculty soloists Russ Johnson, trumpet and Suzanne Geoffrey, English horn will perform Aaron Copland's Quiet City with the UW-Parkside Wind Ensemble on Thursday, April 26 in Bedford Hall on the University campus.
Conductor Laura Rexroth says, "If you had to pick one composer who's music represents 'The American sound', it would be Copland.  Everyone recognizes his singular colors in pieces such as Appalachian Spring, Billy the Kid, or Rodeo.  Quiet City is unique in that it evokes an urban landscape with the same Copland sounds we know and love.  The work was originally composed for a play by Irwin Shaw of the same name in 1939.  Copland says, 'The script was about a young trumpet player who imagined the night thoughts of many different people in a great city and played trumpet to express his emotions and to arouse the consciences of the other characters and of the audience.'"
Rexroth continues, "I am so pleased that my colleagues have agreed to perform this beautiful work with us.  I believe it showcases their considerable expressive talents and their gorgeous sound.  And it is such a treat for the listener to hear the unusual combination of English horn and trumpet as soloists."
Suzanne Geoffrey says, "I have performed Copland Quiet City many times with strings. It will be a great experience to perform this piece with the band! I am very much looking forward to this concert."
Also on the program is American composer John Barnes Chance's vibrant Variations On a Korean Folk Song, the dark and beautiful Colonial Song by Percy Grainger, and Robert Russell Bennett's Celebration.
The UWP Community Band will perform Fanfare for a New Era by Jack Stamp, Carmen Dragon's stirring version of America the Beautiful, Overture to Nabucco by Giuseppe Verdi, and David Gillingham's energetic and lovely With Heart and Voice.
For tickets or more information, contact the UW-Parkside Box Office at 262-595-2564.
Contact(s):
Rita Box Office
2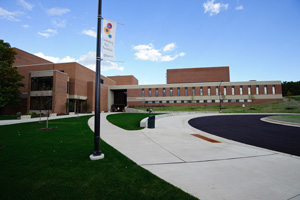 Rita Tallent Picken Regional Center for Arts and Humanities
Rita Tallent Picken Regional Center for Arts & Humanities anchors the west side of campus. "The Rita" features theatres, art galleries, classrooms, rehearsal halls, Fireside Theatre Scenic Studios and the magnificent Frances Bedford Concert Hall.