GALLERIES: Reception for Ungrounded - Senior Showcase
December 12, 2018
4:30 pm - 6:30 pm

The Rita, Foundation Gallery
Ungrounded
Senior Showcase
Foundation Gallery
Dec 10-15  |  Andres Vences Moreno & Shelby Nesmith
Reception  Dec 12  |  4:30-6:30 pm
Ungrounded is an exhibition consisting of two senior portfolios are juxtaposed from each other. Shelby Nesmith's creations revolve around the chemical and neurological connections of memories that are unique to her relationships as she composes her work through screen printing and welding. Andres Vences Moreno's large-scale, oil paintings evoke the eerie emptiness of space. His compositions cause the viewer to ponder about physical realm one takes up with complex layering of vibrant colors that slowly transform into a muddied mess.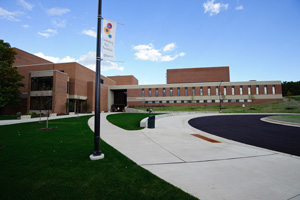 Rita Tallent Picken Regional Center for Arts and Humanities
Rita Tallent Picken Regional Center for Arts & Humanities anchors the west side of campus. "The Rita" features theatres, art galleries, classrooms, rehearsal halls, Fireside Theatre Scenic Studios and the magnificent Frances Bedford Concert Hall.