Polish History and Culture: Poland's Independence
January 08, 2019
10 am - Noon

Poland's Independence
January 8  |  10-12 pm  |  MOLN 107
Doctoral Candidate, Martin J. Kozon, will discuss Poland's struggle for independence in the tumultuous 20th century, from reborn statehood in 1918, WWII, and all the way to its break from communism in 1989 to modern times.
MARTIN J. KOZON
Martin J. Kozon hails all the way from Connecticut, and is currently pursuing his doctoral degree in Modern European History at the University of Wisconsin-Milwaukee. Under the supervision of Professor Neal Pease, his field of interest lies in 20th century Poland with a concentration on the interwar period (1919-1939). He completed his Master's degree at UWM in 2015, with a thesis on Polish foreign policy under Józef Piłsudski and the Sanacja regime. While his research interests generally deal with authoritarianism and contested borderlands in East Central Europe, he has also examined the impact of historical rivalries on soccer, as well as Polish satirical films analyzing the socioeconomic conditions within the Polish People's Republic (1944-1989). 
Sponsors
Sociology Department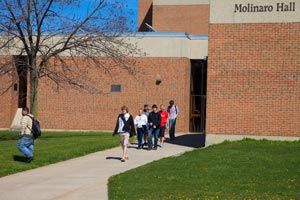 Molinaro Hall
Molinaro Hall provides offices for liberal arts faculty as well as laboratories and classrooms for the College of Business, Economics, and Computing, and houses a newly remodeled space for a ceramics and sculpture art studio.