GALLERIES: Reception Events
April 11, 2019
5 pm - 7 pm

Reception for 26th Parkside National Print Exhibition: It's NOT Small Anymore!
April 1-June 30  |  Fine Arts Gallery
Reception April 11  |  5-7 pm
2019 marks the 26th presentation of the Parkside National Print Exhibition and over thirty years since the first show opened at UW-Parkside. Sarah Smelser, Professor of Art at Illinois State University and co-founder of Manneken Press, will jury this years exhibition. The Parkside National Print Exhibition is one of the longest-running competitive print exhibitions in the Midwest and was originated by Doug De Vinny, UW-Parkside Faculty Emeriti. One change this year is the removal of small, there are no longer size restrictions to print submissions.
Reception for Scholarship Recipient Exhibition
April 3-April 17  |  Mathis Gallery
Reception  April 11  |  5-7 pm
Reception for Tom Berenz Exhibition
Mar 25-April 17  | Foundation Gallery
Reception April 11  |  5-7 pm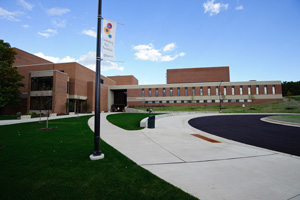 Rita Tallent Picken Regional Center for Arts and Humanities
Rita Tallent Picken Regional Center for Arts & Humanities anchors the west side of campus. "The Rita" features theatres, art galleries, classrooms, rehearsal halls, Fireside Theatre Scenic Studios and the magnificent Frances Bedford Concert Hall.