GALLERIES: 26th Parkside National Print Exhibition: It's NOT Small Anymore!
April 01, 2019
All Day
April 1-June 30  |  Fine Arts Gallery
Reception  April 11  |  5-7 pm
2019 marks the 26th presentation of the Parkside National Print Exhibition and over thirty years since the first show opened at UW-Parkside. Sarah Smelser, Professor of Art at Illinois State University and co-founder of Manneken Press, will jury this years exhibition. The Parkside National Print Exhibition is one of the longest-running competitive print exhibitions in the Midwest and was originated by Doug De Vinny, UW-Parkside Faculty Emeriti. One change this year is the removal of small, there are no longer size restrictions to print submissions.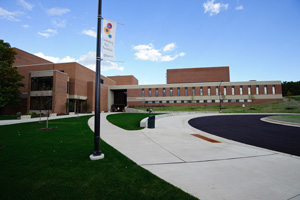 Rita Tallent Picken Regional Center for Arts and Humanities
Rita Tallent Picken Regional Center for Arts & Humanities anchors the west side of campus. "The Rita" features theatres, art galleries, classrooms, rehearsal halls, Fireside Theatre Scenic Studios and the magnificent Frances Bedford Concert Hall.