FILM: She Remembers, He Forgets (Free student screening)
February 24, 2019
5 pm
She Remembers, He Forgets
Feb 21-24  |  2015  |  Hong Kong  |  Adam Wong  |  Cantonese Language  |  108 min
In this charming and thoroughly entertaining film that touches your heartstrings, Gigi married her high school sweetheart, Shing-wah, but their marriage has turned stale. At a high school reunion, she reminisces about her happy days when she was a high school student. One of the strengths of writer/director Adam Wong's film, is its recognition of mistakes without judgment. Everyone has past decisions they would do differently given the chance, and were this a fantasy film Gigi might get that opportunity, but it's not, so she's stuck with her choices. A movie for anyone who's ever been in love, married, or disappointed, She Remembers, He Forgets demonstrates what a romantic comedy can be when it's handled by professionals. 2016 Hong Kong Film Critics Society Awards: Fim of Merit. Read more on IMDb.
FILM DISCUSSION  Saturday, Mar 2  |  12-1 pm | Cinema
FREE STUDENT SCREENING  Sunday, Feb 24  |  5 pm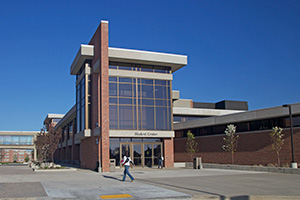 Student Center
The Student Center is a place to grab a quick bite, meet a friend for coffee, hold a meeting or simply sit in a comfortable chair and study. It also houses Academic offices such as Admissions, New Student Services, and the Student Involvement Center.