THEATRE: Urinetown The Musical
March 15, 2019
10 am
SPECIAL MATINEE PERFORMANCE A terrible water shortage caused by a 20-year drought has led to a ban on private toilets. People must use public amenities, regulated by a single company that profits by charging admission for one of humanity's most basic needs. Those who can't afford the fees are 'exiled' to a mythic place called Urinetown, never to be seen again.  One man must choose between following his heart towards love or a revolution that will lead the people to freedom.  The outcome of the revolution is unknown but malevolent corporate greed meets its match in this hilarious, Tony Award-winning satire.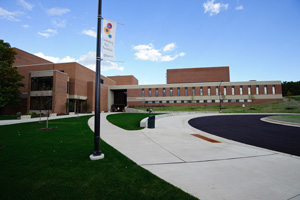 Rita Tallent Picken Regional Center for Arts and Humanities
Rita Tallent Picken Regional Center for Arts & Humanities anchors the west side of campus. "The Rita" features theatres, art galleries, classrooms, rehearsal halls, Fireside Theatre Scenic Studios and the magnificent Frances Bedford Concert Hall.