2019 UW-Parkside Student Showcase
April 24, 2019
1 pm - 5 pm

Student Center Ballroom
The UW-Parkside Student Showcase is a campus-wide event in which all UW-Parkside students (undergraduates and graduate students) involved in student-faculty collaborative research, scholarship, Community-Based learning (CBL), Poetry/Prose Readings, Oral Interpretations, and creative activities (performances, exhibits, etc...) and/or the Quick Pitch competition are encourage to participate. A project might be an independent work conducted outside of a classroom setting, in collaboration with a faculty/staff mentor, it could be a project associated with a course during the summer, fall or spring semester.
Quick Pitch presentation:
The 2019 Student Showcase will again include the Quick Pitch competition, which is run in collaboration with the WiSYS organization. Quick Pitch is a competition in which students give a short (3 minute) persuasive speech without visuals. The goal of these "elevator talks" (as they are sometimes described) is to persuade an audience of the importance and value of a topic, product, or project.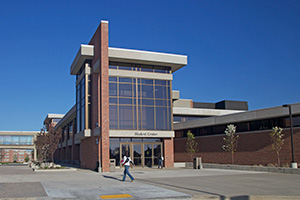 Student Center
The Student Center is a place to grab a quick bite, meet a friend for coffee, hold a meeting or simply sit in a comfortable chair and study. It also houses Academic offices such as Admissions, New Student Services, and the Student Involvement Center.