GALLERIES: Jacqueline Surdell: Straight Laced
September 03, 2019
9 am - 3 pm

Jacqueline Surdell: Straight Laced
Sep 3-Oct 9  |  Foundation Gallery
Reception Sep 19  |  4-6 pm
Jacqueline Surdell is an interdisciplinary artist and former collegiate athlete. Surdell's work draws from the rigorous discipline and directed stamina she practiced in her own athletic career, providing a lens for translating and abstracting the contemporary body. Surdell's large-scale installations draw attention to the tools and environments containing and displaying performances of power and skill, questioning the boundary between artist and athlete — challenging the internalized and gendered rules we use to give each meaning.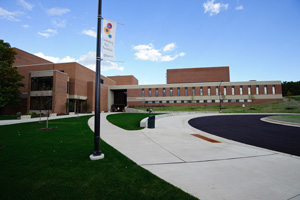 Rita Tallent Picken Regional Center for Arts and Humanities
Rita Tallent Picken Regional Center for Arts & Humanities anchors the west side of campus. "The Rita" features theatres, art galleries, classrooms, rehearsal halls, Fireside Theatre Scenic Studios and the magnificent Frances Bedford Concert Hall.