GALLERIES: Reception for Deanna Antony: What Remains
November 21, 2019
4 pm - 6 pm

Deanna Antony
What Remains
Nov 20-Dec 17 | Mathis Gallery
Reception Nov 14
Artist Talk Nov 20 | 5 pm | The Rita, L123
Deanna Antony '16 investigates identity and emotional repair with cut fabrics. With her scissors, she gives new boundaries and parameters to function within. By sewing pieces together and stuffing them, she creates new, biomorphic forms. The results are objects invested with emotions and stuffed with memories, contrasted against the negative space surrounding them.
Gallery Hours
Tue-Thu  |  9 am-3 pm
By appointment (email gallery@uwp.edu)
Closed weekends and holidays
Gallery Director
Colin Matthes
262-595-2565
gallery@uwp.edu
About Parkside Galleries
We are educationally-driven with thematically-focused, interdisciplinary exhibitions. Although we do not have the staff to actively review all exhibition submissions, we invite artists to introduce themselves by sending an email with a link to a website address. We are always on the lookout for new and interesting work, especially if it intersects with our educational mission.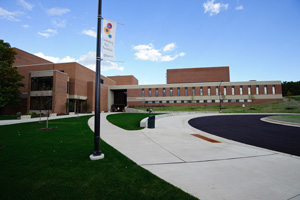 Rita Tallent Picken Regional Center for Arts and Humanities
Rita Tallent Picken Regional Center for Arts & Humanities anchors the west side of campus. "The Rita" features theatres, art galleries, classrooms, rehearsal halls, Fireside Theatre Scenic Studios and the magnificent Frances Bedford Concert Hall.