Smart Cities Brown Bag Series: What's So Smart About a City?
September 11, 2019
Noon - 1 pm

SEPTEMBER 11, 2019  
What's So Smart About a City?
Dr. Christopher Hudspeth
The term "Smart City" is fairly ubiquitous in the media. But what does it really mean? This presentation cuts through the glitz to reveal the not so secret heart of a Smart City.
SMART CITIES
The Smart Cities vernacular has become a prolific phrase in our community over the last year. Join us to consider the various issues raised by the development of wired and integrated cities. We offer a general education course, CPS 103 - Introduction to Smart Cities, which includes and encourages community participation at weekly brown bag lunches. These events are free and open to the public. You do not need to register or sign-up ahead of time--feel free to just show up! 
Parking information can be found here: https://www.uwp.edu/explore/directionsvisit/visitorparking.cfm
Sponsors
College of Social Sciences and Professional Studies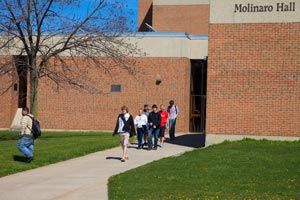 Molinaro Hall
Molinaro Hall provides offices for liberal arts faculty as well as laboratories and classrooms for the College of Business, Economics, and Computing, and houses a newly remodeled space for a ceramics and sculpture art studio.