Smart Cities Brown Bag Series: Blockchain is at the Downtown of Smart Cities
October 30, 2019
Noon - 1 pm

OCTOBER 30, 2019
Blockchain is at the Downtown of Smart Cities
Dr. Zaid Altahat
Public and private sectors are using blockchain technology to implement smart cities. Blockchain is the technology behind cryptocurrencies, such as Bitcoin. But it's much more than just that. Dubai & Moscow have used it to provide more secure solutions for their smart cities.
Social media increases our awareness of what's going on in the world but it can also generate unwarranted fears about victimization. From crime alert texts to tweets about the latest mass shooting, social media engagement can threaten our sense of security and alter the way we interact with others.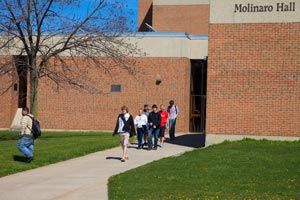 Molinaro Hall
Molinaro Hall provides offices for liberal arts faculty as well as laboratories and classrooms for the College of Business, Economics, and Computing, and houses a newly remodeled space for a ceramics and sculpture art studio.