Smart Armies: Technology's Impact On Forward Base Design
October 02, 2019
Noon - 1 pm

Presented by Major Daniel Bartlett
U.S. Military bases face the same technological and resource requirements as any city but often with very little organic support and in some of the most extreme and hostile environments in the world. This talk investigates the similarities and differences between forward deployed bases and modern cities.
Sponsors
College of Social Sciences and Professional Studies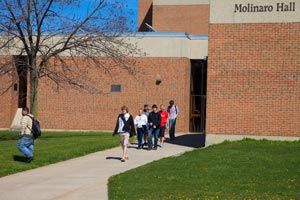 Molinaro Hall
Molinaro Hall provides offices for liberal arts faculty as well as laboratories and classrooms for the College of Business, Economics, and Computing, and houses a newly remodeled space for a ceramics and sculpture art studio.