Science Night: Watch the Sky with Just Your Eyes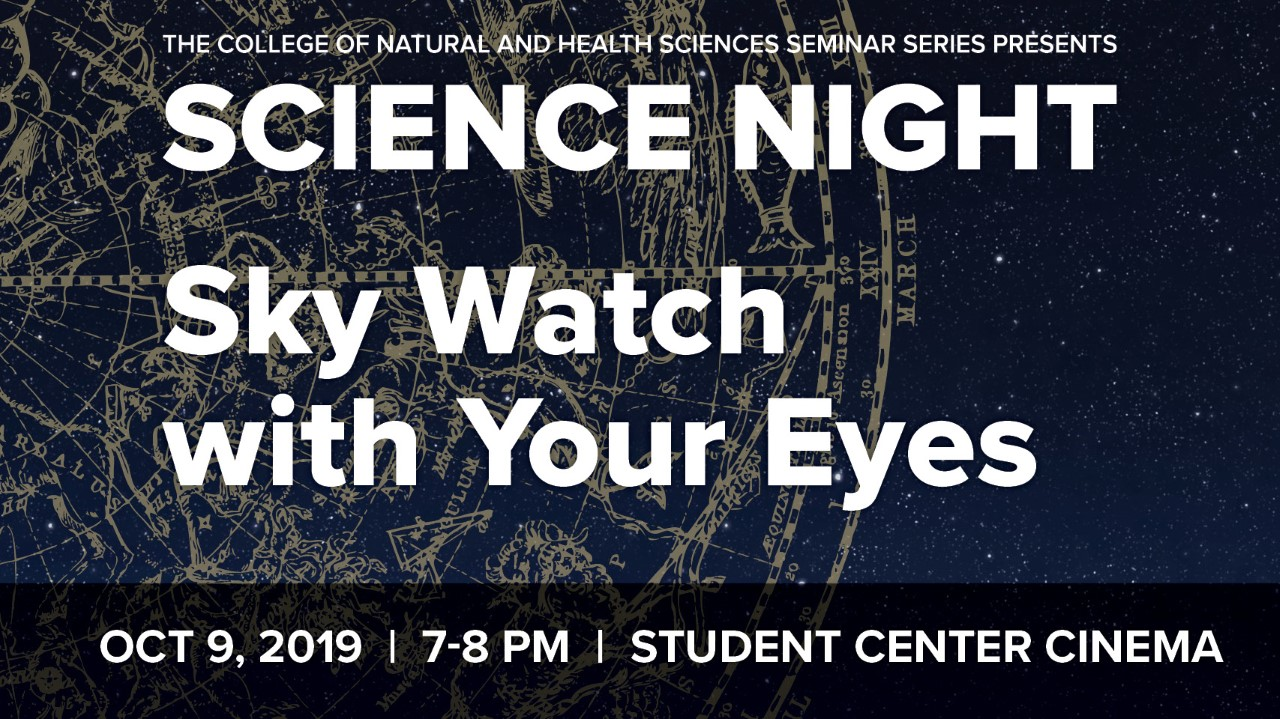 October 09, 2019
7 pm - 8 pm

Presentation: Watch the Sky with Just Your Eyes
Guest Speaker: Dr. William Parker
Location: Greenquist 103, 7:00pm- 8:00pm
Date: October 9, 2019
Beyond the airplanes, clouds, and birds, the sky is filled with views of vastly distant objects, some of which directly impact our daily lives. In spite of ever growing light pollution, you can still learn to appreciate the day and night sky and thereby feel at one with the cycles of the days, months, and years that these objects in the sky drive. Come find out how the Sun, Moon, stars, and planets move across our sky and learn the important points that we use to map the sky. With your eyes, brain, and a reference or two, you can become an astute skywatcher.
PRESENTED BY DR. WILLIAM PARKER
Dr. Parker received his B.S. in Physics and B.A. in Astronomy from the University of Texas at Austin in 2002. He completed his Ph.D. in physics in 2010 at the Ohio State University. His dissertation focused on optimizing and controlling approximations in the quantum Monte Carlo method when calculating solid-state properties due to electrons. Parker has published articles about defects and phase transitions in semiconductors and the electric, magnetic, and vibrational properties of ceramic titanates and multiferroic bismuth ferrite in such publications as the Physical Review B and Scientific Reports. He was a postdoctoral fellow and scholar at Argonne National Laboratory's Materials Science Division and Leadership Computing Facility for five years and taught physics at Benedictine University in northeastern Illinois and both physics and astronomy at Ivy Tech Community College in southern Indiana.  Dr. Parker has been a member of the American Physical Society since 2002 and an assistant professor at UW-Parkside since 2016.
Going strong for 15 years, Science Night has become a staple of programs featured on Parkside's campus. Created by physics professor Dr. Mohazzabi, the series features exciting presentations and lectures about various math and science topics and issues. The series was designed to be enjoyed by students of all ages ranging from middle school age to 100+ year olds. This is a free event open to community members and of course UW-Parkside students. Follow us on Facebook for information about the next Science Night and other special events.
Science Nights occur from 7-8 pm every second Wednesday of the month during fall and spring semesters.
All are welcome!
Free parking after 6:30 PM  |  Refreshments provided
Sponsors
College of Natural and Health Sciences