Foxconn Recruiting and Information Session - FELP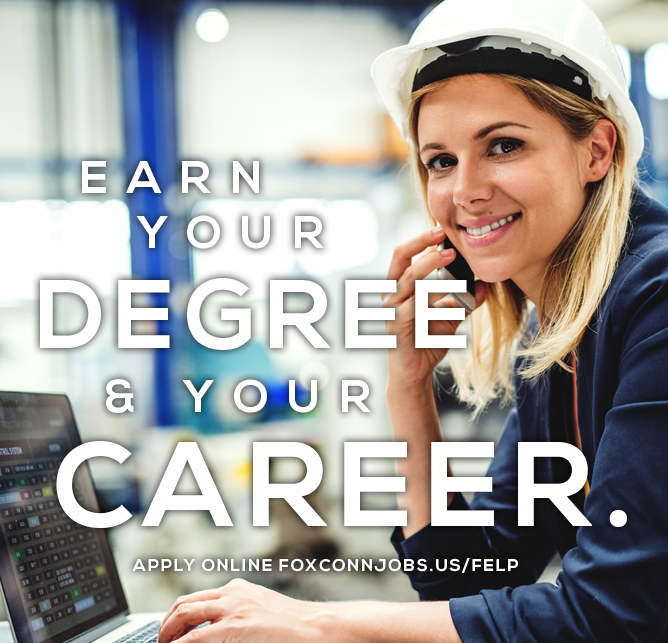 October 16, 2019
10 am - 3 pm

Foxconn will be hosting a recruiting and hiring event from 10 a.m. to 3 p.m. Wednesday, Oct. 16, at UW-Parkside in Upper Main Place of Wyllie Hall to promote the Foxconn Earn and Learn Program (FELP) and conduct interviews on-site.
FELP is a talent recruiting and development program that will allow students enrolled in select Wisconsin technical colleges and universities to work for Foxconn for up to six months as full-time FELP employees in training. Students will be provided time allowances to continue their studies to "earn and learn."
Foxconn is currently recruiting talent in Wisconsin for positions that cover a variety of areas and skill sets in industrial artificial intelligence, smart manufacturing, smart display, 5G networks, industrial big data, human resources, firmware engineering, finance, accounting, legal, business analysis, interior design, construction management, sales and marketing.
Foxconn representatives will be on site to hold interviews, and time slots will be scheduled on a first-come, first-served basis. Students simply need to walk up and sign up at the registration table. Interviews should last 15-20 minutes. Also, students are encouraged to send resumes ahead of time to earnandlearn@foxconn-wi.com.
Students can read more about the Trainee, Tech or Trainee, Non-Tech listings via Handshake below:
Students should register on site on Wednesday, October 16, by going to the Foxconn table in Upper Main Place.
More information about the program can be found on the Foxconn Earn and Learn website below:
Sponsors
Foxconn