Shutting the Door: The Roots of the Central American Migration Crisis & Shifting UW Policy
November 13, 2019
5 pm - 6:30 pm

Lecture addressing and discussing the root causes of the immigration issues facing Central American and the US, by Lisa Haugaard, co-director of the Latin America Working Group in Washington, DC. She has spearheaded advocacy on human rights and peace issues in Latin America for two decades. Lisa has testified multiple times before the US Congress and produced reports, memos, and blogs on human rights topics. Lisa is a specialist of Latin America and has participated in international human rights verification missions in Colombia, Mexico, and Central America on extrajudicial executions, human rights defenders, migrant rights, and electoral observation.
Sponsors
International Studies Club, Latinos Unidos,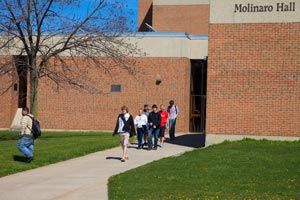 Molinaro Hall
Molinaro Hall provides offices for liberal arts faculty as well as laboratories and classrooms for the College of Business, Economics, and Computing, and houses a newly remodeled space for a ceramics and sculpture art studio.