THEATRE: FreshINK Stage Reading: Hope and Gravity
November 08, 2019
7 pm
Hope and Gravity
By Michael Hollinger
Nov 8 & 9  |  7 pm  |  Studio A
Nov 9  |  2 pm  |  Kenosha Creative Space
A Free FreshINK Staged Reading
When an elevator falls in a major city, nine lives intersect in surprising ways, both comic and tragic—through love and sex, poetry and dentistry; in offices, homes, and hotel rooms. Jill longs for Steve, who's engaged to Barb, who hooks up with Peter, who's already having an affair with Nan, who's married to Marty, who subscribes to Elevator World. Meanwhile, nine stories off the ground, Douglas meets Tanya—who's hoping to get pregnant with Hal—and a little miracle changes hands. By turns hilarious and profound, Hope and Gravity traces the barely perceivable threads that connect us all.
Tickets are not required for this free staged reading.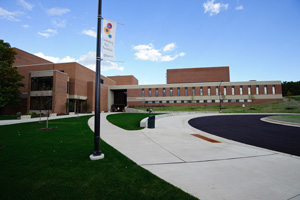 Rita Tallent Picken Regional Center for Arts and Humanities
Rita Tallent Picken Regional Center for Arts & Humanities anchors the west side of campus. "The Rita" features theatres, art galleries, classrooms, rehearsal halls, Fireside Theatre Scenic Studios and the magnificent Frances Bedford Concert Hall.