28th Parkside National Print Exhibition Catalog Release Event
Published: March 8, 2023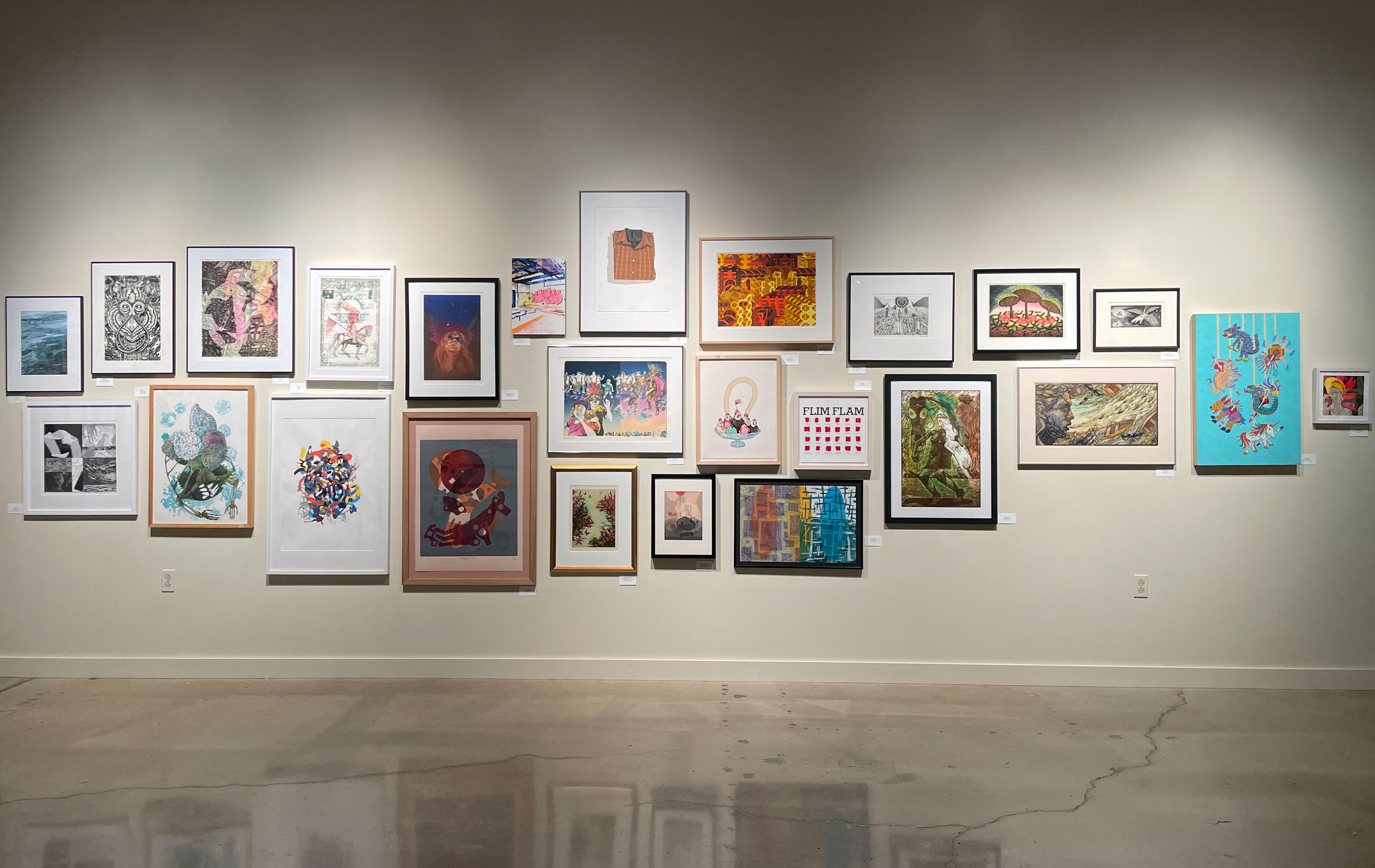 The University of Wisconsin-Parkside is pleased to announce the release of the catalog for the 28th Parkside National Print Exhibition. The event will take place on Thursday, April 6, from 4-6 p.m. at the Emile H. Mathis Gallery in the Rita Tallent Picken Regional Center for Arts & Humanities.
The Parkside National Print Exhibition features exceptional examples of original prints from artists across the country. Since its inception in 1987 by printmaking professor Doug DeVinny, the exhibition has been one of the longest-running competitive print exhibitions in the Midwest.
Juror Barry Carlsen, a printmaker and co-founder of Vox Populi Print Collective, selected eighty artists to exhibit, including three award winners. Best in Show was awarded to Andrew Polk for his photorealistic hand-drawn lithograph, Land of the Free. Second Place went to Kate Goodvin for her screen print with applied textiles, Modern Day Mother Earth. Our Third Place Winner, Kate Borching, won with a woodcut titled Fall Storm.
"The Parkside National Print Exhibition is a vital platform for showcasing the best prints in the country. The exhibition's longevity is a testament to the talent and creativity of artists throughout the United States," said Doug DeVinny, founder of the exhibition.
The Parkside National Print Exhibition promises to be an exciting and enriching experience for all visitors. The exhibition will run from February 14 to July 28, 2023, and is not limited in size or style. Attendees will have the opportunity to see the country's best prints, view the award-winning prints, and receive a free catalog featuring images of the 80 prints on display.
For more information on the exhibition, please visit https://www.uwp.edu/therita/artgalleries.cfm