Student Showcase
Published: April 15, 2016
More than 100 students participate
The 2016 University of Wisconsin-Parkside Student Showcase took place Wednesday, April 20, in the Student Center University Ballroom and Oak Room. Student Showcase and featured research and creative activity across an array of academic disciplines. More than 100 undergraduate and graduate students, and 30 UW-Parkside faculty members, were involved with research posters, oral presentations, musical performances, and art displays.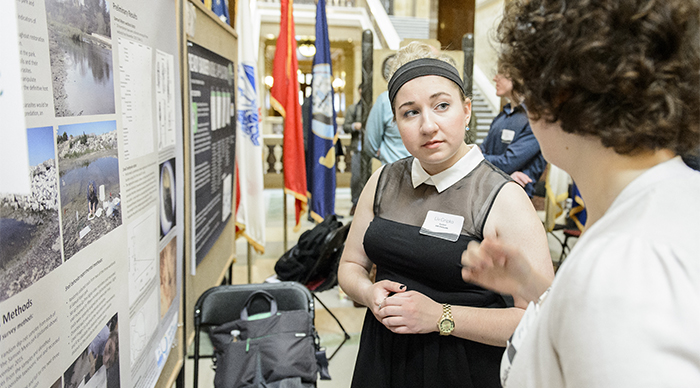 Liv Gripko explains her research during UW System Posters in the Rotunda at the State Capitol

In many ways, Student Showcase is a glimpse into the future of talent being developed at the University of Wisconsin-Parkside. Perhaps wetland-area research will protect and enhance the increasingly valued freshwater resources so prevalent in Southeastern Wisconsin. Maybe an emergency-management mobile app will save lives by providing key information at a moment's notice. And it's possible that a growing awareness around accessibility to healthy and affordable food will raise the quality of life for many.
Student Showcase is an opportunity to gain a better understanding of the value and relevance of a UW-Parkside education and the important element of student research. this year's event was also an opportunity to see research and creative activity that was part of the statewide UW System Symposium Friday, April 22, at UW-Stevens Point.