What's New in Discussions?
Forum / Topic Presentation

The Discussion list has been streamlined, allowing for the presentation of topics in an easy to scan format.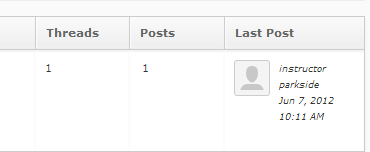 ---
Hide / Show All

For courses with a large number of Forums and Topics, a Hide / Show All Topics option has been added.


---
Subscribing to a Forum or Topic

In v10.3 you can now Subscribe to a forum or topic right from the forum or topic's Context Menu, along with all other actions for that forum or topic.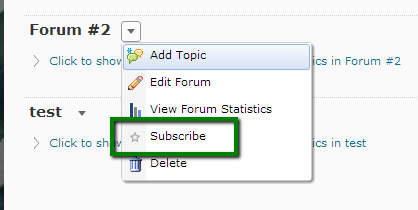 ---
Custom Notifications

With Custom Notifications, you have the option to "Show notifications in minibar only," "Send me an instant notification," or "Include in my summary of activity."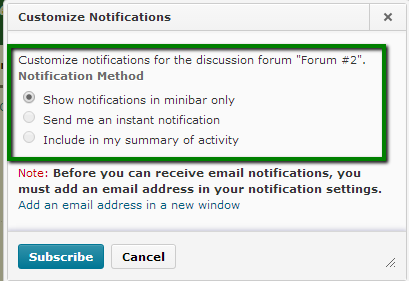 ---
Rating Options
Updates have been made to the manner in which Discussions uses Ratings. In v10.3 you can now set ratings on a per-topic basis, rather than for the entire course.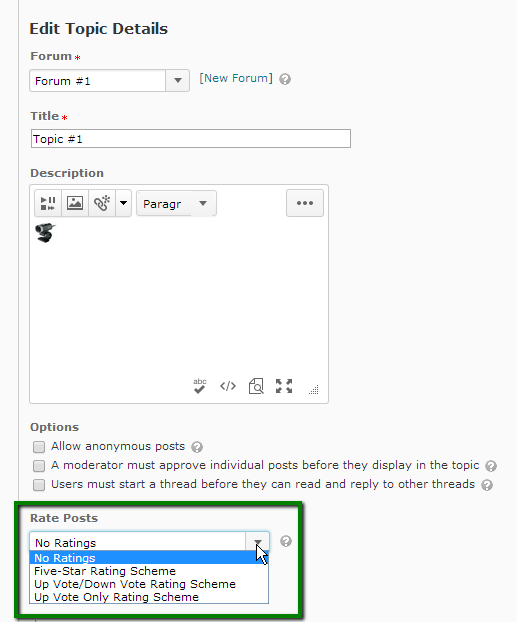 In addition to the existing 5-star Rating Scheme, two new rating schemes are introduced in v10.3. 
Up Vote / Down Vote Rating Scheme: Allows the class to vote posts up and down, giving each post a cumulative score.

Up Vote Only Rating Scheme: Allows the class to only vote posts up as a way to show agreement or approval.

---
Discussions Settings
To make it easier to use rating schemes, a default rating scheme can be set in Discussion Settings that will apply for all newly created topics as well as any topics imported to the course without a rating scheme set.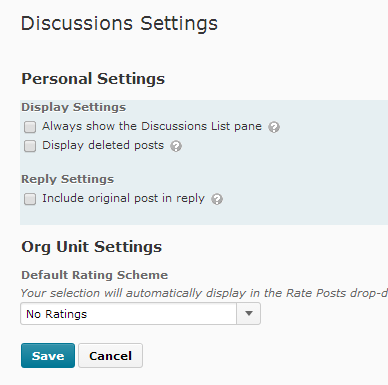 ---
Must Post to Participate
In v10.3, two improvements have been made to the Must Post to Participate feature. 
Set Posting Restrictions at the Forum Level: Restrictions that are set at the forum level will apply to all topics within that forum. this works well where instructors are making use of group topics in that now the option only has to be set once, rather than on each topic individually.

Override Must Post to Participate Restrictions: When granted this permission, a user can read and reply to a topic without first having to create a new thread. This works great for a user that needs to monitor but does not need full permissions to manage discussions, like a Teaching Assistant role.
---
Restore Deleted Topics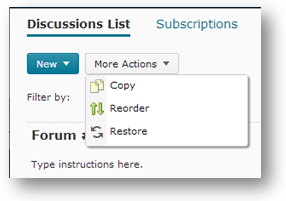 In v10.3, if you accidentally delete a topic or thread, you can now Restore them.