Creating a Successful Project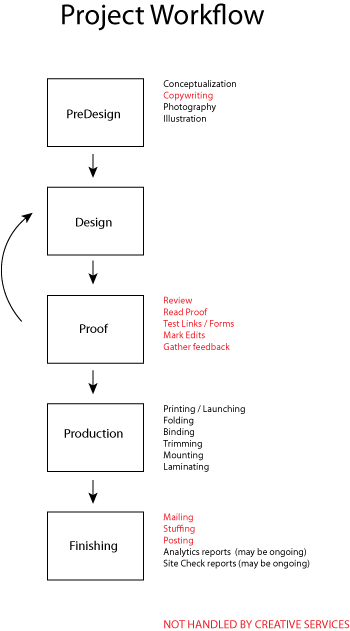 A project can be many different things, as simple as a bookmark to an entire marketing campaign with printed pieces and a website. To make your project successful, you want to make sure to have a plan in place. Creative Services will provide the best solutions for your project if you are able to communicate your entire plan to us at the start of your project.
Each phase of project planning takes time. Two main factors affect how long a project will take:

Project Scope
More complicated or extensive projects will obviously take more time. If you need a suite of materials, if printing has to go off campus, if you require a data base and forms for your website, these factors will increase the amount of time your project requires.


Calendar / Timetable
Like the rest of campus, Creative Services has times of the year that are busier than others. The sooner we know about a project and can schedule it the easier it will be to make your deadline.

The following represents how your project will flow through Creative Services. Knowing how your project fits in this workflow will make it easier to plan. Knowing which items in the workflow that we handle and those that we don't (those listed in red) will allow you to plan for things like writing copy or mailing.
If you have any questions about project planning, please feel free to call us.