Dean's Welcome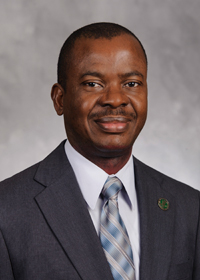 After reorganization initiated in 2010, the college of Natural and Health Sciences came to being formally on July 1, 2012.

Creation of the college affords a greater opportunity to achieve the campus vision of a dynamic learning community, a premier comprehensive public institution, and a destination of choice serving as a focal point of local, regional and global progress. Wherefore, our mission is commitment to high-quality educational programs, creative and scholarly activities, and services responsive to our diverse student population, and local, national and global communities.
The college is the academic home for students pursuing baccalaureate degrees and/or certificates in applied health sciences, biological sciences, chemistry, environmental studies, exercise science, sport management, geosciences, mathematics, molecular biology and bioinformatics, nursing, physics, psychology, an interdisciplinary minor in environmental studies, pre-health programs, and online degrees in sustainable management and health information management and technology. The college also offers master of science degrees in applied molecular biology and sustainable management.  
Faculty in the college are dedicated to the UW-Parkside promise through campus core values of academic excellence and rigor, student success, diversity and inclusiveness, community engagement, and a healthy and vibrant campus climate. One hallmark of the faculty is creating exciting experiential learning (applied research) opportunities for students. 
Additionally, we offer our pre-health major students many opportunities through consortium agreements and partnerships with other universities in the Chicago-Milwaukee-Madison corridor. More than 87 percent (180/206) of students have been successfully placed in the last five years into professional programs.

Emmanuel Otu, Ph.D.

Dean and Professor of Chemistry