Juried Student Exhibition
1st
Shelby Nesmith
Evolution
Wood & Metal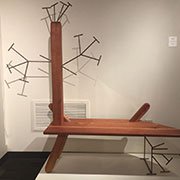 2nd Place
Omar Botello
Just A Dream
Charcoal on Painted Wood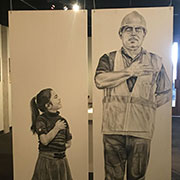 3rd Place
Lexi Shong
Stability
Poplar & Steel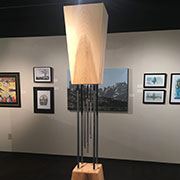 Honorable Mention
Hayden Cowan
Bruce
Woodcut Print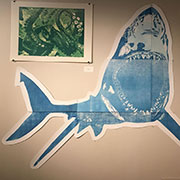 Entry Information
Entry Fee  |  $5 for one piece, $10 for three, $15 for five, $20 for seven, etc. This will be paid in cash or check made out to Parkside Art Club at the time of submission. 
No Entry Limit  |  All class work and independent work created by the artist is allowed. All mediums are welcome. No works that were accepted into past Juried Student Exhibitions will be considered for jury.
Media Submission Specifications  |  Works can be denied submission if they do not follow these requirements. Exceptions to these requirements can be granted if artistic intent is expressed in writing and attached to submission form.
Submissions must be prepared for gallery display. Any framed work, canvas, or panel have a wired back. 2D work that is not matted for framed should have a legitimate reason for not being hang ready. If the artist prefers for their work to be pinned, this must be stated.
3-D/Installation works must have an attached sheet with installation instructions.
Time based media (film/animation) must either be submitted on CD (labeled with title of work(s) listed in the order they appear as well as the artist's name/e-mail) or flash drive.
All Work Must Be Labeled  |  Tags will be proved. Print everything clearly! You may include a price if you intend to allow your piece to be sold. 
Awards Announcement  |  Awards for 1st, 2nd, 3rd and Honorable Mentions will be announced at opening reception. These will be selected by the Juror and granted to degree-seeking students only.
What is the Juried Student Exhibition?
The Parkside Juried Student Art Exhibition is a tradition started by Parkside Art Club. This Exhibition is run by students for students. The goal is to create a professional exhibition of student work on campus. This exhibition shows the finest examples of the amazing student work that has been created by artists studying at Parkside. We are honored to recognize these students for their achievements.
Important Date Information
Exhibition Date  |  Feb 8 - March 23  |  Mathis Gallery 
Sazzy B's Exhibition Date  |  Dates TBA (2D works only)
All art pick-up dates will be emailed.
Contact Brenna Eaves at eaves002@rangers.uwp.edu for any questions.