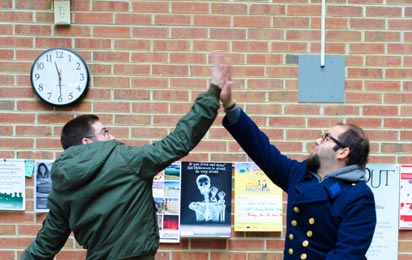 Writing Skills Requirement
The University's policy is that students must complete their writing and math skills requirements within the first 60 credits. If they have not successfully completed both of these requirements within the first 60 credits, a hold will be placed on their registration.
As far as the Writing Skills requirement is concerned, students are placed into ENGL 100 (Fundamentals of English), or ENGL 101 (Composition and Reading) based on the placement test(s), OR successfully completing prerequisite courses.
Students should complete the writing skills requirement in a timely manner.
Appeals for waivers or exemptions:
The English department will not exempt students from this requirement in the following situations:
Up to Spring 2011, SOLAR failed to enforce prerequisites, so many students have made the argument that since they passed ENGL 201 (Advanced Composition), ENGL 204 (Business Writing), some other 200 level English course, or a writing intensive course in their major, they should be exempted from composition. These courses have different content and different goals than ENGL 101 and therefore DO NOT meet the Writing Skills requirement, so you cannot 'jump' over the writing skills requirement in this manner. We will deny all students who try to appeal with that argument.
Failure to complete the Writing Skills requirement until graduation is also not a justification for waiving the requirement. The department will deny all students who try to appeal with that argument. Even if your advisor has failed to notify you of the problem, it's your responsibility to keep up with your graduation requirements. All of the information is available to you through the University Catalog, which can be accessed in print and web format. You can attempt to appeal to the University's Academic Actions Committee, but such an appeal will almost certainly be a waste of your time, as the department has never seen the AAC committee waive the writing skills requirement. Should you still wish to pursue this option, Academic Actions appeals are handled through the Advising Center.
There seems to be some confusion about whether the TOEFL (English proficiency) test exempts international students from the writing skills requirement. It does not, because it is an English Language proficiency test and has nothing to do with writing skills.
On the other hand, here are situations that may be negotiable and merit waiver or exemption:
The English Department's Composition Director can meet and speak with transfer students who have taken composition courses at other colleges or universities and feel that these courses should be counted as ENGL 101. Most courses will automatically transfer. If they don't transfer or transfer as a lower-level course than you think is appropriate, you can appeal with: the syllabus from the composition course(s) you've taken, and examples of writing assignments you've completed. You should make an appointment with the Composition Director, and leave your materials in the English office (CART 234) for him/her to examine before your appointment. You may also be asked to complete an on-site diagnostic essay. If you no longer have any materials from your previous composition course, then do not bother to appeal: you should go ahead and take the composition course in which you were placed.
The Composition Director can also speak with non-traditional returning students whose original placement test scores are out of date. If you took a course in the sequence (ACSK 090, ENGL 100, or ENGL 101), you cannot retake the placement test no matter how long ago the course was. If you did not take a composition course and are eligible to retake the placement test, you should know that retaking the placement test means that you risk getting placed in a lower level course and might have to take the whole sequence. Students who want to appeal to the English department instead of retaking the placement test should again bring in a portfolio of their writing, and should understand that they may be asked to complete an on-site diagnostic essay. Again, you should also deal with the issue right away and not wait until you approach graduation.

General Comments:
It is crucial to make any appeal in a timely manner. Writing courses progress very quickly and often have papers or drafts due within the first week of class, so it will not work for you to start in ENGL 100 and then try to drop it and add ENGL 101 in the same semester. Most ENGL 100 or 101 instructors will not agree to add you, and with good reason.
If you think there's a chance you may want to appeal to get placed into a higher-level course, you should contact the Composition Director during the previous semester or at least during the Summer or Winter Breaks, not at the beginning of the semester in which you want to take the course.