Stuart "Stu" Hansen
Associate Professor - Computer Science
Computer Science Department
Ph.D., University of Iowa, 1993
PHONE: (262) 595-3395
EMAIL: hansen@uwp.edu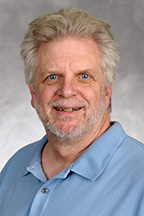 Prof. Hansen began his teaching career as a Peace Corps Volunteer in Cameroon,West Africa. Upon his return he taught as an academic staff member in the Math Department of UW-Stevens Point from 1981-1986. He returned to graduate school for a PhD, then came back to the UW-System. He taught at UW-Stout from 1994-1999, and has been at UW-Parkside since 1999.
Teaching, Research/Creative & Consulting Interests
Teaching Interests
Prof. Hansen has taught a wide range of CS classes, including: CS1, CS2, Discrete Math, Data Structures and Algorithms, Database Management Systems, Computer Architecture, Operating Systems, Computer Graphics, Event Driven Programming, Probability and Statistics for CS, Programming Languages, Software Engineering 1&2, Modern Software Architectures, (both undergraduate and graduate versions), Compiler Construction, Theory of Computation, Computability and Automata, and Computer Science Seminar.
Research Interests
Prof. Hansen has ongoing research interests in Event Driven Programming and Computer Science Education. He is also working to develop curricular materials in distributed and parallel programming. He has recently begun exploring Big Data Analytics.
Consulting Interests
Selected Awards & Honors
Service Awards
2012: Awarded annually to a faculty member for their contributions to the university community., Faculty Distinguished Service Award, University, UW-Parkside
Courses Taught
CIS 533 - PROGRAMMING LANGUAGES
CIS 540 - DATA STRUCTURES/ALGORITHM DSGN
CIS 640 - COMPILER DESIGN/IMPLEMENTATION
CIS 774 - MODERN SOFTWARE ARCHITECTURES
CSCI 231 - DISCRETE MATHEMATICS
CSCI 242 - COMPUTER SCIENCE II
CSCI 333 - PROGRAMMING LANGUAGES
CSCI 340 - DATA STRUCTURES/ALGORITHM DSGN
CSCI 440 - COMPILER DESIGN/IMPLEMENT
CSCI 493 - INTERNSHIP
CSCI 494 - COOPERATIVE EDUCATION
CSCI 499 - INDEPENDENT STUDY
MATH 231 - DISCRETE MATHEMATICS