Susan Lincke
Associate Professor - Computer Science
Computer Science Department
Ph.D., Illinois Institute of Technology, 2002
PHONE: (262) 595-2129
EMAIL: lincke@uwp.edu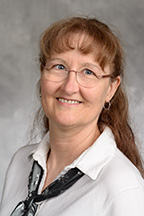 AREAS OF EXPERTISE
Information Security, Wireless modeling & simulation, Green computing
Dr Susan Lincke received her Bachelor's Degree in Systems Analysis from Miami University in Ohio, and her MS and PhD in Computer Science from Illinois Institute of Technology. She has 17 years of industry experience in data and telecommunications, with Motorola, MCI, and GE, working in development, test, and project management. After earning her MS degree, Dr Lincke switched to a career in academia.
Teaching, Research/Creative & Consulting Interests
Teaching Interests
Dr Lincke teaches or has taught Computer Networks, Operating Systems, Assembly, Computer Architecture, Information Security, Network Security, and Software Engineering I & II.
Research Interests
Between 2009-2013, Dr Lincke was funded through a National Science Foundation grant relating to Course, Curriculum, and Laboratory Improvement (CCLI). The grant funded the development of a course in Information Security that included the semester-long Health First Case Study and service learning in security.
Consulting Interests
Dr Lincke is author of: Security Planning: An Applied Approach. This text is designed for the busy IT practitioner, who does not have time to become a security expert, but needs a security plan NOW. This guide, with template, helps readers to prioritize risks, conform to regulation, plan their defense, and secure proprietary/confidential information. The process becomes documented in the Security Workbook, provided with the text. From a teaching perspective, Security Planning is the first text with an optional semester-long case study on HIPAA. The text also addresses the NSA's Center of Academic Excellence (CAE) 2014 plan, addressing 5 mandatory and 15 Optional Knowledge Units. (NSA does not endorse texts.) The expected release of the text is spring 2015 by Springer.
Publications
Selected Publications
2018: Security Risk Assessment in Electronic Health Record System, IEEE TEMS International Conference (TEMSCON) 2018
2016: Integrating Ethics and Risk Management, Fourth International Symposium on Digital Forensics and Security (5 pp.)
2015: The Development of a Longitudinal Security Case Study, ACM SIGITE (Special Interest Group in IT Education) (6 pp.)
2015: Security Planning: Extra Materials, Springer International Publishing
2015: Security Planning: An Applied Approach, Springer (287 pp.)
2014: Tooling to Improve Data Center Efficiency: A Survey and Considerations for the SMB Data Center, International Technology Management Conference (4 pp.)
2014: A Comparison of International Information Security Regulation , Interdisciplinary Journal of Information, Knowledge, and Management (89-116 pp.)
2013: Energy Efficiency: Teaching for Accreditation, Ethics, and Technology, IEEE Frontiers in Education 2013 (7 pp.)
2012: "Planning Organizational Security: The Health First Case Study", ACM Joint Conf. on IT Education (SIGITE '12) (5 pages pp.)
2012: Combating IS Fraud: A Teaching Case Study, 18th Americas Conference on Information Systems
2012: The Health First Case Study: Teaching HIPAA Regulation with Security Planning, 16th Colloquium for Information Systems Security Education
2012: Network Security: A Case Study, Midwest Instruction & Computing Symposium
2011: Security Planning for Small Business: A Service Learning Course, IEEE Frontiers in Education 2011 (4 pp.)
2011: Service Learning in Security, 15th Colloquium for Information Systems Security Education Fairborn, Ohio June 13-15, (63-68 pp.)
2011: DEVELOPMENT OF AN EFFECTIVE SECURITY AWARENESS PRESENTATION, 10th Annual Security Conference (7 pp.)
2010: Information Security in Schools, Journal of Information System Security (JISSEC) (12 pp.)
2003: The Efficiency of Engineering Traffic across Network Boundaries, International Journal of Wireless Information Networks (9 pp.)
2003: A Comparison of Various Substitute Techniques in an Integrated Heterogeneous Network, Proceedings of the 3rd IASTED International Conf. on Wireless Optical Communications Conf (6 pp.)
2003: Load Shared Integrated Networks, Proceedings of the Fifth European Personal Mobile Communications Conference (5 pp.)
2003: A Supernet: Engineering Traffic Across Network Boundaries, Proceedings of the 36th Annual Simulation Symposium (8 pp.)
Selected Awards & Honors
Research/Creative Awards
2015: This award is given to one or two professors annually at UW-Parkside., Excellence in Research and Creativity Award, University of Wisconsin-Parkside
Service Awards
2013: The University has earned the Information Systems Security Professionals Certificate, awarded by the CNSS (Committee on National Security Systems). We are the first 4 or 6-year university in Wisconsin to achieve this status. This required mapping 8 of our courses into a set of required elements defined by CNSS., NSTISSI 4011, University, National Security Agency
Key Service Activities
Departmental Service
2017: Faculty Advisor - CypherCon Coordinator for UWP
2012: Faculty Advisor - HLC Assessment Liaison
2009: Other - Chair of Computer Science
2008: Other - Chair of Computer Science
University Service
: Committee Member - Human Research Board
: Committee Member - General Education Committee
: Committee Member - Assessment Liaison
2015: Committee Member - Higher Learning Commission (HLC) Academy of Student Assessment. Within UWP: Student Learning Outcomes (SLO)
2013: Guest Speaker - Science Night
Professional Service
2013: Editorial Review Board Member - Annual Simulation Symposium, Spring Simulation Conference, Society for Modeling and Simulation (SCS)
Courses Taught
CIS 570 - OPERATING SYSTEMS
CIS 677 - COMPUTER COMM & NETWORKS
CIS 678 - NETWORK SECURITY
CIS 690 - SPECIAL TOPICS IN CIS
CIS 779 - INFORMATION SYSTEM SECURITY
CIS 799 - INDEPENDENT STUDY
CSCI 245 - ASSEMBLY LANGUAGE PROGRAMMING
CSCI 279 - BUSINESS INFORMATION SECURITY
CSCI 355 - COMPUTER ARCHITECTURE
CSCI 370 - OPERATING SYSTEMS
CSCI 477 - COMPUTER COMM & NETWORKS
CSCI 478 - NETWORK SECURITY
CSCI 499 - INDEPENDENT STUDY
MBA D790 - MBA CONSORTIAL SPECIAL TOPICS