Louise "Louise loud" Loud, M.S.
Lecturer - Criminal Justice
Criminal Justice Department
MS, Northern IL University,
PHONE: (262) 595-3416
EMAIL: loud@uwp.edu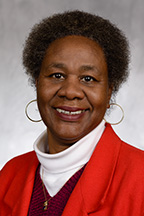 Louise is a full-time permanent lecturer, who teaches CRMJ 101 Intro to CJ, CRMJ 234 Juvenile Delinquency/ Juvenile Justice, CRMJ 305 Family Violence and CRMJ 364 Capital Punishment and she is the Criminal Justice Internship Coordinator. Louise retired as the Director of the Division of Juvenile Probation/Dentention Services for the 19th Judicial Circuit Court in Lake County IL. She received her Masters of Science from Northern Illinios University.
Selected Awards & Honors
Service Awards
2013: Recognized for contributions to the UW-System., Women of Color in Education, University, Women's Studies Consortium-UW System
Courses Taught
CRMJ 101 - INTRO TO CRIMINAL JUSTICE
CRMJ 235 - POLICE AND SOCIETY
CRMJ 305 - FAMILY VIOLENCE
CRMJ 368 - VICTIMOLOGY
CRMJ 494 - CRIMINAL JUSTICE INTERNSHIP
SOCA 235 - POLICE AND SOCIETY
SOCA 305 - FAMILY VIOLENCE
SOCA 368 - VICTIMOLOGY