Entrepreneurship Certificate
If you are interested in owning or managing a small business or new venture, the certificate program in entrepreneurship offers you both practical and theoretical training. This includes the process of a business start-up, including self-assessment, opportunity recognition, feasibility assessment, creating a values-based business, writing a business plan, learning to manage and lead the growing new venture, and hands-on experience with existing new ventures.
The certificate is designed for students who have already started a business as well as those who are interested in starting one in the future. The certificate program in entrepreneurship helps you to develop tools and understanding that will help them be successful whether in their own new ventures, working in their family's business, or working for an entrepreneurial firm. The truly distinctive feature of this program is the focus on socially responsible entrepreneurship and community based learning.
It is available to undergraduate business and non-business majors as well as non-degree seeking students seeking a credential.
ACCREDITED FOR QUALITY
Our Business Department is accredited by the Association to Advance Collegiate Schools of Business International (AACSB). We offer a high-quality, highly relevant educational experience taught by professors who regularly interact with the business community and who are up to date with the rapid changes in the global business environment.
Only 5% of business schools worldwide have earned this "gold standard" program accreditation.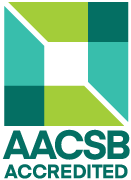 HIGHLIGHTED COURSES
Required courses  |  9 credits
Entrepreneurial Principals  |  ENTR 250  |  3 credits
Covers the principles and key concepts of entrepreneurship, focusing on self-assessment, opportunity recognition, innovation and creativity, and the various functions involved in starting a venture.
Entrepreneurial Leadership  |  ENTR 350  |  3 credits
Covers the theory and application of leadership principles to entrepreneurship, integrating a community-based service-learning project, guest speaker presentations, and on-site visits to new ventures and regional resource centers.
Entrepreneurial Projects  |  ENTR 450  |  3 credits
Applied project working with owners and managers of small businesses and non-profit organizations under faculty supervision through Solutions for Economic Growth (SEG) Center. All projects will employ the project management protocols developed through SEG.
OTHER BUSINESS CERTIFICATES
Retail Management- this program is designed to help students acquire the necessary professional skills and provide them with a credential of material value in advancing their careers
---
Sales- our Sales Certificate program is only one of two programs accredited by the University Sales Education Foundation in the State of Wisconsin, and one of 55 nationwide.
---
Project Management- In the current environment where many companies are outsourcing their business processes, the ability to manage complex projects involving diverse teams both domestically and internationally has become an increasingly desirable skill for employers nationwide.