The minor in global management is designed for you to learn the language of international business and be equipped to better understand how organizations operate on a global scale.
The specific courses taken in the minor provide you with a solid knowledge base and the strong quantitative skills necessary for a successful career in a global management profession.
ACCREDITED FOR QUALITY
Our Business Department is accredited by the Association to Advance Collegiate Schools of Business International (AACSB). We offer a high-quality, highly relevant educational experience taught by professors who regularly interact with the business community and who are up to date with the rapid changes in the global business environment.
Only 5% of business schools worldwide have earned this "gold standard" program accreditation.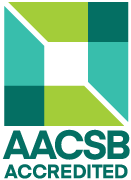 HIGHLIGHTED COURSES
Some courses you will be taking
---
Marketing Principals
Introduces the general marketing process, which is involved in the distribution and exchange of goods and services. Surveys product, pricing, promotion, distribution, and buyer behavior variables within the context of market planning.
Global Management
Explores global challenges and potential solutions for businesses and other organizations with international operations. Topics include cross- cultural approaches and strategies to effectively manage workers in different countries and regions of the world. Includes in-depth study of global management skills, the impact of advancing technology, complex workplace changes, economic transformations, different cultural contexts, the world economy, and global marketplace.
CAREERS AFTER PARKSIDE
Some possible career options
---
Administrative Services Manager
Compensation and Benefits Manager
Financial Manager
Human Resource
Public Relations and Fund Raising Manager