The office of multicultural student affairs (OMSA) 40 Year Celebration
Office of Multicultural Student Affairs (OMSA) 40th Anniversary Kick-Off Celebration Recap
Thank you to all those who were able to join us for the Office of Multicultural Student Affairs (OMSA) 40-year anniversary kick-off event on October 27th. The event was attended by alumni, faculty, staff, students, and community members to celebrate this milestone event.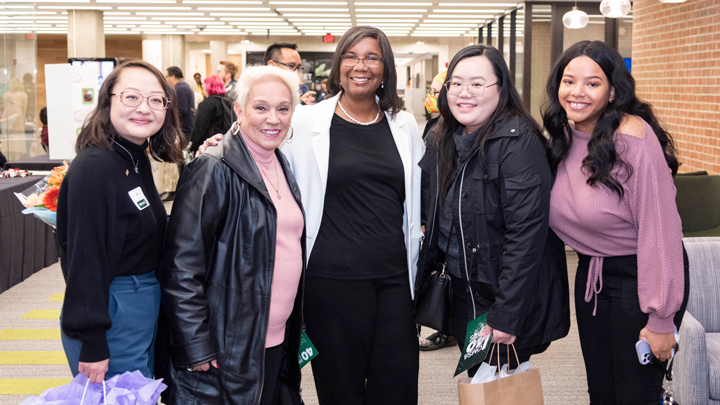 OMSA EXCELLENCE SCHOLARSHIP
The Office of Multicultural Student Affairs (OMSA) is committed to the recruitment, retention, and graduation of underrepresented students. Our mission is to holistically support underrepresented students in their success while fostering a culture of belonging, recognition, and equity at UW-Parkside. 
This year, OMSA will be celebrating its 40th Anniversary. As a part of the 40-year celebration, the OMSA Excellence Annual Scholarship has been created. In alignment with the mission of the office, this scholarship will assist in the recruitment and retention of historically underrepresented students at UW-Parkside. 
In order to award this scholarship on an annual basis, we seek to raise $2,000.00 each year. We hope you will join us in celebrating this milestone year with a gift to the scholarship. Thank you for supporting student success at UW-Parkside.
CALL FOR ARTISTS
In honor of the 40-Year Anniversary of the Office of Multicultural Student Affairs (OMSA), our office is looking for a UW-Parkside student or alumnus to design and paint a mural that will become an integral part of our physical space within the University of Wisconsin-Parkside.
Commission Payment  |  $1,800 LATINX COMMUNITY MIXER
OCT 12 | 4-5:30 PM
Library, The Book & Brew
Calling all Latinx/Hispanic Students, Faculty, and Staff! You're invited to the Latinx Community Mixer. For this year's Hispanic Heritage Month, we wanted to bring the people together, juntos. Enjoy conversations, food and refreshments, games, and giveaways as we build our community here at Parkside!
Click here to see photos from this event.
OMSA 40 YEAR ANNIVERSARY CELEBRATION KICK-OFF
OCT 27 | 4:30-7:30 PM
Callahan Family Student Success and Learning Commons
Celebrate the start of the forty year anniversary of the Office of Multicultural Student Affairs (OMSA) at UW-Parkside! This event will feature a networking reception, tours of OMSA's renovated spaces, and a program. 
As part of the celebration, April Puryear '06, OMSA's Program Associate, will be honored for her nearly 30 years of service and dedication to the department. We look forward to welcoming you to campus.
There is no cost to attend this event.
Click Here to RSVP.
STORYTELLING: A WAY OF KNOWING
NOV 17 | 12:30 - 1:30 PM
Library, The Book & Brew
Learn about the importance of storytelling within the Native Community. Participate in a beading activity, listen in on a traditional Native story, and learn why storytelling is a key component of passing down legacy.
BLACK HISTORY MONTH EVENT
FEB
 
More information coming soon.
ASIAN HERITAGE MONTH EVENT
APRIL
More information coming soon.