About the Student Center
Our History
The Parkside Union was built in 1976 at a cost of $3.5 million, funded entirely by Student Fees.
The Parkside Union was redecorated and refurbished in the spring of 1989.
In 2004, the Segregated Fee Allocation Committee and Parkside Student Government approved $21 million in student fees to fund a renovation and expansion of the current facility. 
In 2006, the Segregated Fee Allocation committee approved an additional 1.1 million for the project.
In January 2009, the Parkside Union officially reopened and was renamed the "Parkside Student Center." This new name describes what the building is all about - a great place to eat, relax, hang out - the center of Student Life.

The Art
Art enables us to find ourselves and lose ourselves at the same time." ― Thomas Merton, No Man Is an Island    We celebrate our community of artists.  Enjoy!
Outdoor Sculpture
(The Plaza)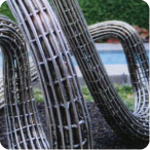 'Student Centers are buildings for congregating, communicating, connecting and contemplating. The three intertwined loops of the sculpture represent the synergy between students, staff, and the community."- Josh Garber
Vortex of Knowledge (Brickstone Grill & Eatery)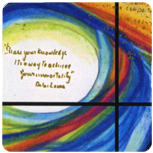 "Sharing the Knowledge" is a concept or motto for students, staff and facuty to consider while at UW-Parkside. Each Language, each person is unique, forever blending, merging, finding commonalities as they come into and expand out of the vortex of knowledge."- Charlotte Anne Paul
    Alumni and Staff Art 
Small print exhibit (Alumni Room)
Jamison C. Bell '06
John Bergeron '98
Rebecca Bigalke '01
Lisa Bigalke '96
Christopher Bray '02
Andrew Brennan '06
Joshua Brennan '04
Doug DeVinny
Bill Greider '84
Kristina Niemi Johnson '94
Glen Larson '82
Mary Ann Logic '02
Michael Nitsch '80
Gabriela Pettit '87
Judy Sebranek '96
Margaret Suchland '92
Jack Tatay '06
Linda Wawiorka '02
Gary Weidner '85
Connie Wolfe '96
Through out  the Student Center -
Cat Brogan '03   (Grand staircase)
Andrew Adamak '09 (Overlook lounge)
Timothy Carls '92 (Admissions and Birch Room)
Brenna Kempf  (University Bookstore)
Jana McLaughlin (Outside all meetings rooms)
David Holmes, emeritus faculty.( Large mural, top of grand staircase)