Parkside Profiles - Mike Falbo
Mike and Sheila Falbo: A Legacy of Support for Education
There are few people who have been involved with and supported the University of Wisconsin-Parkside as long as Mike and Sheila Falbo. UW-Parkside and higher education in general have played huge roles in their journey and have positively impacted their lives and the lives of their entire family. Mike began his college education at UW-Parkside back in 1971, just months after returning from Vietnam. He started at UW-Parkside in just its third year of serving the region and graduated in 1980 after close to a decade of studying part time while working in the banking industry.
As Mike and Sheila have grown and evolved as individuals and as a family, they have had the unique opportunity to watch and participate in the parallel development of UW-Parkside. They have witnessed and driven growth and changes to both UW-Parkside and the UW System over many years through their dedication, participation, and financial support.
As well as being a 1980 UW-Parkside graduate, Mike is an emeritus UW Regent. His 11 years of service on the UW Board of Regents, which concluded in 2015, was highlighted by two terms as board president. That experience combined with four decades of success in the banking industry is the foundation for his extraordinary and significant support of UW-Parkside and the state of Wisconsin as a whole.
IMPACT ON LIFE, PERSPECTIVE, AND FAMILY
Mike calls the relationship between UW-Parkside and his family mutually beneficial. "Education has played such a big role in our lives from day one," Mike said. "I was able to come back from Vietnam a month early. At the time it meant a lot to us." He acknowledges the tough situation that was the Vietnam War and is grateful to UW-Parkside for allowing him to return home safely and begin the next chapter of his life.
The Falbos have been involved in the learning community since the very beginning. "Our youngest daughter went to day care here," Mike recalls fondly, "so she would tell her friends, 'I go to the same school as my father.'" Sheila contributed to the early days of UW-Parkside as a staff member in the mailroom.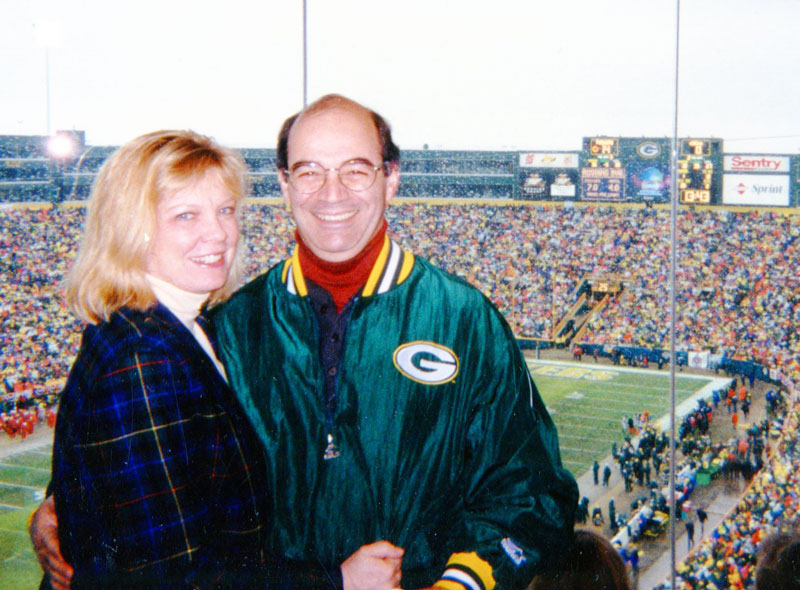 THE VALUE OF COLLABORATION
As a UW Regent and board president of a 170,000-student organization, Mike learned a lot about working with myriad stakeholders such as students, faculty, chancellors, regents, legislators, and taxpayers.
"You want to do the right things, but with all those constituencies, there is not one decision you can ever make that will please them all at the same time," Mike said. "You have to learn that; you have to learn to deal with that. You have to learn to prioritize." Mike acknowledges that while there are challenges involved in pleasing multiple entities, the focus remains on students and students should always be at the forefront.
UW-Parkside, from its inception, has made a concerted effort to benefit and involve the community by working collaboratively with stakeholders. The university's success and support of the region has always been appreciated and reciprocated by community members. "I started going here when the university was 3 years old," Mike said. "So we've been part of that fabric. It's been a part of our life."
THE UW-PARKSIDE FOUNDATION
Realizing the value of higher education came about slowly. Mike says higher education started as a financial necessity but soon became a clearly important part of his life and his life journey. "That whole process, getting out (of Vietnam) early, coming to Parkside, getting married, our kids coming to graduation -- once (graduation) got closer it became the most important thing to finish," he said.
Mike says that contributing to higher education is also an important way of supporting the community, describing the relationship between universities and communities as symbiotic given that each is vital to the success of the other. "We (UW System institutions) are a big piece of the economic strength of any community, we employ a lot of people and they spend in our community," Mike said.
Mike and Sheila have made it a goal in their personal and professional lives to support all levels of education in any way possible. The UW-Parkside Foundation helps create what Mike calls "investment in the future."
As the honorary co-chairs of the revitalized Wyllie Society for Planned Giving, Mike and Sheila are leading the way. "It's long-term thinking. We have to think past today … to the future generations," Mike said. He and Sheila believe that the Wyllie Society will have a continuing impact on students, helping them succeed no matter what is going on in their lives.
 "We will never get out of the area of education," Mike said. "We will never stop supporting higher education. We will never stop supporting UW-Parkside and all the other UW schools."