University Police
The mission of the UW-Parkside Police Department is to enhance the educational mission of the university. The department is proactive in working with the community to maintain a high quality of life by responding to and preventing crime, promoting a safe environment and enforcing the laws while safeguarding the constitutional guarantees of all. We are committed to serving the community with integrity, impartiality, sensitivity and professionalism. To fulfill our mission, we must nurture public trust by holding ourselves to the highest degree of ethical and professional behavior at all times.
UW-Parkside PD Self-Defense Program
The purpose of the UWP PD Self-Defense Program is to provide the UWP Campus Community (Faculty, Staff, and Students) with the EDUCATION of situational awareness and basic self-defense techniques in an active and supportive environment. The UWP PD self-defense program will be comprised of two sections. The first (1hr) section will be a lecture; focusing on situational awareness and avoidance both on & off campus. The second (3hr) portion will focus on UWP PD approved physical techniques designed to maximize personal weapons to create distance. The entire class will be slotted for a 4 hour period of instruction and practical exercises/repetition.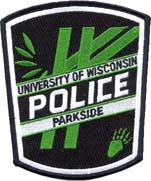 Tallent Hall 188

(262) 595-2455
police@uwp.edu