Parkside Profile - Alley Ryan
University Archives is Ready for the Spotlight
With the dawning of 2018, a half-century after the founding of the University of Wisconsin-Parkside, Alicia (Alley) Ryan knows that her life is about to get even busier. Ryan is a nontraditional student working as archives assistant in University Archives – already a favorite spot for many on campus. However, as students, alumni, faculty, staff, and the community eagerly explore Parkside history during the university's 50 Years Celebration, the D2 level of Wyllie Hall could be more popular than ever.
Besides an assistant archivist, Ryan is a double major in English and history and is working toward a professional writing certificate. She is also a veteran and a mother – yet another example of the hardworking students pursuing their dreams at the university. Ryan is originally from Brant, Mich., and has been at UW-Parkside for four years. "I hadn't finished college the first couple times and originally only chose Parkside for the sake of convenience and affordability," Ryan says. "But I stayed because of the professors."
UW-PARKSIDE HISTORY
Ryan is one of the few students with such a close connection to the university's history. She says that working in University Archives has helped give her a unique perspective of the university and an appreciation for its past.
"As a student archivist, I find the entire UW System fascinating, as it's not something I've run across very often at all in my various college/university experiences. I also think that the ability to look back through that history and see how the university has developed is invaluable. When Parkside first opened, there were many of the opinion that it wouldn't make it … even though a much higher attendance was projected than what we have now. However, it's clear that the university offers something of value to both the community and the state for it to continue as it has and to be having record sizes in both graduating and incoming classes."
Ryan says Parkside's commitment to students is what has made it successful. Looking back at its history, Ryan finds the university's development "interesting" and says she has noticed a continued excellence and a commitment to providing a safe and encouraging learning environment.
"I've seen how the university's policies and procedures have changed since Parkside was first conceptualized and worked into the University of Wisconsin System, and then slowly figured out what to do with itself and how to define itself and its role in the community. I love seeing how students would fight for what they wanted, which can be seen throughout Ranger News editorials and letters to the editor. In 1981, student activism was able to overturn a decision not to award a certificate of recognition to Dr. Shirley Kersey when she left Parkside, even though the student council had voted to award her the Teaching Excellence Award. Chancellor Alan Guskin and the student committee eventually reached a compromise where he didn't give Dr. Kersey the $500 monetary award, but he did sign the Teaching Excellence Award certificate which the students then presented to Dr. Kersey in a ceremony they arranged. Seeing how student engagement and activism can make a difference is encouraging when students often feel powerless."
To some, 50 years is a long time … for others, it may seem like just a moment in time. While Parkside's existence may not be as long as some universities, there is evidence of a solid foundation and an ability to serve the community.
"It's still a fairly young university when you think about it, but Parkside has proven itself to be a valuable asset. I do think it's pretty awesome that in its 50th year, Parkside has won awards for its library. It's reassuring to know that the library/archival staff and the professors are constantly are striving for more." (The UW-Parkside Library was named Library of the Year in 1978 and again this past year by the Wisconsin Library Association).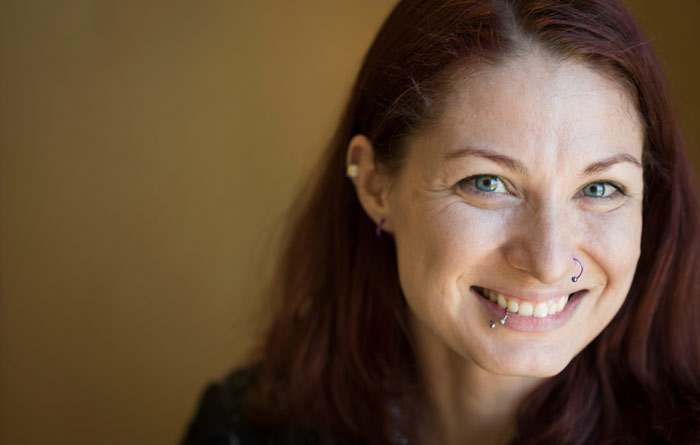 STAFF EXCELLENCE
For Ryan, the best thing about UW-Parkside is the committed and talented staff.
"The professors are absolutely amazing and the staff I have worked with in the Library/Archives and in the PARC have always been great. People are what make an institution what it is and Parkside has some of the best staff. Nick Tryling and Melissa Olson (former director of the PARC, and current head archivist, respectively) always accommodated my schedules without any hassles but also pushed me to do more and learn more in my roles. I've worked on Parkside's digital archives collections, helping to develop our nascent collections, and helped devise an ESL/ELL tutor training program. I've personally been able to see and help Parkside grow in its offerings to the community and the university as it continues to strive for excellence."
Ryan also notes the willingness of professors to stand up for what they believe is right.
"Throughout Parkside's history, professors and the university have supported community education and the rights of others. Also, the Library's 'Big Read' event involves the community and the university. I know multiple professors who have been involved in protests against harsh treatment, such as Dr. Dana Oswald who protested at the Milwaukee jail after a woman gave birth in horrible conditions there. Or who offer a safe haven for students, such as Dr. Teresa Coronado reminding students that if they ever need to talk or experience discrimination that her office is a safe space. Others have marched in protests in the surrounding areas and beyond, such as Dr. Tryling participating in the Women's Day March in Washington D.C."
Alley says the reason she recommends perspective students consider UW-Parkside is because of the faculty and staff.
"I would tell them that some of my favorite professors I've ever had are at Parkside and that those same professors have not only helped me get to a point where I've stayed interested and challenged long enough to graduate, but have actually gotten me to a point where I'm preparing to attend graduate school. Multiple professors have told me they would gladly write me letters of recommendation and they are encouraging me to apply to their own alma maters if I'm interested. It's hard to find that kind of support at bigger universities where 30-70 students in a class isn't unusual. The small size of Parkside makes it a very personal experience. I have tried hard to ensure that my experience here at Parkside has been challenging. I've certainly succeeded. I have been able to take classes in a wide variety of subjects from sports nutrition to literary theory to digital art to evolution and Islamic history. Every semester I've been offered new chances to excel and new challenges to overcome and it's been great. Not everything has been perfect, but I've enjoyed the challenge."
The supportive and accommodating nature of UW-Parkside and the staff has also helped Ryan to succeed as a student while also juggling the responsibilities of work and being a parent.
"Professors and managers have been incredible about allowing my daughter to attend classes or work with me when she doesn't have school or when there was a sudden loss of childcare. In fact, they usually encouraged me to bring her along and would always be welcoming and kind to her when she did come to class or work. That's an invaluable asset to nontraditional students. This is especially valuable for me as I have no family in the area and have often had to fend for myself when unexpected events occurred. My fellow students and the staff at Parkside became my family and welcomed my daughter and me enthusiastically, which I'm grateful for."
Ryan in one of her favorite spots on campus.  "On the third floor of the library, there's a cubby positioned to line up perfectly with a window looking out over campus and the woods, that's my favorite spot. It's quiet and closed off from people," Ryan says.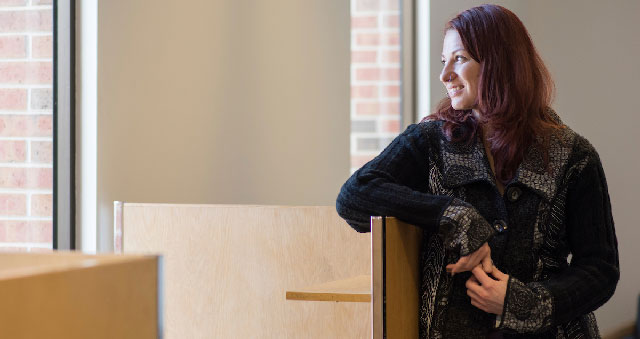 PREPARATION FOR THE JOB MARKET
Ryan also recognizes the many opportunities she has had at UW-Parkside to gain valuable real-world experience, which will transfer well to her resume and efforts to start a career after graduation.
"When I first came back to school again, I was trying to finally finish a degree and was considering going into editing. I just wanted to get through school and didn't plan on being involved in anything as a single parent working two jobs and going to school full-time. I really hated retail and the military and needed a change. Parkside is the most welcoming undergraduate school I have ever attended – I've only attended four in total. I have a tendency to get bored with things and not finish or get discouraged by doubting my abilities, but the professors, especially in the English and History departments, have supported, challenged, and cheered me on throughout my time here, while also pushing me to strive for more.
"Within a year, I was recommended for and started tutoring in the Writing Center. The next year, I started in University Archives, while taking up a management position in the Writing Center. Thanks to working in the archives for the last couple years, I already have experience in archival preservation and technical writing, which I never even realized until creating a resume for a business writing course. I started doing supplemental instruction, then helped develop class assignments during an internship with another professor. I've had multiple professors encourage me to publish, and next semester one of them will be working with me to edit and submit one of my English Department Portfolio essays for publication. I'll also be working as an editor for Straylight, Parkside's literary magazine, and will be part of the crew of The Pub, Parkside's literary radio program. I never considered graduate school until multiple professors recommended I look into it and that I would like it. I've started doing freelance work in marketing and editing thanks to the confidence and skills I have gained here at Parkside. The skills and abilities, the confidence and support that I have encountered have made a huge difference."
Ryan's journey at UW-Parkside has not come without its fair share of adversity but with the help and encouragement of her professor's she has managed to persevere and maintain a high level of academic achievement. 
"I almost quit multiple times due to my habit of overwhelming myself and my drive for perfection – last semester I had seven classes and three jobs and got six As and an A-minus – but professors such as Dr. Oswald, Dr. Coronado, Dr. Tara Pedersen, Dr. David Bruce, Dr. Edward Schmitt, and Dr. Elizabeth Brownson have talked me down from the bridge many times over and helped me handle the stress. I don't think I would have continued if I hadn't had such an amazing support network, and I also would've never discovered the incredible and varied opportunities available to explore. For a small university, Parkside offers a surprising amount of opportunities for students to get involved. My only regret has been a lack of time to do it all, since, as Dr. Coronado likes to remind me, you can't do everything."