Play a part. Let's make music together. Your support is an important element in everything we produce. We love having you in the audience. But if you would like to contribute more, we are here to help.  Below are a few of the ways you can support the arts at Rita. Let us know if you have more ambitious or creative ways to contribute.
College of Arts and Humanities Support
Support student scholarships and student productions in the performing and visual arts and the humanities.
Theatre
Music
Visual Arts
Humanities
Rita Operational Support
General - Keep the lights on.
Events - Support the season or specific events
Corporate Sponsors - Get your name out there, let the region know that you support the arts!
Contact the office of the College of Arts and Humanities
Lesley Walker, Dean  |  262-595-2188
ABOUT RITA TALLENT PICKEN
1919-2009
Kitty Picken believes her stepmother — and fellow adventurer — Rita Tallent Picken would be quietly pleased to have her name associated with Parkside's arts and humanities center.
The Rita embodies many of the things Rita strived for when the Kenosha campus was created in the 1960s — and that she helped nurture during the next decade. 
"Rita loved the arts, she loved culture," Kitty said. "She would be thrilled to know her name is on a building that will host such a variety of artistic and cultural events."
Rita, along with her first husband, Bernard Tallent, was instrumental in the creation of UW-Parkside. Kitty said Rita was proud when Tallent Hall was posthumously named for Bernard. Tallent led the two-year UW-Kenosha campus and strongly advocated a four-year campus be opened here. Rita's voice was part of the chorus advocating UW-Parkside's creation.
Joining the university's administration shortly after the campus opened, Rita naturally gravitated toward community engagement, making it her mission to bring the campus to people and people to the campus. 
 
---
Excerpt from an article by Dave Buchanan with contributions by Journal Times reporter David Steinkraus.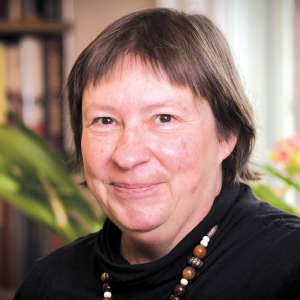 The naming of The Rita in honor of Rita Tallent Picken was part of a $3.5 million donation made by Kitty Picken. For many reasons, placing her name on the regional center for arts and humanities would have pleased her stepmother and good friend: 
"The important thing is that it's the arts building, and that it's a community building, and it's Parkside. All of those things would have made it very special to her."
BEDFORD CONCERT HALL

The musical highlight of The Rita is the 340-seat Frances Bedford Concert Hall. Enveloped in the warmth of maple paneling on the first level and reflective maple acoustical clouds above, the space is beautiful. What truly sets it apart, however, are the superior acoustics. 
The large volume above ceilings and catwalks helps support strong natural acoustic environments appropriate for musical groups large and small. Combined with adjustable acoustic curtains and quiet mechanical systems, spaces can be altered to effectively accommodate different performance types — from a delicate harpsichord recital to a large brass band concert.
When the Frances Bedford Concert Hall debuted with two sold-out performances of Handel's "Messiah" in December of 2012, one member of the orchestra was thrilled and a little relieved to have the new performance space open. That orchestra member, the harpsichord player, also happened to be the person whose name graces the venue: Emerita Professor of Music Frances Bedford.
 
---
Excerpt from an article by Dave Buchanan with contributions by Journal Times reporter David Steinkraus.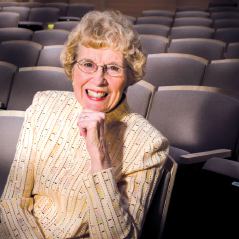 Professor Bedford's $500,000 gift ensured that UW-Parkside students would no longer have to present their music in spaces better suited for plays, films, or the spoken word. Music becomes an otherworldly experience when the acoustics are right. According to Professor Bedford:
"An acoustically perfect hall lets the sound 'bloom' into space and momentarily create the illusion of another dimension. This facet of the hall was the number-one priority for me."
TRANSFORMATIONAL GIVING
Enhancing the Experience at the Rita Tallent Picken Regional Center for Arts & Humanities since 2012
Elizabeth (Betsy) Brown
Betsy Brown established the Howard J. Brown Artist-in-Residence Endowment to commemorate her late husband's love of symphonic music. Howard Brown was the president and publisher of the Kenosha News for over 50 years.  Throughout those years, Betsy herself worked tirelessly on the expansion of services in the Kenosha Public Libraries system; and she served on the board of Women and Children's Horizons. Together, this power couple established a legacy of deep commitment and boundless generosity to the Kenosha community. Betsy's support affords UW-Parkside the opportunity to bring world-class musicians to the Bedford Hall each spring.  To date, we have hosted three exceptional musicians – incidentally, all three are Kenosha natives: Paul Cortese, violist, living and working in Europe; Rachel Velvikis, French horn player and member of the Seraph Brass; and David Mason, principal violist for the Japan Philharmonic Orchestra. In addition to playing in a concert, the recipient of the Howard Brown residency offers masterclasses to Parkside students as well as students in KUSD and RUSD.
Heidi Skatrud
In 2014, Heidi Skatrud established the Lois J. Skatrud Theater Arts Scholarship Fund to celebrate her mother's 25-year commitment to youth education in the arts. In 1987, Heid's mother Lois started a children's theatre troupe, the Milton Optimist Club's Kids on Stage, in Milton Wisconsin. She co-directed plays for 27 years, working with nearly 1,000 children. Lois said about the scholarship created in her name: "Helping students finish college to purse a career in the theater is my dream." Each year, since 2017, a UW-Parkside theatre arts major has benefited from the Skatrud family generosity and their mother's devotion to youth theatre.
Dave Beach and Carmen Rigau
Professor Emeritus Dave Beach and Carmen Rigau, a former school counselor, are inveterate music lovers and concert goers. They are also deeply committed to social justice and seek to make an impact through education. Creating generous music scholarships allowed them to marry these two passions. They said: "We each were aided by others throughout our early lives. Establishing these scholarships honors and perpetuates this kindness." The Beach-Rigau scholarship is awarded annually and covers over 75% of a student's in-state tuition. Additionally, Beach and Rigau sponsor musical groups for our Noon Concert Series. Thanks to their continued generosity, we are able to program high quality, professional music groups free of charge to our community.
Emile H. Mathis
Emile H. Mathis II was an accomplished art dealer, appraiser, conservationist, and framer. From Superior Wisconsin, he moved to Racine and opened the Mathis Fine Art Gallery in 1972. He was extremely active in the Racine community, supporting Downtown Racine Revitalization, the Racine Art Museum, the Prairie School, and the Racine Zoo. The opening of the Rita and its expanded number of art galleries led him to make a significant gift that allows the College to bring in artists of regional and national reputation. One of our galleries now bears his name. In keeping with his commitment to the visual arts and art education, Mathis' generosity makes it possible for Parkside students to experience remarkable art in all its forms.
Rollin Jansky
Rollin Jansky served as an assistant professor of art at the UW-Kenosha Center beginning in 1965, and was a founding faculty member at UW-Parkside when the campus opened. As an artist, Jansky was known for his large-scale polyester and fiberglass sculptures, and he also created welded steel sculptures later in his career. He exhibited nationally and garnered awards in regional and national art competitions. Professor Jansky was granted emeritus status upon his retirement in 1997. His impact on UW-Parkside students continues through the Rollin G. Jansky Endowed Scholarship in Visual Arts, established through his generous support in his lifetime and through his estate upon his death in 2021.
Since 1968, the University of Wisconsin-Parkside has continued to build a reputation as an outstanding liberal arts institution with particularly strong fine arts programs. With The Rita Tallent Picken Regional Center for Arts & Humanities, our state-of-the-art instructional facilities and stunning performance venues match our award-winning academic programs and provide even greater community access. Read more.