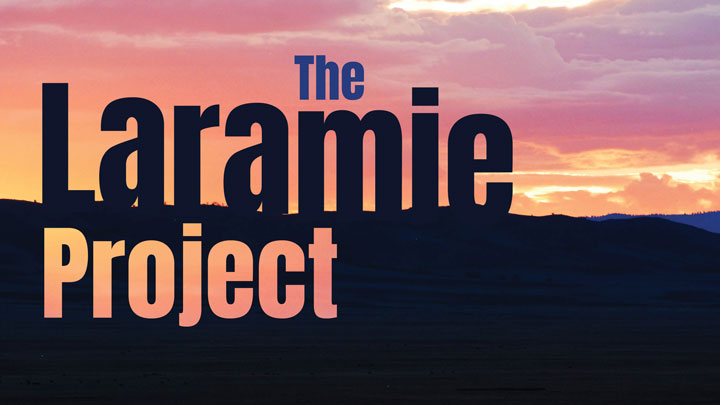 The Laramie Project
Oct 13-22  |  Black Box Theatre

Oct 13, 14, 20, and 21 at 7:00 pm
Oct 20 at 9:00 am
Oct 15, 22 at 2:00 pm

By Moisés Kaufman and Members of
Tectonic Theater Project 
Directed by Fabrice Conte-Williamson
 
In October 1998, a twenty-one-year-old student at the University of Wyoming was kidnapped, severely beaten, and left tied to a fence in the middle of the prairie outside Laramie, Wyoming. His bloody, bruised, and battered body was not discovered until the next day, and he died several days later in an area hospital. His name was Matthew Shepard and he was the victim of this assault because he was gay. The Laramie Project is a breathtaking collage that explores the depths to which humanity can sink and the heights of compassion of which we are capable.
 
Burn, The Musical
Nov 10-11  |  Main Stage Theatre
By Mason Emmert and Patrick Deane Greeley
Directed by Rachael Swartz
 
Rosie and Natasha are on a journey to start their music careers, when they find themselves stranded in a bar in the forests of Northern California. As they start to fall in love with the bar's eclectic patrons, they end up putting their lives on hold to help save it from foreclosure. But before long, their success and newfound family are threatened by a wildfire, forcing everyone to decide what home means to them, and what to save in the face of danger. Burn is a musical about the indelible power of family and the communities we create in times of crisis. Burn, The Musical, is presented as part of our FreshINK Musical Workshop series.
 
Meteor Shower
Dec 1-10  |  Main Stage Theatre
By Steve Martin
Directed by Brian J. Gill
 
Corky and Norm are excited to host Gerald and Laura at their home in the valley outside Los Angeles to watch a once-in-a-lifetime meteor shower. But as the stars come out and the conversation gets rolling, it becomes clear that Gerald and Laura might not be all that they appear to be. Over the course of a crazy, starlit dinner party, the wildly unexpected occurs. The couples begin to flirt and insanity reigns. Martin, using his trademark absurdist humor, bends the fluid nature of time and reality to create a surprising and unforgettably funny new play.
 
When We Dead Awaken
Mar 1-10  |  Black Box Theatre
By Henrik Ibsen
Directed by Brian J. Gill
 
Famous sculptor Arnold Rubek is vacationing at a mountain spa and resort. There he meets Irene von Satow, a former model of his, and the subject of his sculpture "Resurrection".  Irena explains that she believes herself to be dead, Arnold having captured her soul and placed it into his masterpiece. Though the pair believe there is no way to resurrect their former partnership, they agree to pretend they can. On a climb up the mountain, the artist and his muse are caught in a sudden storm and buried in an avalanche.
 
The Altruists
Apr 12-13  |  Studio A
By Nicky Silver
Directed by Emily Moisant
 
This hilarious comedy revolves around a dedicated, if disorganized and demented, group of young radicals. These are the kids who protest. They protest arts funding and arms funding. They protest school cutbacks and AIDS cutbacks and welfare cutbacks. They march for gay rights and children's rights and Women Against Drunk Drivers. But their morality is put to the test one day when Sydney, a shallow, anorexic soap-opera actress, fires a gun into the hulking body of her sleeping boyfriend. The Altruists is presented as part of our ParksideSTUDIO series and features the work of student-directors and student-designers.
 
Peter and the Starcatcher
Apr 26-May 5  |  Main Stage Theatre
By Rick Elice
Music by Wayne Barker
Based on the Novel by Dave Barry and Ridley Pearson
Directed by Rachael Swartz
 
Tony-winning Peter and the Starcatcher upends the century-old story of how a miserable orphan comes to be The Boy Who Would Not Grow Up (a.k.a. Peter Pan). A wildly theatrical adaptation of Dave Barry and Ridley Pearson's best-selling novels, the play was conceived for the stage by directors Roger Rees and Alex Timbers, and written by Rick Elice with music by Wayne Barker. From marauding pirates and jungle tyrants to unwilling comrades and unlikely heroes, Peter and the Starcatcher playfully explores the depths of greed and despair... and the bonds of friendship, duty, and love.
 
Ticket Prices
Tickets are available for purchase online or at the Rita Box Office.
Individual Tickets
Adults | $20
Seniors | $15
Parkside faculty/staff | $15
Students | $10
ParksideSTUDIO
All tickets |  $5
Each theatre arts major/minor receives one comp ticket. 
TICKET REFUND & EXCHANGE POLICY
Please note that all ticket sales are final and that we do not provide refunds nor guarantee exchanges. We will do our best to exchange individual tickets for other concerts/productions but can make no promises that alternate ticketing will be available.
How to purchase tickets
For your convenience we offer you a number of ways to contact our Theatre Box Office for performance information and to purchase tickets for our theatre productions.
Order your individual tickets online

You can also call to 262-595-2564 speak with our friendly staff about available tickets and purchasing, or visit the Rita Box Office near the main entrance to the Rita. Call the Box Office for detailed hours or stop by one hour prior to each performance.
Since 1968, the University of Wisconsin-Parkside has continued to build a reputation as an outstanding liberal arts institution with particularly strong fine arts programs. With The Rita Tallent Picken Regional Center for Arts & Humanities, our state-of-the-art instructional facilities and stunning performance venues match our award-winning academic programs and provide even greater community access. Read more.