Our Stories
Mission Statement  |  Our purpose is to help make a push towards vaccine advocacy, especially towards students like ourselves who may not know much about the COVID vaccine or are vaccine hesitant. We will be gathering perceptions and first-hand experiences from college students to help frame a better picture as to why some may be vaccine hesitant. We also want to provide some information and resources to help put minds at ease, and to also debunk myths that may have been misconstrued as facts.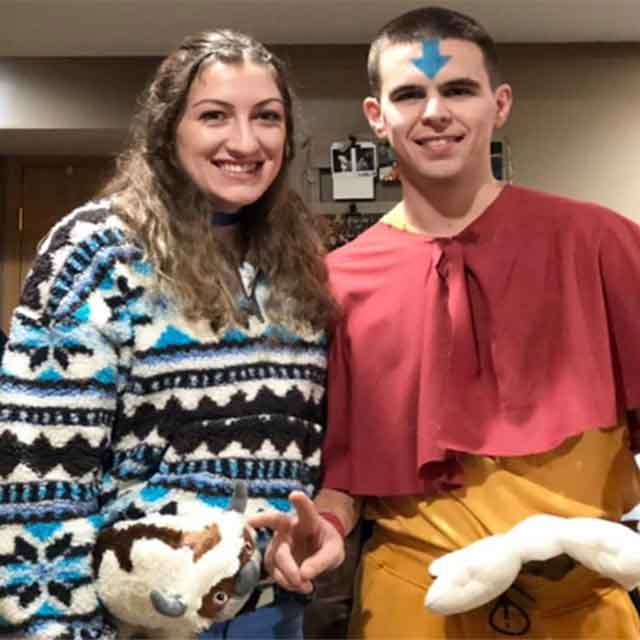 Abigail Suter 
Hello all. As you can see I'm Abigail Suter, but most just call me Abby. I'm currently a senior at the University of Wisconsin-Parkside, majoring in Communication with the intention of teaching! My passions include playing soccer, roller skating, watching anime, and spending time with those I love! This picture is of me and my fiance! This was last Halloween, where we dressed up like Katara and Aang from our favorite show, Avatar: The Last Airbender. 
I was able to get the COVID vaccine, specifically Moderna, through my job which I am really grateful for. The only side effects that I got from the first dose were just a sore arm, but that's totally normal with any kind of vaccine that I have received in the past, like the flu shot. After my second shot I just felt very tired and had a sore arm, but again these are typical side-effects! Getting the vaccine has been on my mind ever since they were introduced to the world, because the thought of possibly being a carrier of COVID and getting someone at risk sick doesn't sit right with me. I chose to get the vaccine not for myself but for others, because this pandemic is not going to end on its own! I want to be able to go back to our normal way of life like being able to see my grandparents without worrying, going out with my friends, and not having to wear a mask everywhere I go!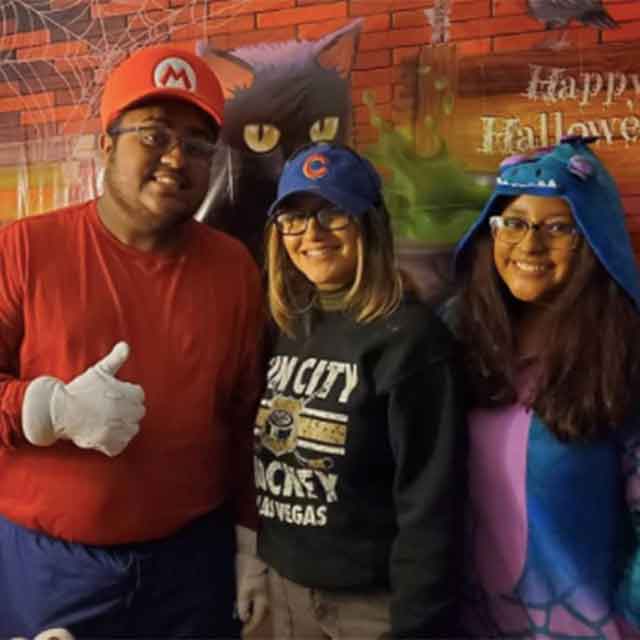 Daisy Ruiz 
Hi everyone, my name is Daisy Ruiz (the dragon onesie, right alongside a few of my siblings and niece). I'm a senior at the University of Wisconsin-Parkside, majoring in Communication and minoring in history with a certificate in conflict management. What I want to do post graduation is travel to teach English abroad. I've had a few programs in Japan and Germany reach out to me.  I don't have many hobbies outside of writing whenever I get the chance, watching anime, and babysitting my niece.  
The pandemic really made me a bigger introvert. Being a history minor, we hear and cover things like the Black Plague and the Spanish flu outbreak so watching a pandemic play out in real time gave me the smallest bit of insight into past historical and monumental outbreaks. I currently have one of the two vaccine doses and am waiting on my three week period to finish before getting the second Pfizer dose, which I was lucky enough to get through my mother's job. The reason why it's so important for me to get the vaccine is because many of my family members are immunocompromised. I also want to make sure everyone I'm around is safe. I look forward to being able to live life like we used to. Being well informed on the vaccine as well as getting it is also important to me because it would show my family that the vaccines are safe/effective. I am lucky enough to share that I have not tested positive for COVID and have been playing my part in making sure that I do not get myself or anyone else around me sick. I am hoping that by doing this project, it can give people a peace of mind by showing them that the vaccine is effective and safe for everyone who is eligible to receive it.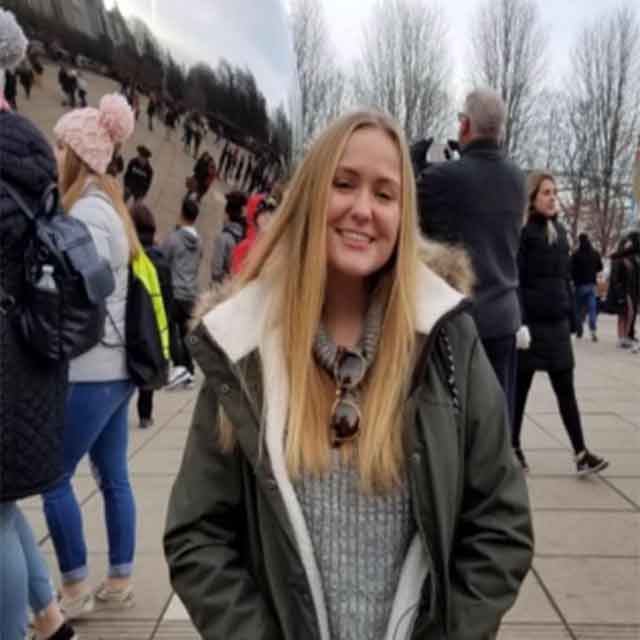 Bridget Stella 
Hello! My name is Bridget Stella and I am currently a Junior at the University of Wisconsin Parkside. Within the next year I plan to graduate as I have been pursuing my major in communication, along with a Public Relations minor and Organizational Communication minor. As of right now it seems that there is still hope that I may physically walk the stage when that time comes.  
This era of uncertainty has created fear for many. One thing that I am certain of is how I am still willing to be mindful of this whole situation. As I do my part in order for myself and others one day go back to concerts, restaurants, sporting events, and vacations, to other places than our kitchen and living room. I received the Johson and Johnson vaccine a week before the one-year mark of the first lockdown. I am extremely grateful that I had never fell ill with COVID-19. I care for both of my grandparents on a weekly basis, the reason I got the vaccine was for their safety. I would never forgive myself if I was the cause of them getting sick. Being a full-time student and working every other day after classes put myself at a high risk of coming in contact with someone who may have the virus. Reaching herd immunity is becoming more certain each day when people realize what can happen when we are educated and listen to trusted sources of information. My hope for this experience is that we all learn from what has happened to society within the last year, so we can all change for the better.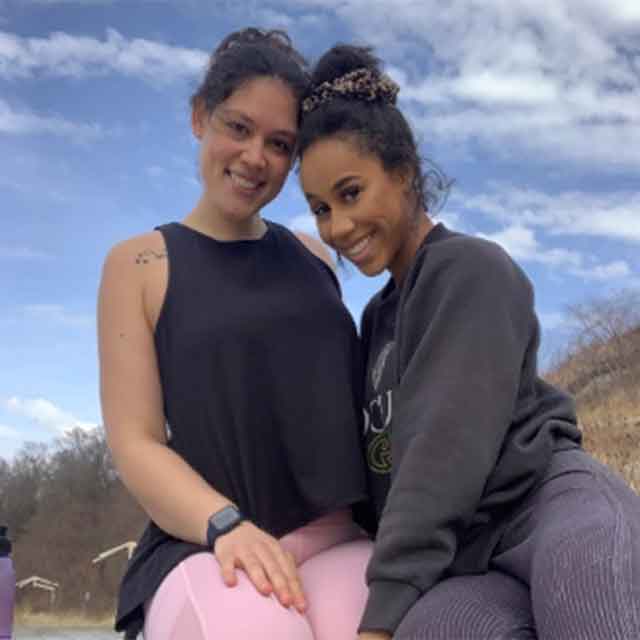 Alix Fogarty 
Hello everyone, my name is Alix Fogarty (pictured in black tank top). I am a twenty-one year old senior at the University of Wisconsin-Parkside that is graduating in the fall of 2021. I will be graduating with a communications degree with minors in Organizational Communication. As of right now my future is a little unsure because I want to try a lot of professions in hopes that I find the one that will be the most beneficial for aiding people. Ever since I was little I enjoyed helping others and since then have learned so much throughout school that has pushed me into my vocation, which is aiding those in need.  
I currently work at Froedtert Medical College of Wisconsin in Milwaukee and have seen first hand how this virus is affecting so many lives. Being in healthcare, I decided to get my vaccine when my work started offering them to their staff. I received the Pfizer vaccine and now I am immunized from COVID-19. Not only is it important for me to protect myself from this sickness but it is vastly more important for me to do this for the people around me (since I am younger and can fight this easier). In one of the pieces further in this document I will go into interviews I had with my fellow employees about the COVID-19 vaccine and share what they thought about it. I hope this document can promote good health choices and start to convince people my age to go get the vaccine.