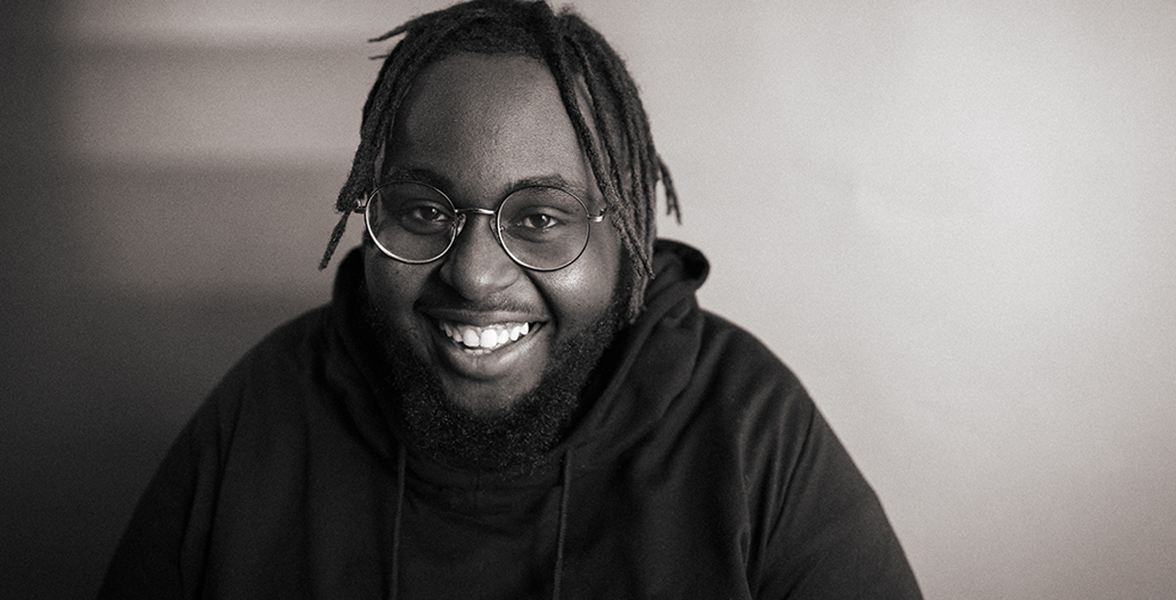 Lenard Simpson Quartet
Mar 14  |  7 pm  |  Bedford Concert Hall  |  FREE
Lenard Simpson is a saxophonist, composer and educator from Milwaukee, Wisconsin. Lenard was mostly self-taught through high school, but his natural ability and musicianship earned him accolades such as membership in the esteemed Grammy Camp Jazz Session, and an outstanding soloist award at the Mingus Jazz Competition in New York City. Lenard has had the opportunity to play with artists such as pianist and composer-Billy Childs and drummer Clayton Cameron. Lenard received a B.M in Jazz performance at Northern Illinois University and as a core member of the legendary jazz program's many award winning ensembles. While studying at NIU, Lenard was awarded first place in Chicago's esteemed Luminarts Jazz Competition. Upon graduation, Lenard moved to Chicago and soon became one of the city's top call saxophonists playing sideman to legendary local drummers, George Fludas and Charles Heath. Lenard's trio has appeared at premier clubs and jazz festivals throughout the Chicago and Milwaukee area.. In 2018, Lenard was selected by a panel of Wayne Shorter, Herbie Hancock, James Newton and Ambrose Akinmusire to be a member of the Thelonious Monk Institute Fellowship, which has since been renamed to the Herbie Hancock Institute. After graduating from the prestigious institute, Lenard moved back to Chicago, Illinois where he accepted a Fellowship award to teach and perform through the Jazz Institute of Chicago. Lenard remains active as a performer and educator in the jazz community. In addition to maintaining an active performing schedule as a leader and sideman, Lenard is also an educator and has taught at several high profile jazz camps including the Wisconsin Conservatory of Music, Northern Illinois University, and Birch Creek. Additionally, Lenard has taught masterclasses for international Jazz Day in Melbourne, Australia and at the Sitka Jazz Festival in Sitka, Alaska.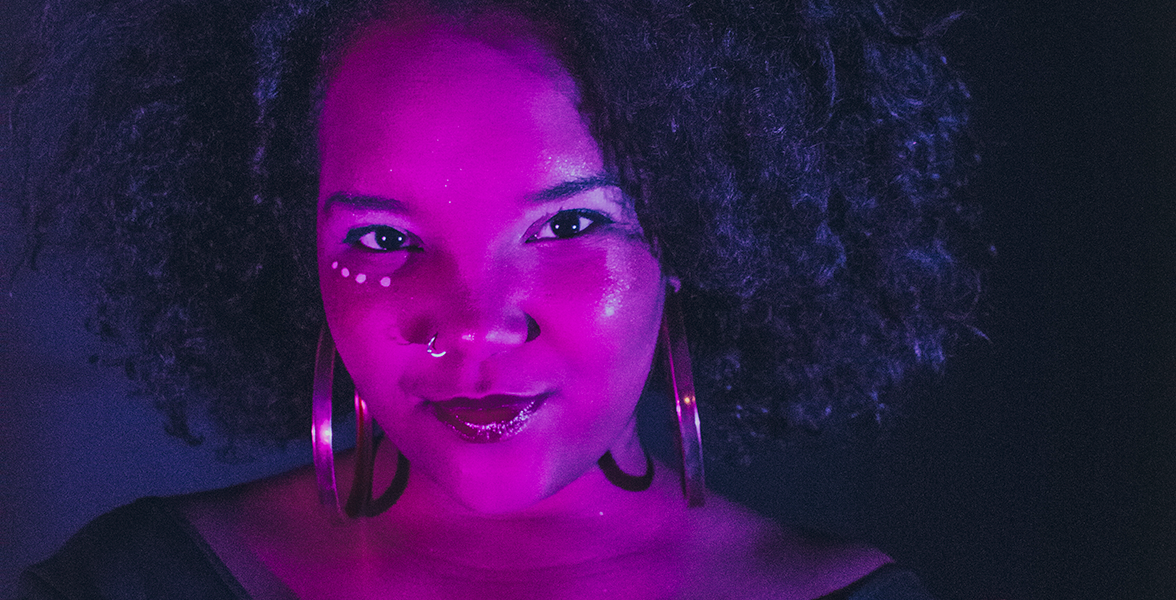 Alexis Lombre Quartet
Mar 15  |  7 pm  |  Bedford Concert Hall  |  FREE
"At [24], Alexis Lombre has the work ethic of a veteran jazz star. "- Detroit Metro Times. 
Alexis Lombre is a pianist, vocalist and composer from Chicago who discovered early that the true essence of music is not just about what you hear but how music makes you feel. Her musical mission is to keep the 'Soul' in music alive. The 2017 release of her debut album, "Southside Sounds", does just that, as it is a soulful straight-ahead reflection of her upbringing on Chicago's Southside. This collection of her original compositions is an attempt to pay homage to the Southside's lively artistic, cultural heritage influenced by Eddie Harris & Gene Ammons. In 2021, Lombre released her most recent single "Come Find Me" which she describes as "lyrically, a gospel song; harmonically, a jazz song and rhythmically, a hip-hop/R&B song. I didn't create the song with any borders". As JazzTimes puts it "Lombre says realized early on that by refusing to be constrained by convention— whether so-called "jazz" or otherwise—she'd be honoring, rather than defiling, the rich heritage she'd come to embrace."
In the May 2019, Lombre toured the Midwest with her group, the Alexis Lombre Trio, and in January 2019 she toured South Africa with Englewood-Soweto Exchange that was powered by a MacArthur grant led by Ernest Dawkins. In 2017 she toured France with Bacongo Square Boulevard, a trio comprised of French, Congolese & American musicians. She has also played with internationally known musicians such as: Nicole Mitchell, Jamila Woods, the AACM Great Black Music Ensemble, Laurin Talese, Junius Paul, Makaya McCraven, Donald Harrison, Bobby Watson, Buster Williams, Wadada Leo Smith, Dee Alexander, J Moss, Cece Peniston, Rudresh Mahanthappa, and Nona Hendrix. Lombre's band has been opening acts for Chris Dave & the Drumhedz and Marquis Hill and she was also featured in JazzTimes, the Chicago Tribune, the Detroit Metro Times and Vocalo.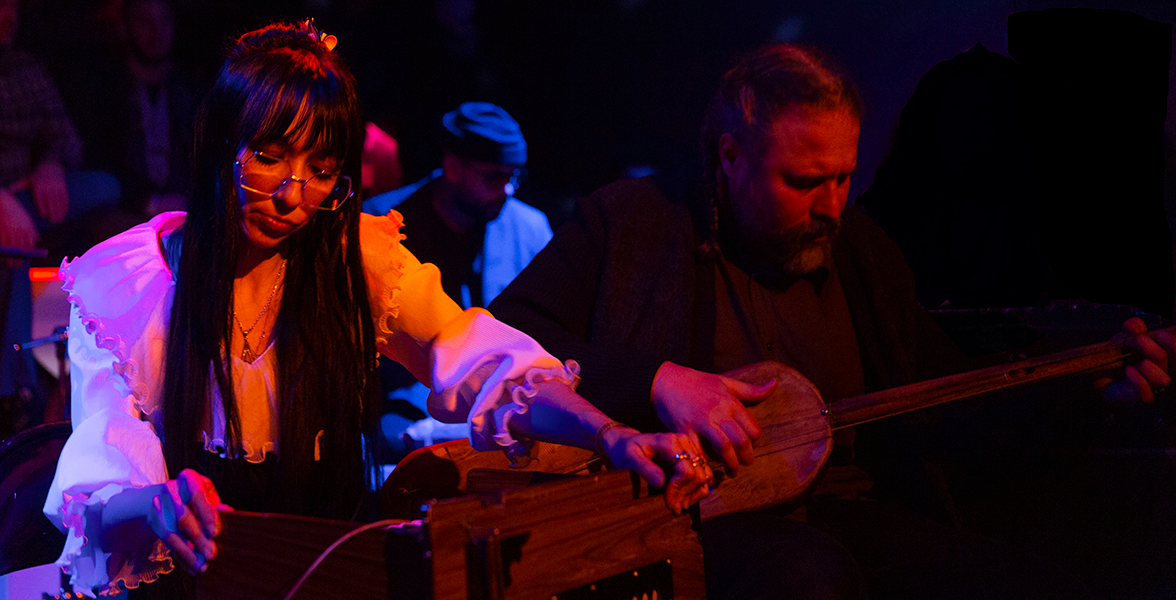 Joshua Abrams Natural Information Society
Mar 16  |  7 pm  |  Bedford Concert Hall  |  FREE
This concert will not be livestreamed.
Joshua Abrams formed Natural Information Society (NIS) in 2010. With Abrams' orchestration of traditional & contemporary instrumentation, NIS creates long-form psychedelic environments informed by jazz, minimalism & traditional musics.
In April, 2019 eremite records released the groups latest album, Mandatory Reality.
 
Current & former band members include Lisa Alvarado, Jason Adasiewicz, Mikel Avery, Ben Boye, Hamid Drake, Ben Lamar Gay, Emmett Kelly, Norberto Lobo, Artur Majewski, Nick Mazzarella, Jeff Parker, Frank Rosaly, Jason Stein, Kuba Suchar, Nori Tanaka & Chad Taylor. In 2015, Natural Information Society & Bitchin Bajas collaborated on Automaginary (Drag City).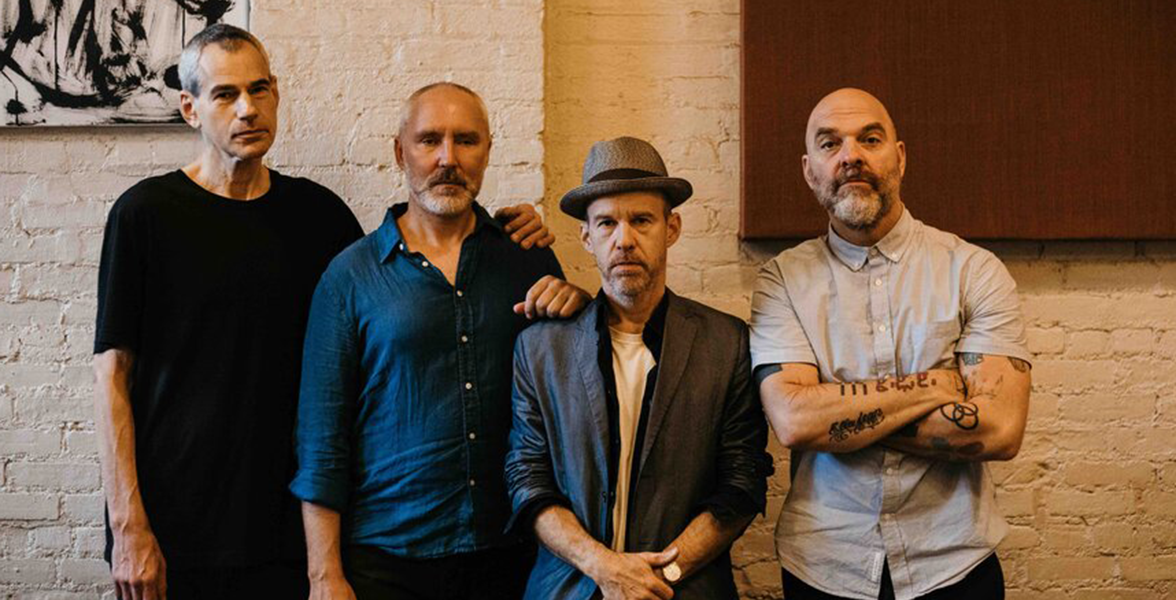 The Bad Plus
Mar 17  |  7 pm  |  Bedford Concert Hall  |  $5-10
Buy Tickets  This concert will not be livestreamed.
The Bad Plus came together at the end of the 20th century and has avoided easy categorization ever since, winning critical hosannas and a legion of fans worldwide with their creativity, unique sound and flair for live performance. The intensely collaborative trio has constantly searched for rules to break and boundaries to cross, bridging genres and techniques while exploring the infinite possibilities of three exceptional musicians working in perfect sync.
The Bad Plus feature its foundational duo, bassist Reid Anderson and drummer Dave King, along with Chris Speed on tenor saxophone and Ben Monder on electric guitar.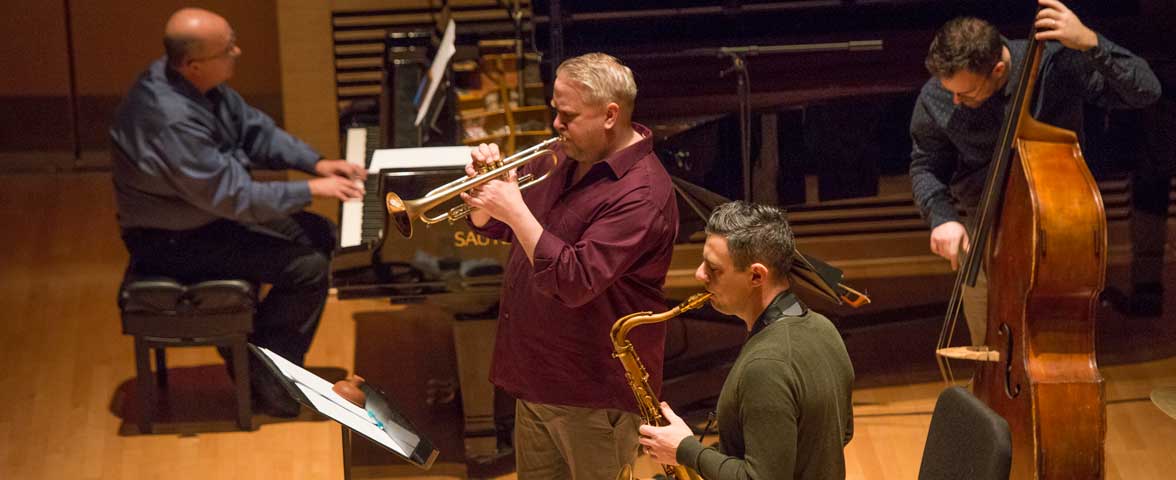 Parkside Jazz Faculty
Mar 18 |  12 pm  |  Bedford Concert Hall  |  FREE
FEATURING
Russ Johnson, trumpet
Chris Madsen, saxophone
Jim Sodke, piano
Tim Ipsen, bass
David Bayles, drums
 
Parkside Jazz Ensemble with Special Guests from Area High Schools
Mar 18  |  7 pm  |  Bedford Concert Hall  |  $5-10
FEATURING
Bradford High School
Indian Trail High School
Tremper High School
Photography courtesy of the artists.
Jazz Week is sponsored in part by contributions from Kenosha Community foundation and the College of Arts and Humanities. Parking for Jazz Week performances is free in Lot  B & C in any unmetered, undesignated space.
For more information, contact The Rita Box Office at 262-595-2564.
Ticket Prices
Tickets are available for purchase online or at the Rita Box Office.
Individual Tickets
General | $10
Parkside faculty/staff | $5
Students | $5
Each music major/minor receives one comp ticket per performance. 
Ticket refund and exchange policy
Please note that all ticket sales are final and that we do not provide refunds nor guarantee exchanges. We will do our best to exchange individual tickets for other concerts/productions but can make no promises that alternate ticketing will be available.
How to purchase tickets
For your convenience we offer you a number of ways to contact our Theatre Box Office for performance information and to purchase tickets for our theatre productions.
Order your individual tickets online

You can also call to 262-595-2564 speak with our friendly staff about available tickets and purchasing, or visit the Rita Box Office near the main entrance to the Rita. Call the Box Office for detailed hours or stop by one hour prior to each performance.
Since 1968, the University of Wisconsin-Parkside has continued to build a reputation as an outstanding liberal arts institution with particularly strong fine arts programs. With The Rita Tallent Picken Center for Arts & Humanities, our state-of-the-art instructional facilities and stunning performance venues match our award-winning academic programs and provide even greater community access. Read more about The Rita.