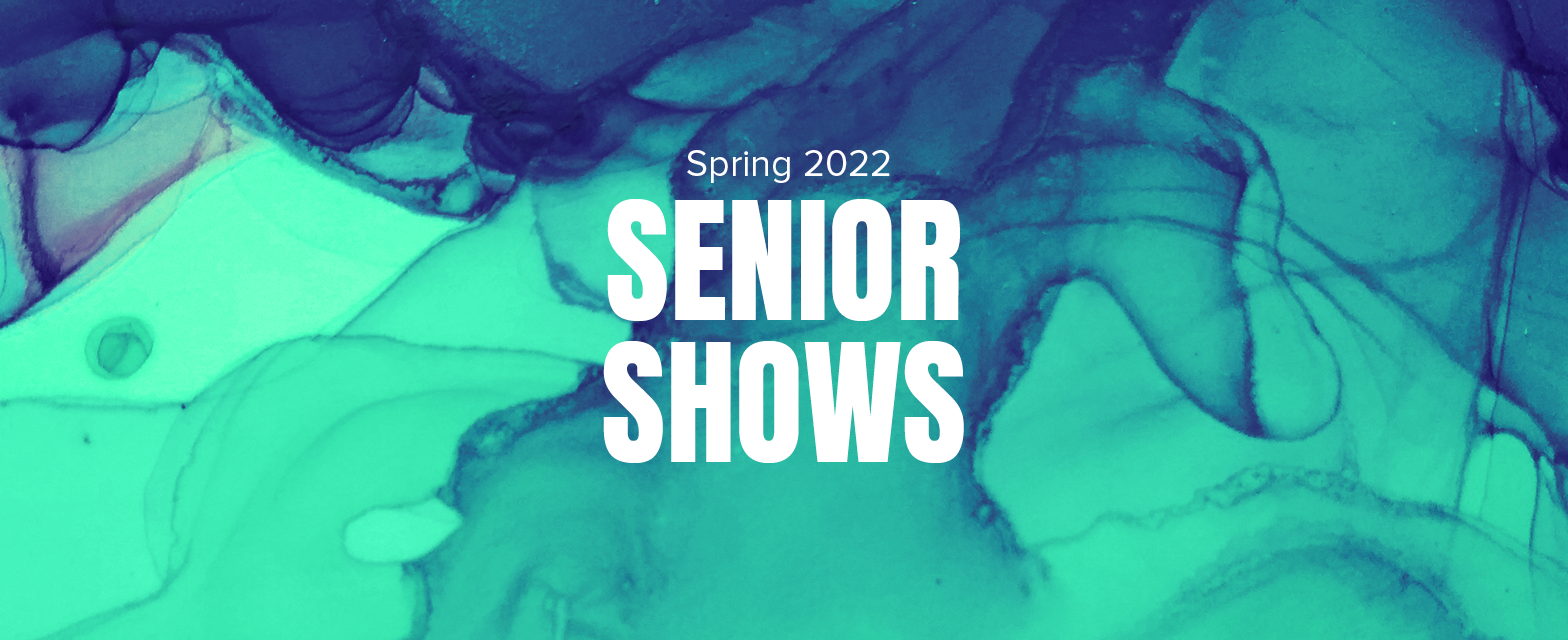 SPRING 2022 SENIOR SHOWS
Violet Alizabeth  |  Michael Kavanagh
Apr 26-29
Foundation Gallery
Reception  Wed, Apr 27  |  4-6:30 pm
Janet Arriaga  |  Shelby Severson
May 2-6
Foundation Gallery
Reception  Thu, May 5  |  4-6:30 pm
Avianna Davis  |  Olivia Deckard
May 9-14
Foundation Gallery
Reception  Wed, May 11  |  4-6:30 pm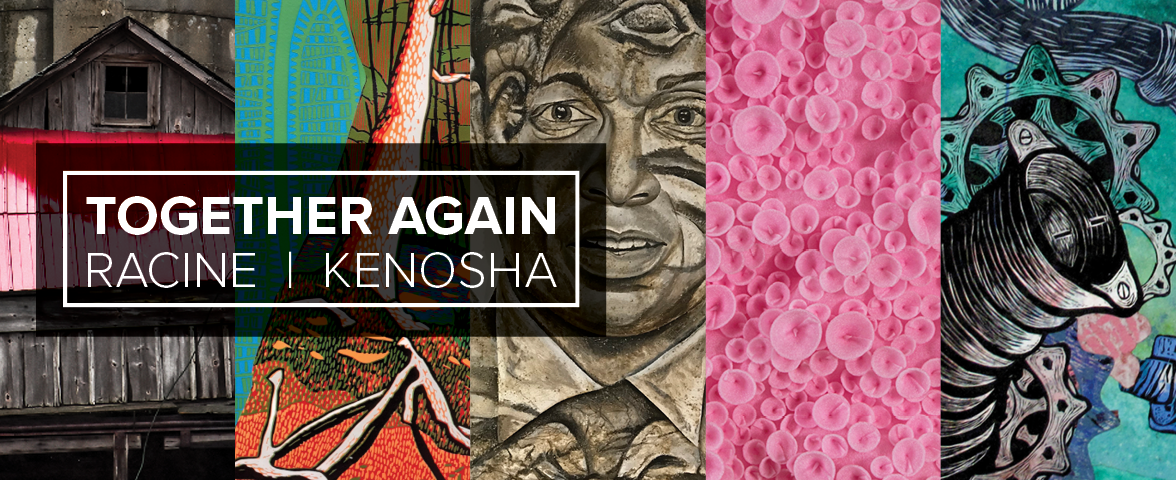 Together Again: Racine Kenosha

Fine Arts Gallery   |  Feb 8-May 13, 2022 
Reception  Sun, Apr 24  |  4:30 PM
Virtual Exhibition

UW-Parkside is pleased to host Together Again, our second survey of contemporary artists working in Racine and Kenosha as the kickoff event for our celebration of 10 Years at the Rita Tallent Picken Center for Arts & Humanities. This all-media exhibition was juried by Shana McCaw, formerly Senior Curator at the Charles Allis and Villa Terrace Museums, now Creative Director and Co-Founder at Current Projects in Milwaukee, WI.
ARTIST PROFILES
In COMM 350 Digital Storytelling, students learn key concepts for storytelling including structure, function, and context of narrative. Through hands-on practice, they learn to put theories into action and to become creative and effective storytellers in the digital media world. In Fall 2021, students teamed up with Parkside Galleries to profile local and visiting artists. After interviewing and researching four amazing artists, the students put together the following short films and blog posts.
Artist blog
Everyday Beauty: A Profile of Hans Habeger 
Everyday Beauty is a six-minute journey into the artistic process of Hans Habeger, a painter and a drawer from Libertyville, Illinois. He's best known for his pieces which capture suburban commercial landscapes. His subjects often appear mundane on the surface, but are revealed to have an inner beauty when viewed from Hans' perspective. Our film was created by three young filmmakers from the University of Wisconsin Parkside tasked with interviewing a local artist, and the final cut is the result of their talents, mistakes, insufficiencies, and artistic visions.  
The process of creating Everyday Beauty began with an interview with Hans. One of the team's first ideas for the film was to conduct the interview in Hans' studio. We felt that doing so would allow us to capture Hans in his element, and give our audience a look behind the scenes. Little did we know that Hans works from home, and that visiting his studio would mean visiting his home. This turned out to be a blessing in disguise. Being welcomed into Hans' home was a wonderful experience, and it helped us become closer to him. We got the chance to step into not only his work life, but his home life as well. It isn't in the film, but we were able to see the space where his child tries to follow in daddy's footsteps by practicing their finger painting. We got to meet Hans adorable puppy (we couldn't resist giving him a cameo in the film). In the end, footage from Hans' home studio ended up being the backbone of our film, and I believe that it yielded ample material of Hans comfortably speaking to us about his life, process, and work. Hopefully that came through in the final product.  
Another major aspect of the film is the use of images of Hans' completed works juxtaposed with footage from the real-life locations that they were based on. We felt that shots like these provided a great visual, one that helped to illustrate the point of Hans' work. Hans endeavors to give these locations their moment in the sun, to show the beauty that lurks beneath the surface of what most of us pass by every day. By showing what is, and contrasting it with how Hans sees it, we're able to help the audience relate to what Hans is doing. We wouldn't have been able to accomplish this without Hans' help. We followed him to these locations and he not only agreed to pose for some of the shots, but he also gave us a lot of interesting information about why he chose these locations. This experience helped us become closer with Hans, and made it possible for us to convey more about him in the film.  
Throughout the film we show images of Hans' artwork, and images of Hans' studio. We wanted to make sure that the film not only focused on Hans as a person, but also on how he and his work and linked together. As much as possible, we used his own artwork to illustrate that points that Hans was making during the interview. We tried to match the images displayed with the story being told. I think that it came across.  
Hans was incredibly helpful during this whole process. He was willing to go above and beyond in order to help us make the best film possible, and we're grateful to him. We hope that the final cut does him justice.  
Artist Blog
A Poverty of Beauty 
A blog about Rafael Francisco Salas
Our story begins with a shot of a flower swaying in a field. This natural image contrasts with the artificial confines of a commercial strip.  As soft music settles in, Rafael Francisco Salas describes a poverty of beauty he sees in our culture.   
Everything is about convenience, while the natural state of the world is abandoned. This opening sequence hooks the viewer in and introduces a main theme of Rafael's story. We gain insight into his perspective before diving into the details of his artistic vision. 
A Story in Coming 
Rafael explores his own identity and how he kept it separate from his early artwork.  As more of his story unfolds, we learn of a transition where he began to embrace his heritage and incorporate it into his professional work.   
The selected pieces highlight Rafael's artistic ability and ties to a theme. Additional shots show a rural setting, the environment that often inspires his creativity. Rafael takes these ideas and begins to add a personal touch to make his art more relevant to his own understanding. 
Wasted Days and Wasted Nights 
Freddy Fender is known for his music, and it was one song in particular that invoked the story of Rafael's truest collection. "Wasted Days and Wasted Nights" is a deep and profound exploration of the artist's experience accompanied by country music.   
Rafael's heritage and life in rural Wisconsin are the concepts that this collection feeds upon. These artistic selections would serve as a transition in his career. For the first time, Rafael was making artwork that spoke to his own identity. 
The Mythology of Rural America 
Country music plays in the background throughout the duration of Rafael's story. It is this genre that fascinates Rafael the most. He describes a mythology behind the music and how it portrays an honest and sometimes grim reality about rural America. The majority of Rafael's artwork takes place in a country setting.   
One striking piece displays a dying lamb with its body cut open.  These dark yet reflective themes tie into the creative edge of Rafael's artwork. The mythology of rural America is a topic that has great relevance to each piece. 
Beauty from the Not 
Rafael's message comes full circle with the closing of his story. We return to the poverty of beauty – the commercial strip, and then the flower in the field. It is with these shots that Rafael delivers his message.   
Everyone must take the time in their lives to recognize the poverty of beauty in the world around them and add their own beauty to it. The music is left to play as the viewer reflects on the field, and a final piece of Rafael's artwork is shown. In a short five minutes, the viewer has been introduced to Rafael Francisco Salas, his art, and the mark he hopes to inspire. The world isn't always pretty, but we can all find a way to use our talents and make it better for everyone around us. 
Artist Blog
Capturing Our Community in Art:  A Profile of Scott Terry 
When first looking at Scott Terry's work before meeting him, we did not know what to expect. He uses bright colors and covers vast ideals of Black humanity. Terry draws influence from his identity and life experiences and puts this forth in his work.  
He touches on how he had ambitions to be a professional football player, and how this influenced his extraordinary art career. 
We chose to include these parts from the interview because they resonated with us, and we knew they would resonate with other viewers. Common struggles and finding your way in life is something many people go through. This video serves the purpose of telling a small part of a local artist's life as well as introducing some important projects Terry is working on that shed light on our community, its problems, and its power.  
Much of our b-roll comes straight from Scott's gallery, and this gives us creators a way to help the audience visualize both Scott's art and the community of artists that surround him. We enjoyed learning about how Scott puts his heart into his work, which frequently touches on the experiences of the Black community in the Racine/Kenosha area. While working on this piece we learned the whole logistical flow of creating a short, small biopic of a local artist. This includes contacting, setting up meetings, and filming the interview. As a team, we then edit down the best parts and put those into the video. It gave our group a small experience into this type of situation that would happen in the real world. Besides using the interview footage itself, we used complimentary b-roll along with b-roll from Scott's gallery.  
Communication was hard as it has been during the pandemic, but we were able to overcome and figure out when and where to conduct our interview. When the interview came around, we felt well prepared with plenty of questions that covered a range of topics that truly showed who Terry is as an artist and a person. This experience showed us the basic process of an interview and gave us knowledge that we can use in the future. Not being the interviewer, other group members learned how to operate a camera in a 3 point interview and to use a switchboard during the process to change between cameras.  
Our digital storytelling skills will allow us to capture things that we experience and put them out there for everyone to enjoy.  
All in all, to learn about Terry, his life, and his artwork was a truly eye-opening experience. Terry's dedication to his art through his cultural background shines in all his pieces and makes people keep coming back to see his work. 
Artist Blog
Carey Watters: Crafting Feminist Histories 
Drawing inspiration from her US travels out east, to the west coast, Midwest, and all over the world, Carey showcases her emotions and life experiences through her art. Her work especially resonates with women. It depicts the struggles and emotions that many deal with on a day-to-day basis. Whether it be what they are going through on a personal level or how they are being affected by the world around them such as the isolation caused by Covid-19, Carey's work hits home.  
In making the film, our production team wanted to show how each step she takes in her work leads to a finished product that is not just a flat-surfaced form of art. She incorporates paper cut-outs, found objects, and photography. We wanted to showcase her how her unique work process adds meaning to her creations. For example, the assemblage of materials depict tears, blood, and detached heads of female figures.  
In this interview, Carey goes into detail about how the detached heads in her work have meaning which many women can connect to: of being pulled in multiple directions by competing obligations and trying to find oneself in the midst of the mess. 
In the process of conducting this interview, it was important for our production team to include up-close and detailed shots of Carey's work to get the full emotional impact. Her pieces are a reflection of herself and everything that has happened in her life which was vital for us to show in this video.  
Through the process of creating this film, our production team learned some of the basics of effective storytelling, such as how tell a wider narrative out of several short clips. 
A limitation our production team came across was coordinating between multiple people to accomplish our goals, especially during the pandemic. We would have loved to include more of Carey's work and more of what she had to say in relation to her artistic life and inspirations for her work. The possibility of including more b-roll and dialogue from our interview did exist if only more of our production team members were experienced in using Premiere Pro, the video editing software. Despite this, working on a story to share about Carey's art, we learned that to capture a viewer's emotions, such as her work captured ours, we had to find a way to bring her vivid descriptions to life. Without her explanations, we would simply be looking at something we might find fascinating, strange, or just interesting without knowing the feminist inspiration behind it.  
After working on Carey Watters's film, we realized that so much work is put into professional clips and audio. There is much brainstorming and work that goes into any short film or videos. In watching this interview, we hope you, the viewer, become inspired by Carey's artwork and its emotional resonance.  
About Parkside Galleries
We are educationally-driven with thematically-focused, interdisciplinary exhibitions. Although we do not have the staff to actively review all exhibition submissions, we invite artists to introduce themselves by sending an email with a link to a website address. We are always on the lookout for new and interesting work, especially if it intersects with our educational mission.
Since 1968, the University of Wisconsin-Parkside has continued to build a reputation as an outstanding liberal arts institution with particularly strong fine arts programs. With The Rita Tallent Picken Center for Arts & Humanities, our state-of-the-art instructional facilities and stunning performance venues match our award-winning academic programs and provide even greater community access. Learn more about The RIta.