Galleries at the Rita will be closed Nov 26-Feb 1.
Select virtual exhibitions are available to the public.
To receive information about future events and updates, join the Rita mailing list.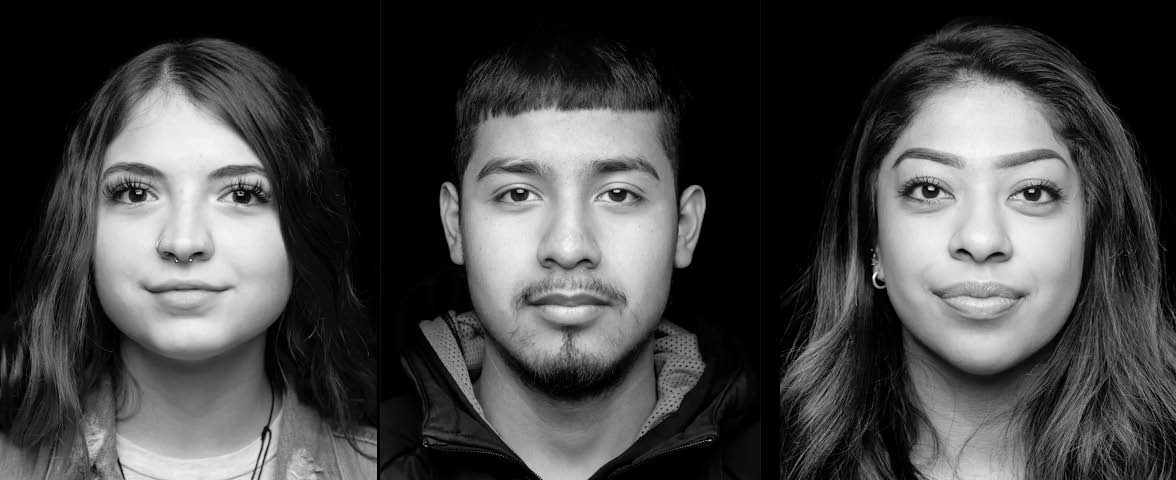 Our Stories
A video installation by Kevin Miyazaki

Upper Main Place and L1 Concourse  |  Through Dec 14
Many of the themes explored in Kevin Miyazaki's artwork are centered around his family history and the larger story of Japanese Americans in this country. He is deeply interested in the ancestors who came before him, the paths of their migration, the stories of their lives and their place in American society. These ideas were on view during an exhibition at UW-Parkside in November 2019-January 2020, with a hope that they inspire viewers to think more deeply about their own American ethnic story.
In the interest of exploring other individual family histories, and to celebrate the diversity present on the UW-Parkside campus, Miyazaki met and photographed students from the classes of Sarah Piña, Assistant Professor of Latina/o Literature and Caitlin Quintenz, Visiting Assistant Professor in the Modern Languages Department. The students were encouraged to write about their family history - and the images and text were made into a 43-minute video.

About the Artist
Kevin J. Miyazaki is an artist and photographer based in Milwaukee, Wisconsin. His artwork focuses on issues of ethnicity, migration and place, often addressing family history and the incarceration of Japanese Americans during World War ll. Miyazaki was born and raised in suburban Milwaukee, culturally and physically far from ancestral roots in Japan, Hawaii, and Washington state. His photographs have been exhibited at venues including Madison Museum of Contemporary Art, Griffin Museum of Photography, Museum of Wisconsin Art, The Center for Photography at Woodstock, and Hyde Park Art Center.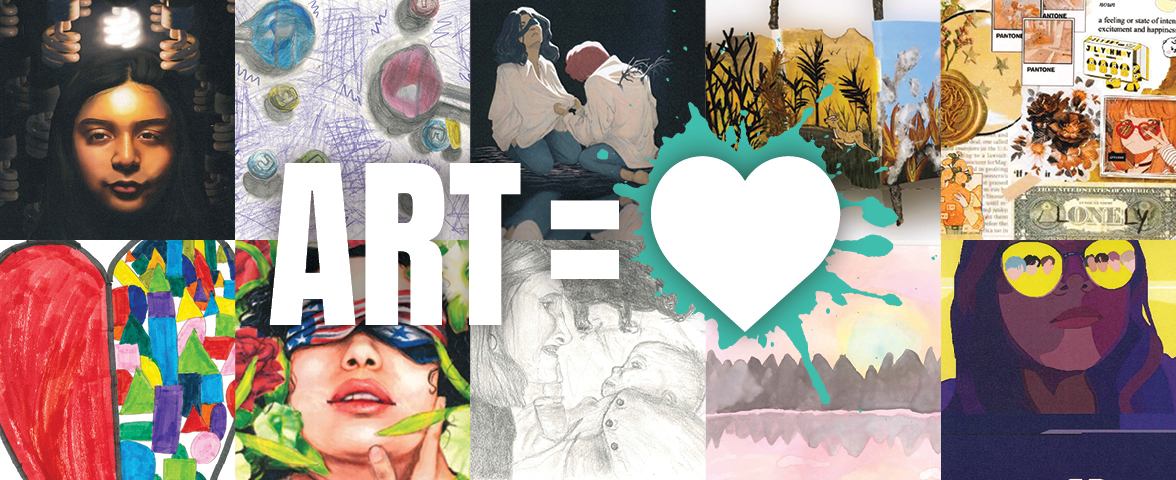 Art = Heart

Virtual Exhibition
We asked K12 students in our region to think about how being creative and making art brings them joy, comfort, peace, happiness—all things for a positive mindset. Then they translated those thoughts into amazing original artwork: photographs, digital art, paintings, drawings, and more.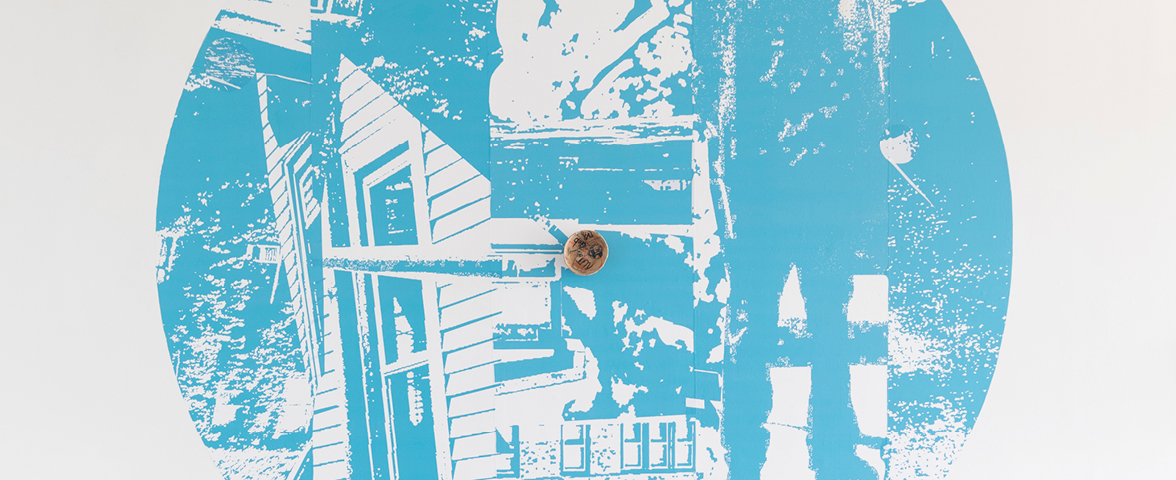 Mo...un...tain 
Santiago Cucullu

Through Dec 16
Mo...un...tain is an exhibition of new work by Argentinian-born artist Santiago Cucullu.
Emphasizing the subtleties of intuitive pacing and spatial orientation, Cucullu makes work using a duality of materials and appropriation to indicate that an exhibition space can act to trigger memories and experiences that we may encounter as rarified moments. Cucullu's current exhibition, Mo…un...tain, brings to mind the accumulation of the scope of issues in our current experience. Composed of a wall of drawings, a large-scale photo installation, and a vinyl and ceramic wall work, the exhibition in part illustrates this, while also pushing against the current order.
For Mo…un…tain, Cucullu looked for moments that were melancholy, but sometimes humorous, while seeming to be removed from, but relevant to our current experience of Covid-19 and a rapidly deteriorating political situation.
 
About the Artist
Santiago Cucullu currently lives in Milwaukee, WI. He has exhibited at the Walker Art Center of Minneapolis; Blum and Poe Gallery, Los Angeles; Fondazione Sandretto Rebaudengo, Turin, Italy; Mori Art Museum, Tokyo and Gavin Brown Enterprise at Passerby, New York; Musee de Art Moderne de la Ville de Paris, Museo de Arte Contemporaneo de Monterrey and the Hammer Museum, Los Angeles; Milwaukee Art Museum, Milwaukee; the Museum of Modern Art, New York; Perry Rubenstein Gallery, New York; and Loock Galerie in Berlin. He has been included in the Whitney Biennial at the Whitney Museum, New York; the Singapore Biennial at the Biennial of the Americas, Denver, and the Wisconsin Triennial at the Madison Museum of Contemporary Art. He holds a MFA from the Minneapolis College of Art and Design (1999).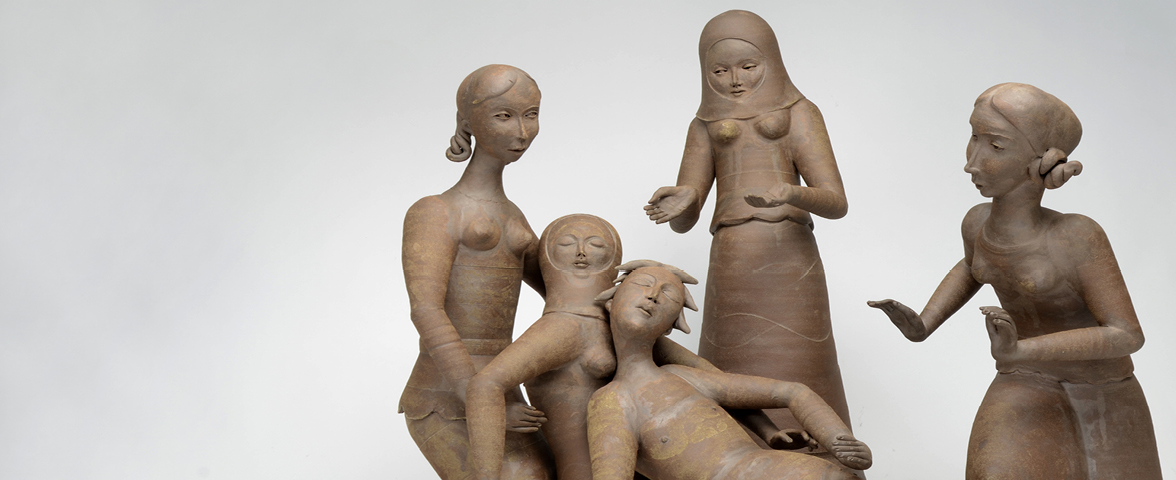 Kledage, sculptural objects from Gerit Grimm

Through Apr 22
View Virtual Exhibition   View Ceramics Demonstration
Kledage (meaning clothing in German) is a collection of sculptural objects from Gerit Grimm including both her highly-acclaimed, wheel-thrown ceramic figures and her recent fabric sculpture.
Grimm's ceramic works pair an often-whimsical subject matter steeped in folklore, referencing fairytales, fables, and princesses with impressive feats of technical virtuosity and physical scale. The surface of her work is austere and stone-like; feeling monumental and permanent.
Five handmade fabric dresses, which reference the same folk traditions and fairytales of her clay sculptures, are included in this exhibition. During Grimm's recent sabbatical she was locked out of her communal Ceramic studio and turned to fabric as a way to continue making during Covid-19. After a three-month class on garment making in Berlin, Grimm began making her own textile sculptures. These sculptures are adaptations of the German dirndl, made by combining traditional fabrics with contemporary fabrics containing Grimm's hand-drawn fairytales and peasant scenes.
 
About the Artist
Gerit Grimm was born in Halle, German Democratic Republic. In 1995, she finished her apprenticeship, learning the traditional German trade as a potter at the "Altbürgeler blau-weiss GmbH" in Bürgel, Germany and worked as a Journeyman for Joachim Jung in Glashagen, Germany. She earned an Art and Design Diploma in 2001 studying ceramics at Burg Giebichenstein, Halle, Germany. In 2002, she was awarded with the German DAAD Government Grant for the University of Michigan School of Art and Design, where she graduated with an MA in 2002. She received her MFA from the New York State College of Ceramics at Alfred University in 2004. She has taught at CSULB, Pitzer College, Doane College and MSU Bozeman and has worked at major residencies like Mc Coll Center, Bemis Center, Kohler Arts & Industry Program and Archie Bray Foundation. In 2009 NET Television created "Fantasia in Clay" a Nebraska Story about artist Gerit Grimm. Grimm is now an Assistant Professor at University of Wisconsin, Madison.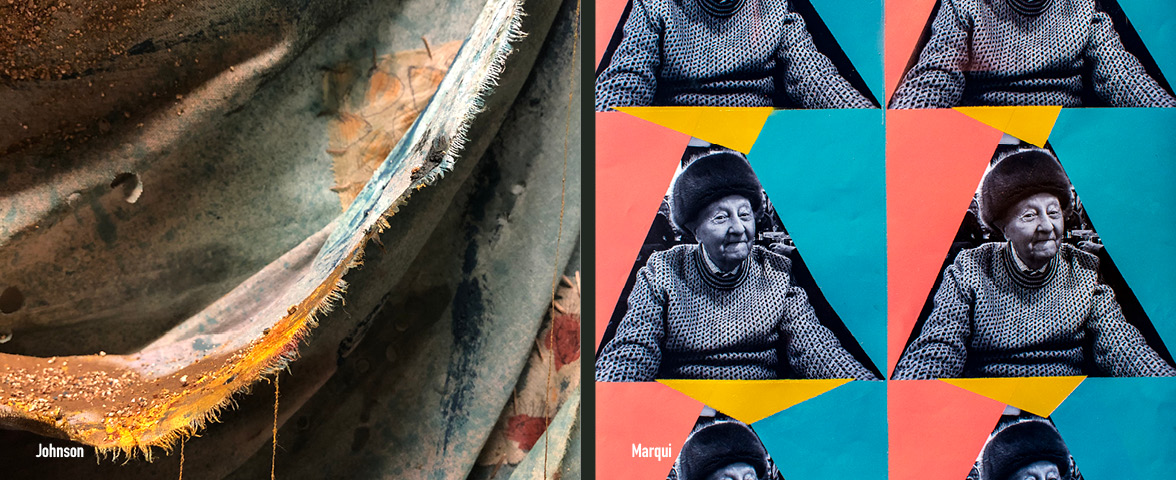 Senior Shows

Megan Johnson  |  Nina Marqui
Mari Aguero  |  Nai Herrera  |  Mia Hope Beauchamp
Kiersten Ekornaas  |  Leah Huber  |  Adrienne Shimada
RECENT VIRTUAL EXHIBITIONS, EVENTS, AND CATALOGS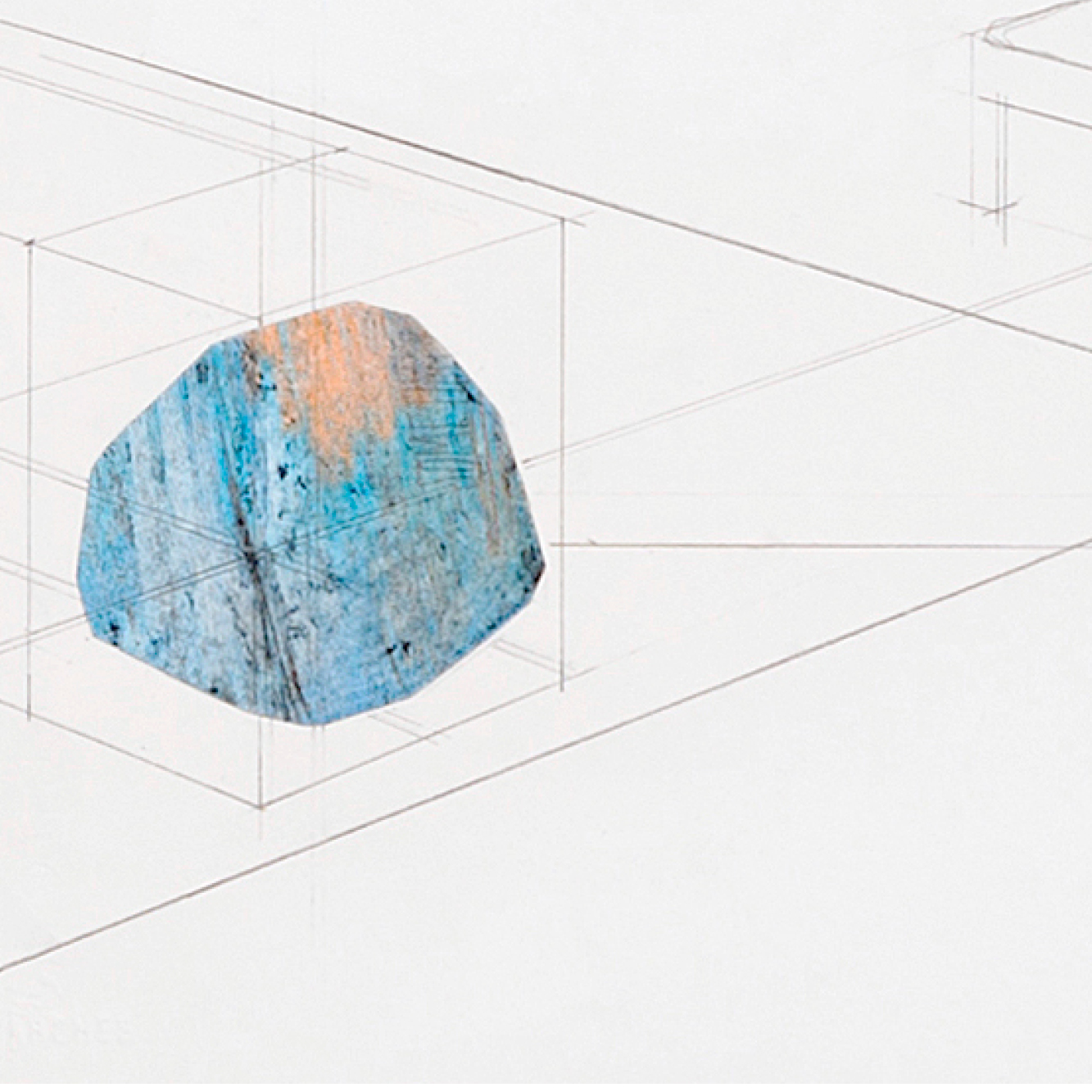 Esther Pearl Watson
Esther Pearl Watson: Dream Believer
Catalog Exhibition
Watson grew up in series of small towns outside of Dallas, Texas with her siblings, mother, and flying saucer-building father, Gene. Her family moved often, since her father's hobby of building huge flying saucers out of scrap metal and car engines didn't always sit well with the neighbors. Esther's pieces are often overtly narrative, clear but mysterious scenes of houses or figures ornamented with snippets of prose telling just enough to get the viewer's own imagination engaged, wanting to know more. Some are about family, some about places, all have a rich interior life. Her works without words are just as suggestive of story, also exerting a deep emotional pull.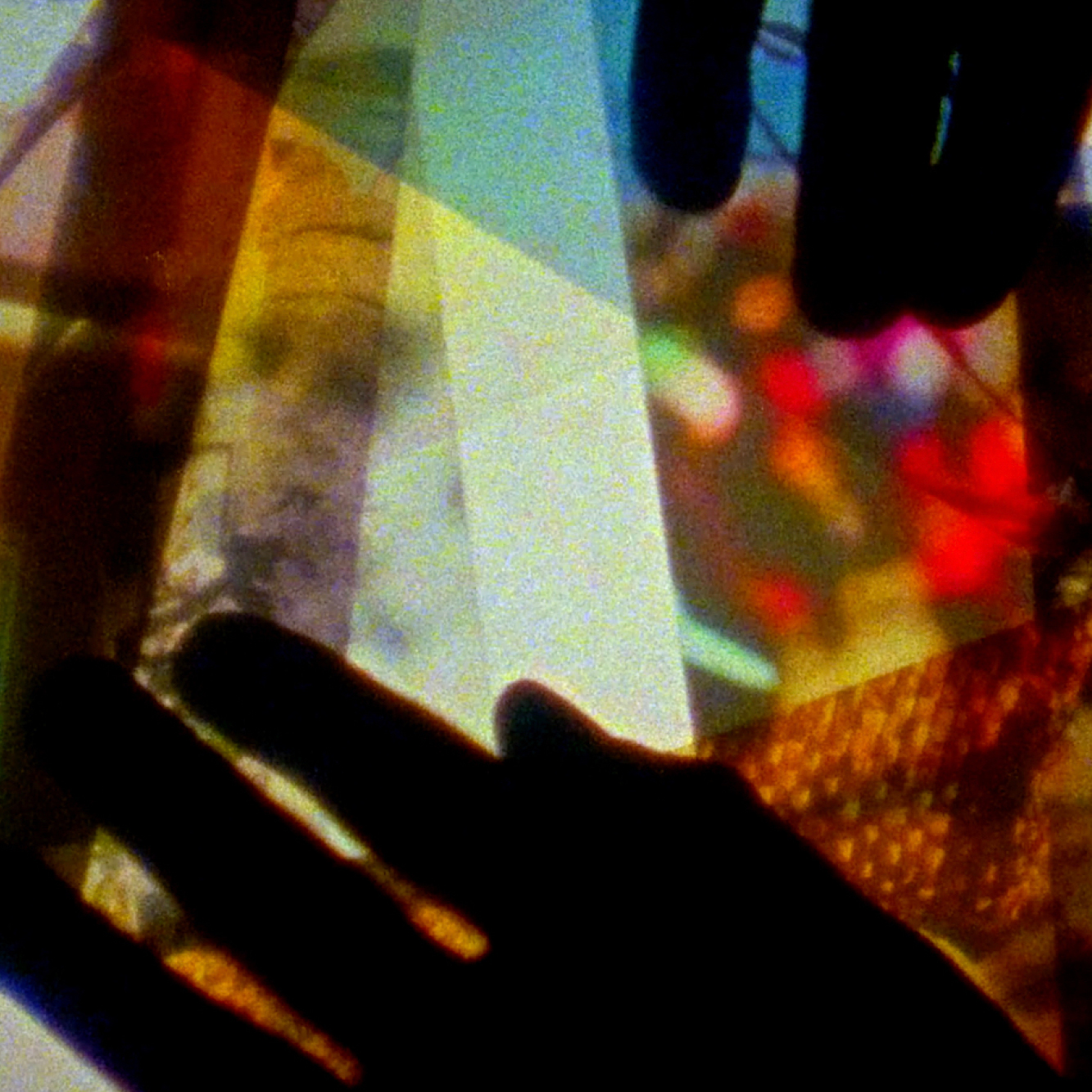 Sky Hopinka
Sky Hopinka
Virtual Exhibition
Sky Hopinka is a member of the Ho-Chunk Nation of Wisconsin and a descendent of the Pechanga Band of Luiseño Indians. His videos use figures and texts, layered and dense in image and sound, movement and meaning, to question the complications of knowledge, access, and artifact.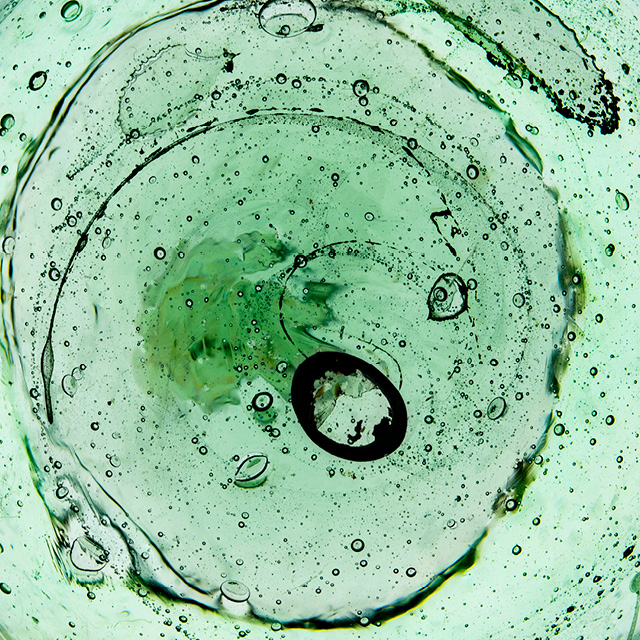 Kevin Miyazaki
Kevin Miyazaki: Kuroshio
Catalog Exhibition
Miyazaki's exhibition tells a story of immigration and migration. It begins by documenting the reuse of buildings from the Tule Lake and Heart Mountain Japanese internment camps, where members of Miyazaki's father's family were incarcerated during World War ll. The word "camp" is used by most Nisei, or first-generation Japanese Americans, to describe both the physical place they were held, as well as the overall wartime incarceration experience itself. Miyazaki's interests lie in examining the changing value of architectural forms constructed as a result of wartime hysteria and racist attitudes. The work continues by documenting additional elements and moments from Miyazaki's personal history that communicates something larger about our shared humanity.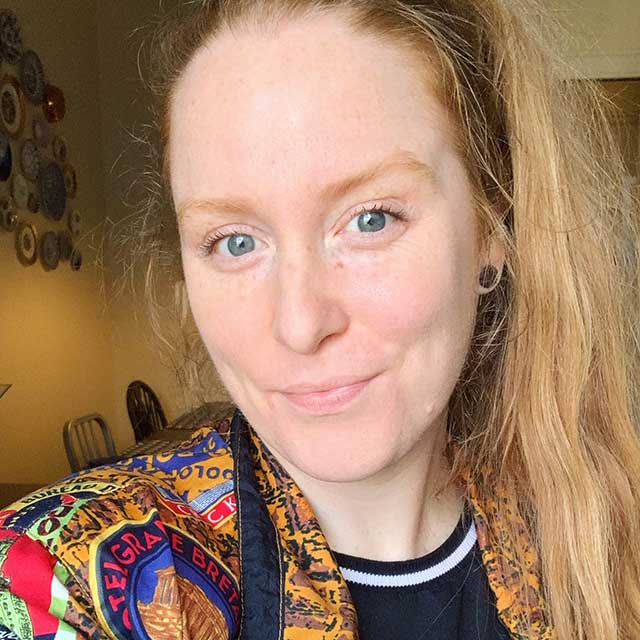 Kate Mothes
Building an Online Presence in the World of Art
Discussion with Kate Mothes
From the perspective of running and curating an online contemporary art platform, Kate Mothes discusses the quickly changing landscape of online presence in the art world, especially the emergence of virtual platforms over the last several years, from artist-run culture to pandemic phenomenon. Additionally she will discuss why an online presence is essential for professional artists today, especially social media and websites, along with tips for time management and networking.

About the Artist
Kate Mothes is founder and curator of Young Space and Co-founder/Editor of Dovetail Magazine. Young Space (yngspc) is an independent, itinerant, online-offline contemporary art platform emphasizing early career and emerging artists. Dovetail Magazine is an independent online + print contemporary arts publication that positions contemporary visual art in dialogue with design, architecture, photography, travel, and global visual culture. Mothes earned a Bachelors in Art History from the University of Wisconsin-Madison, and a Masters in the History of Art, Theory and Display from Edinburgh College of Art at the University of Edinburgh. She is currently based in Northeast Wisconsin.
Gallery Hours
Tue-Thu  |  9 am-4 pm
Closed Nov 26-Feb 1
Gallery Director
Colin Matthes
262-595-2565
gallery@uwp.edu
About Parkside Galleries
We are educationally-driven with thematically-focused, interdisciplinary exhibitions. Although we do not have the staff to actively review all exhibition submissions, we invite artists to introduce themselves by sending an email with a link to a website address. We are always on the lookout for new and interesting work, especially if it intersects with our educational mission.
Since 1968, the University of Wisconsin-Parkside has continued to build a reputation as an outstanding liberal arts institution with particularly strong fine arts programs. With The Rita Tallent Picken Center for Arts & Humanities, our state-of-the-art instructional facilities and stunning performance venues match our award-winning academic programs and provide even greater community access. Learn more about The RIta.