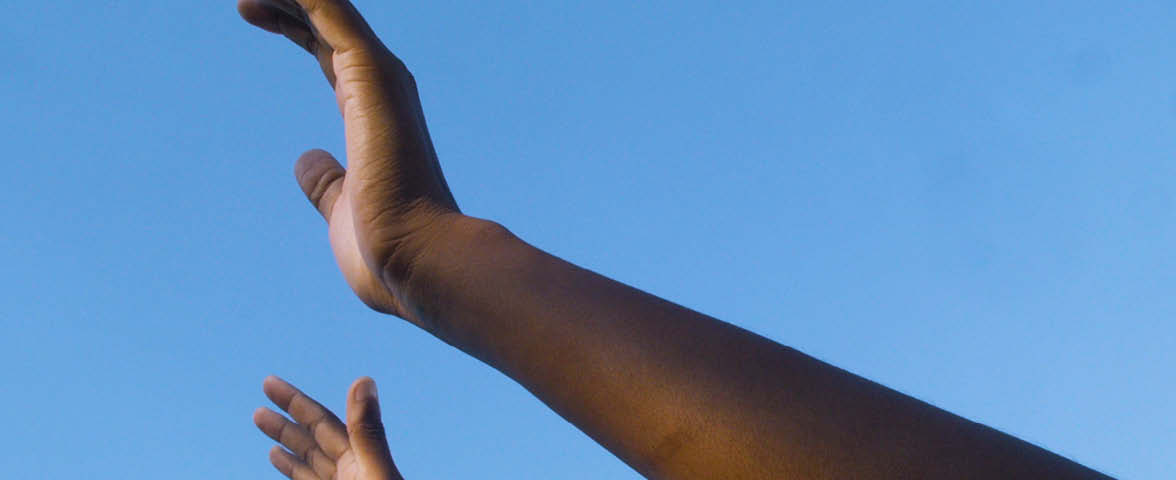 Le'Andra LeSeur: As Night Comes Again
Foundation Gallery
Sep 15-Nov 18
Artist Talk Wed, Oct 26  |  2-3 pm
Reception Wed, Oct 26  |  3-5 pm
We are pleased to announce, Le'Andra LeSeur: As Night Comes Again. This exhibition presents a selection of work created in the last five years that epitomizes multidisciplinarity and synthesizes the movement of a body—and of a body of work—over time. As Night Comes Again is organized by guest curator aryn kresol and the artist. This exhibition is co-sponsored by OMSA (Office of Multicultural Student Affairs) and the Office of Justice, Equity, Diversity, and Inclusion.
Le'Andra LeSeur is a multidisciplinary artist whose work encompasses a range of media including video, installation, photography, painting, and performance. LeSeur's body of work, a celebration of Blackness, queerness, and femininity, seeks to dismantle systems of power and achieve transcendence and liberation through perseverance. Through the insertion of her body and voice into her work, she provides her audience with an opportunity to contemplate themes such as identity, family, Black grief and joy, the experience of invisibility, and what it means to take up space as a queer Black woman—a rejection of the stereotypes which attempt to push these identities to the margins.
LeSeur has received several notable awards including the Leslie-Lohman Museum Artists Fellowship (2019) and the Juried Grand Prize at Artprize 10 (2018). LeSeur appeared in conversation with Marilyn Minter at the Brooklyn Museum, presented by the Tory Burch Foundation and has lectured at RISD and SCAD Atlanta, among others. Her work has been shown in solo and group exhibitions at The Shed, New York, NY; Marlborough, New York, NY; Atlanta Contemporary, Atlanta, GA; A.I.R. Gallery, Brooklyn, NY; Assembly Room, New York, NY; Microscope Gallery, Brooklyn, NY; Arnika Dawkins, Atlanta, GA; and others. LeSeur is represented by Marlborough Gallery, New York, NY.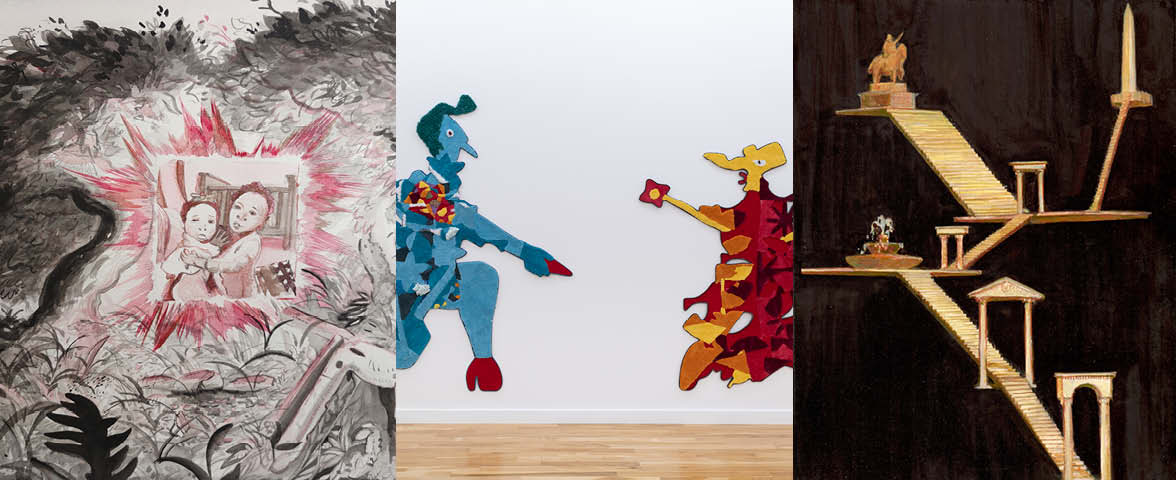 Elemental
Emile H. Mathis Gallery
Sep 7-Nov 15
Reception Thu, Sep 15  |  4-6 pm
We are pleased to announce Elemental, an exhibition featuring Jonathan Adams, Jessica Campbell, and Sean McElroy; three artists who have transformed their art practices while working during Covid. Quarantine is not the subject, but the limitation that provided each artist the opportunity to reimagine their work.  
Jonathan Adams' drawings display an otherworldly confluence of mythical and historical narratives as they relate to personal and collective histories. Adams' excavates our psychological, symbolic, and social ghosts of contemporary black life after death. Experiences of growing up in the culturally complex Appalachian region of the American South - notably early experiences in the church (Beasts and mythology of scripture), family drug abuse, systemic class racism and southern mysticism inform the sensational imagery present in his work. He explores the ups and downs of intimate sheltering, while seeking social connection and an end to systemic racism during this time of despair.  
Jessica Campbell's recent Gigantomachinations are made by working intuitively and formally instead of starting with a clear idea and executing it. In her words, "My brain is in a constant fog, and this is the only sustainable way for me to work in this current moment." These colorful, anthropomorphic figures are constructed from collaged carpet scraps and have titles like Ephialtes (Fighting my Dad about Vaccines) and Porphyrion (Fighting my Dad's Belief that Women are Born to be Servants). The title of her project, Gigantomachinations, references the Gigantomachy, the struggle between the gods and the giants in Greek mythology.  
Sean McElroy, part of the successful performance art duo, Royal Osiris Karaoke Ensemble, used his vast amounts of solo time during quarantine to revisit his painting and sculpture practice. He thought about past civilizations that had melted down in one way or another, and the ways that their artists had left behind depictions of what they thought the world looked like. Like Egyptian friezes with a lot of people stacked in a row, or medieval icons where some people were bigger than others based on their importance. His intimately scaled egg tempera icon paintings and bronze sculptures are metaphysical visions of the outside world as he remembered it. They were also visions of his own heart and mind. Eventually he realized each painting is an attempt to depict of society of abundance using the poor tools of allegory. 
Jonathan Adams (b. 1991, Bristol, VA) is an artist from Bristol, VA/TN. He earned his BFA in drawing from East Tennessee State University and his MFA in Interdisciplinary Studio Art from Rutgers University. His work has been exhibited in the lower eastside 21 Ludlow st, The Brooklyn Army Terminal under the contemporary artist Kara Walker, Crosstown Arts in Memphis, Chautauqua Visual Art galleries, Wiregrass Museum of Art and was a Part-time Lecturer in Drawing at Mason Gross School of the Arts at Rutgers University. Adams' currently lives with his family in VA/TN and loves noodles. 
Jessica Campbell is a Canadian artist and humourist based in Green Bay, Wis., working in comics, fibres, painting, drawing and performance. Her Chicago Works  show at the MCA Chicago in 2018-2019 was reviewed in Art in America, Hyperallergic, and Juxtapoz. Her graphic novel XTC69 was reviewed in Publishers Weekly, The Comics Beat, and The Comics Journal; her 2016 graphic novel Hot or Not: 20th Century Male Artists was reviewed by Hyperallergic and Comic Alliance: Her solo and two-person exhibitions include Field Projects in NYC, Roots & Culture and Sub-Mission in Chicago and La Galerie Laroche/Joncas in Montreal. Her work was recently on view in Chicago Comics: 1960s to Now at the Museum of Contemporary Art, Chicago and has been included in group shows at the Art Gallery of Alberta in Edmonton; Art Gallery of Hamilton in Ontario; Richard Heller in LA; moniquemeloche in Chicago, among others. Her new graphic novel, RAVE, published by Drawn & Quarterly, will be released in April 2022. Campbell is represented by Western Exhibitions, Chicago.  
Sean McElroy holds a degree in Classics from Brown University and a degree in Painting from the University of Washington. He uses sculpture, installation and performance to explore mythologies of love, power and pleasure. His work has been exhibited at the Henry Art Gallery in Seattle; Koplin Del Rio Gallery in Los Angeles; and at JACK, the Public Theater and Kate Werble Gallery in New York. He has won a creative Capital Award and has been reviewed in the New York Times.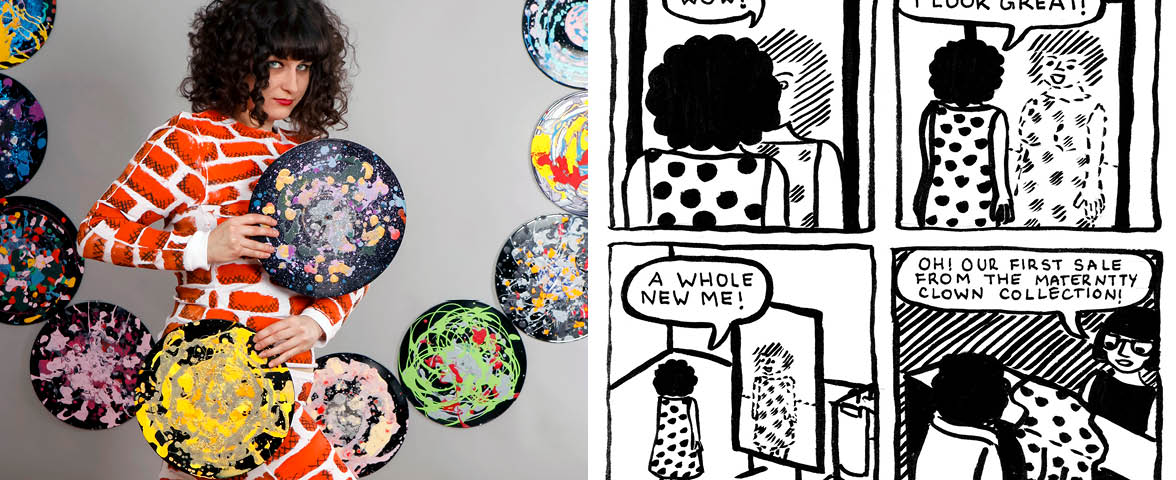 Workshop with Jessica Campbell
Rita D105
Thu, Sep 15  |  1-3:20 pm
Make your own Funny Autobio Comic Strip
The comics we first encounter in the world are often funny: gag panels, newspaper strips, children's comic books. Humor is so fundamental to the origin of the medium and is incorporated in its name. In this class, you'll participate in a fast-paced exercise to develop ideas for funny comic strips, which you will see through to completion. From generating an idea to drawing to producing a finished work, this will give you a crash course in cartooning.
About Parkside Galleries
We are educationally-driven with thematically-focused, interdisciplinary exhibitions. Although we do not have the staff to actively review all exhibition submissions, we invite artists to introduce themselves by sending an email with a link to a website address. We are always on the lookout for new and interesting work, especially if it intersects with our educational mission.
Since 1968, the University of Wisconsin-Parkside has continued to build a reputation as an outstanding liberal arts institution with particularly strong fine arts programs. With The Rita Tallent Picken Regional Center for Arts & Humanities, state-of-the-art instructional facilities and stunning performance venues match award-winning academic programs and provide even greater community access. Learn more.