Parkside Profiles - Joyce Gyurina
Joyce Gyurina Fondly Recalls the Challenges of Being an Adult Learner
The ability to pursue higher education seems like a simple concept to grasp. However, there are complexities within one's life that can make the seemingly simple notion of pursuing an education much more difficult than what one would expect. To say Joyce Gyurina's academic journey to earn degrees in English, geography, and secondary education at the University of Wisconsin-Parkside was anything but a challenge would be an understatement. 
Gyurina had begun her academic journey at the UW-Parkside in Jan. of 1968. A loving wife and mother to six children, Gyurina decided to take a leap of faith and enroll at UW-Parkside despite the challenges. She did not let being a wife or mother derail her dreams. Even though she had graduated high school many years before, she always knew that she had a relationship with education and had a lifelong love of learning. As a result of this desire for learning, she became an adult student, while juggling the responsibilities of a family at the same time. Joyce reflects on her time at UW-Parkside and the influence it has had on her.
The Challenges of Juggling Academics and Motherhood
Even though I had graduated from high school many years ago, I decided to take a leap of faith in January of 1968, when I enrolled at UW-Parkside. There I was, surrounded by hundreds of 18- and 19-year old students! Not that I was uncomfortable or intimidated by teenagers- really, for I had a few of those at home to deal with. My love of learning surpassed the many challenges that I encountered along the way to my coveted degree. 
It was quite a challenge for me at that time with all my family responsibilities, especially with six active children. Every morning I would drop off my 4-year old, Joey, to kindergarten at Grant School, Jay at Washington Junior High School, Jeff at Bradford High School, Judy at St. Joseph's High School, and Jill at St. Anthony's Grade School. That's right, I drove five children to five different schools before arriving to my final destination — at UW-Parkside for my first class of the day at 9:00 a.m. 
Many kodak moments of fun, joy and also stress can be recalled by every student. While my family duties were always a priority, many term papers, final exams and projects kept me up till the early morning sunrise. I'll never forget the night I was locked in the library, which, at that time, was located in Tallent Hall. I was researching a Shakespeare play and was so immersed in the Middle English language that I completely lost all sense of time. The janitor found me in a cubicle and was quite upset that it was past closing time. A similar incident occurred at Carthage College Library as well. I was locked in and a janitor was checking on the Christmas Tree. He finally saw me pounding on the window. He was very upset, however; not as upset as I was! 
At UW-Parkside, I loved learning and loved all of my classes. Although I usually was the only adult learner in class, I was treated with kindness and respect by the professors, students and staff. Stella Gray was my advisor and my hero. While I was in the hospital with a new addition to my family, number six, Jana, Stella insisted I finish my degree and even signed me up for that semester. That's how dedicated and devoted the Parkside professors and instructors were.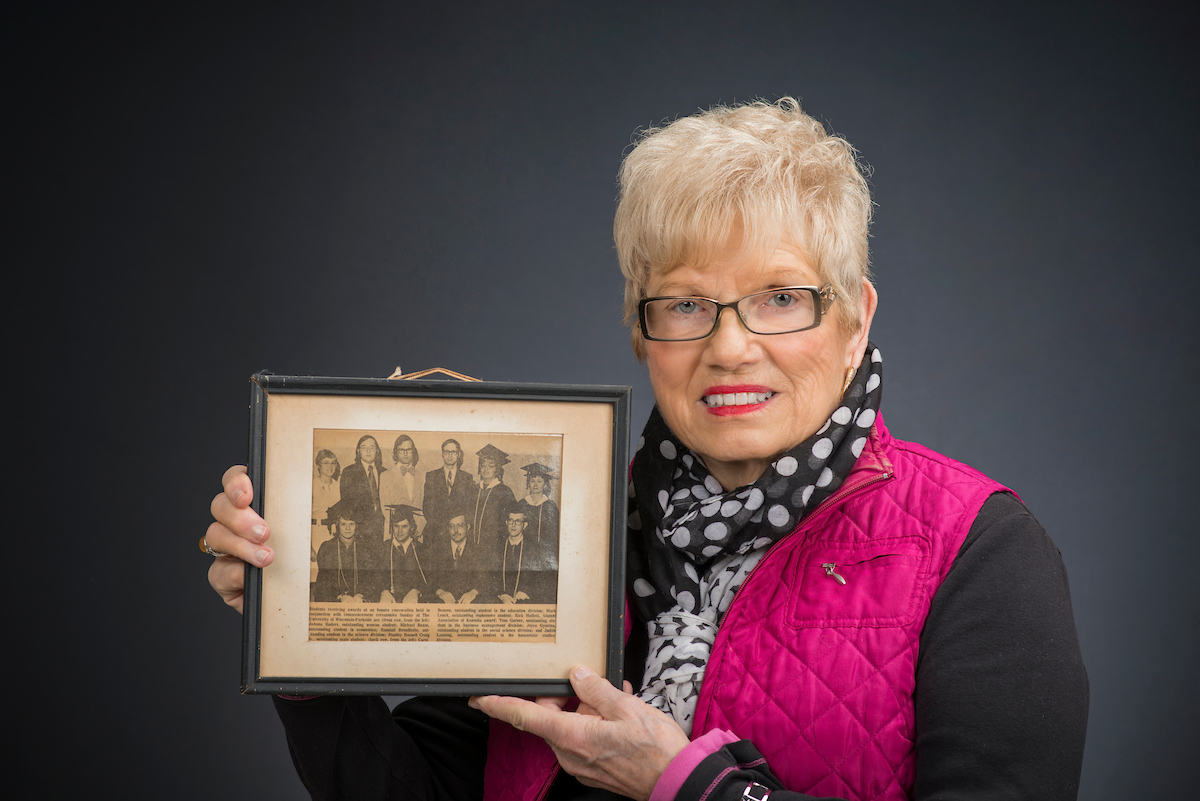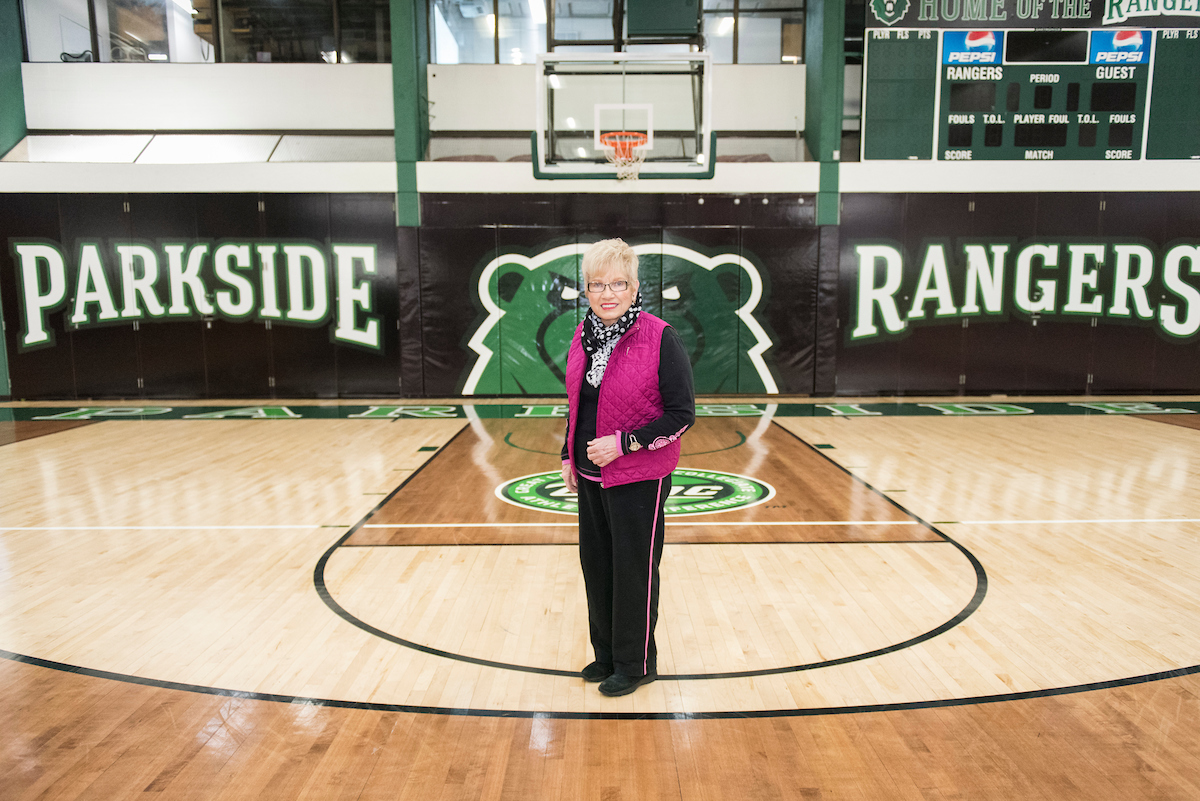 Triumphs at UW-Parkside 
When I was told to declare a major, I had a difficult decision. I loved English, Science, Anthropology, Geography, Art and History. Eventually, I received degrees in English, Geography, and Secondary Education. In May, 1973, I graduated with highest honors and was awarded the 'Outstanding Student in the Social Studies Division' award for 1972-73. Our graduation class was the first to have the commencement ceremony in the newly- built gymnasium. What a monumental honor for everyone to applaud! 
It's been Fifty years since I started classes at U.W. Parkside and I still cherish my love of lifelong learning. Nevertheless, Parkside was an exciting and adventurous experience that I will always keep close to my heart. Thank you, U.W. Parkside, for continuing to inspire those who desire the highest quality education and a bright and rewarding future!