Employer Resources
The Advising and Career Center looks forward to working with you to develop a recruitment strategy that combines on campus engagement opportunities, convenient online tools, and easy marketing tactics to connect your professional opportunities with candidates from the Parkside talent community.
We're online for you.
No in-person service until further notice. We remain available by phone, email, and web conference to discuss recruitment strategies. As always, we invite you to post your positions and virtual career events to Handshake.
OVER 500 NEW GRADUATES
UW-Parkside graduates are recognized for their rigorous academic preparation, outstanding work ethic, career-related skills, and commitment to the community. A majority of our alumni live and work in the Kenosha and Racine area, making our businesses and organizations vibrant, diverse, and successful.
We are very proud to share a downloadable infographic that highlights our 2021 graduating class. Click the graphic to learn about this impressive group of students.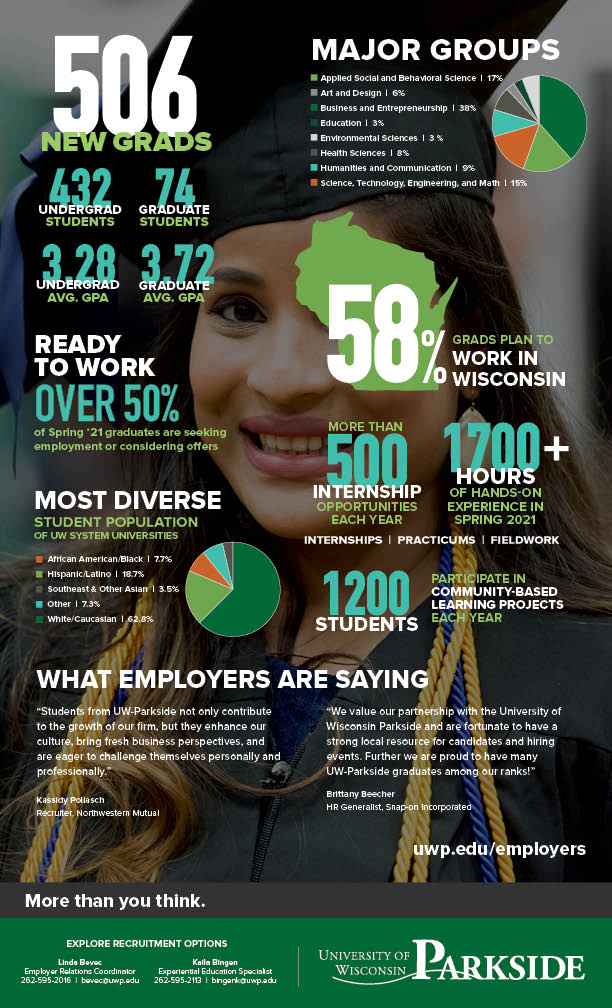 EMPLOYER BRAND DEVELOPMENT
The Advising and Career Center offers a variety of digital and print marketing options and can connect you with additional campus avenues to help you share your your positions with students. 
 
Targeted Email Campaign
Provide ready-to-send content and high quality graphics, and we'll deliver a targeted email campaign to specific audiences.
Digital Display Feature
Each week, we choose four positions to display on digital screens across campus. Yours could be next!
Social Media
Gain visibility on University social media channels by posting about opportunities and tagging groups of your choice.
Advertise in the Ranger News
Purchase an ad in the student newspaper and gain the attention of a loyal readership on campus and online.