Disc Golf
There's a whole world of disc golf, including a professional organization called the Professional Disc Golf Association, or PDGA, which has over 15,000 members worldwide.
Our professional designed course is woven through out our beautiful 700-acre campus, with 18 challenging holes with both professional and amateur tees. (Watch a video tour of the course.)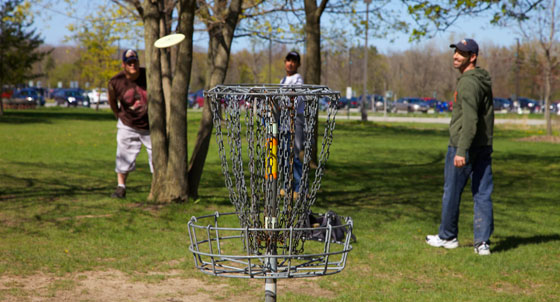 Never played?  No problem!
Simply put, disc golf is golf played with a Frisbee-like disc. Your target is the steel basket. Each hole is scored according to the number of throws a player makes to get his/her disc from the tee to the basket.  It is free and fun for all skill levels. Newbies are always welcome!
The Disc Golf Proshop located in the University Bookstore sells Innova and Discraft and has the largest selection in Southeastern Wisconsin and Northern Illinois.  So, just buy a disc and grab a course map! The rules of the game are simple!    
Please respect the environment when using the course
Parking: Parking is free on weekends. During the week, visiting golfers should use the meters or buy a $5 one-day permit from the University Police Department, Tallent Hall 188 (the east side of Wood Road, north of Orchard Courts apartments). Frequent disc golf players may purchase a seasonal parking pass, good April 1 thru August 31. Please call the Police Department at 262-595-2455 for current pricing. Permit kiosks sell $1/hour permits for golfers to use. Vehicles without a permit or parked illegally are subject to a ticket. Complete parking rules are available here.