WELCOME TO THE UNIVERSITY OF WISCONSIN-PARKSIDE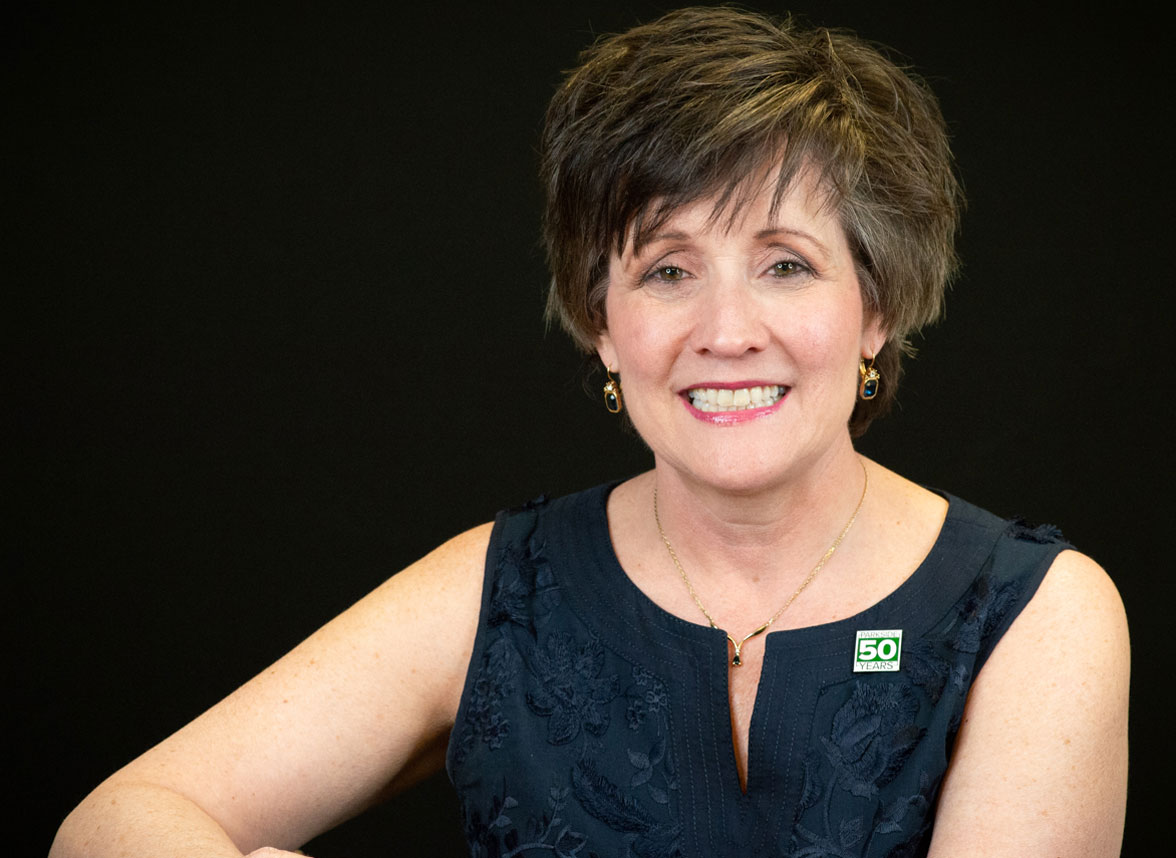 Leading an institution that, throughout its rich 50-year history, has had such a positive impact on students and our neighboring communities is a great source of pride. Our esteemed faculty, staff and community partners make an important difference in the lives of our students and graduates.
As the first in my family to attend a university — and more than 60 percent of our graduates are just like me — I understand the responsibility associated with that opportunity and I appreciate the amazing rewards. The focus of the University of Wisconsin-Parkside, and the focus of my leadership will always be on helping all of our students succeed.
Statement from Chancellor Debbie Ford
Wow, Another Great Year for UW-Parkside! YOU – and yes, WE – did it! 
You, our amazing faculty and staff adapted, persevered, and overcame all of the obstacles placed before you during the 2020-21 academic year.  Thank you for demonstrating your commitment to the UW-Parkside mission and to our students.
I continue to hear inspiring stories of how you adapted your curriculum for virtual learning and engagement or for socially distanced and masked-up face to face learning.  You are to be commended and on behalf of the administration we say Thank YOU!
My confidence in how our university excels both in the good times and the challenging times grows each day as I observe all of our faculty and staff place academic excellence and student success at the center of your actions.   One of the best aspects of serving as chancellor is meeting our proud alumni.  Over the past few weeks, I have met several of our alumni who are nurses, teachers, entrepreneurs, and leaders in business, government, and non-profits, and all remind me of the positive power of a UW-Parkside education.  Of course, they all say "if not for Parkside, I would not be…"  and they tell me stories of their favorite faculty and staff members.  Thank YOU for inspiring our students and alumni. 
Speaking of alumni, congratulations on educating the largest graduating class in UW-Parkside history!  Your commitment as teacher-scholars, your innovative spirit, and passion for your academic discipline or student support area continues to position UW-Parkside to reach its bold goal of increasing the number of graduates by 50-percent by 2025.  More graduates equal more ready talent for our thriving region and beyond.
For those of you who joined us for the virtual and in-person Spring 2021 Commencement Celebrations, Thank YOU for your engagement in making the 2021 Commencement special for the class of 2021.  Extra special gratitude goes to the Commencement Committee led by Julie Lee from the Provost's Office; the Registrar's Office; the CAH Production Team; Marketing and Design Team; Creative Services; University Communication Team; and the College Deans and their assistants.  We heard many positive comments from the graduates, their families, and all who celebrated our graduates.  Thank YOU for making today special for the Class of 2021 and for always championing Student Success!
Make sure you check out the Class of 2021 website; view the greetings from faculty, staff, elected officials, and board members; see social media posts from our graduates; and look at the 2021 Semester highlights featured in the 2021 Commencement Program. 
Summer 2021
Campus will be busy throughout the summer as several major construction projects continue in Wyllie Hall, DeSimone Gymnasium, the Utility Tunnel, and across campus.  We will also continue the transition from virtual work back to campus.  As we shared during the Leadership Assemblies last week, we will use the summer for a smooth transition and look forward to returning to a more traditional campus experience in Fall 2021. 
Stay tuned to your email and to the Monday Updates as we modify the COVID-19 health protocols, begin hosting campus events, prepare classrooms for greater capacity, complete renovations, welcome new students, faculty and staff, and plan the Fall 2021 Convocation!
For now, please know YOU are appreciated and I, along with members of the Chancellor's Cabinet, express our gratitude for your contributions and impacts on the UW-Parkside Learning Community.  As Mother Theresa once said, "We ourselves feel that what we are doing is just a drop in the ocean. But the ocean would be less because of that missing drop."  The role you have at UW-Parkside matters as we inspire, educate, and support our students! 
This coming year, we will lauch the UW-Parkside 2025 Strategic Framework with a bold vision to create more talent for our region, our state, our nation and our world. Our future goals will continue to align with the hallmarks of the University of Wisconsin-Parkside: Student Success, Academic Excellence, Diversity and Inclusion, and Community Engagement.
Our strategic framework will establish a clear path for the future success of the university and its graduates. We are committed to providing the opportunity for a university degree to a diverse group of individuals.

It is our responsibility to partner with our local and global communities to enhance the quality of life for everyone. And we're doing that with more than 25,000 alumni - the majority of whom live and work in southeastern Wisconsin and northeastern Illinois. These people are making a difference in our communities and they value their experience at the University of Wisconsin-Parkside.
Education changes lives.
Education opens doors to incredible opportunities.
Education is all about lifelong learning and lifelong leading.
I encourage you to visit us at the University of Wisconsin-Parkside and see for yourself how we're changing lives.
Chancellor Deborah Ford
262-595-2211  |  chancellor@uwp.edu