UW-Parkside Hosts Forensic Anthropology Workshop
Published: June 9, 2022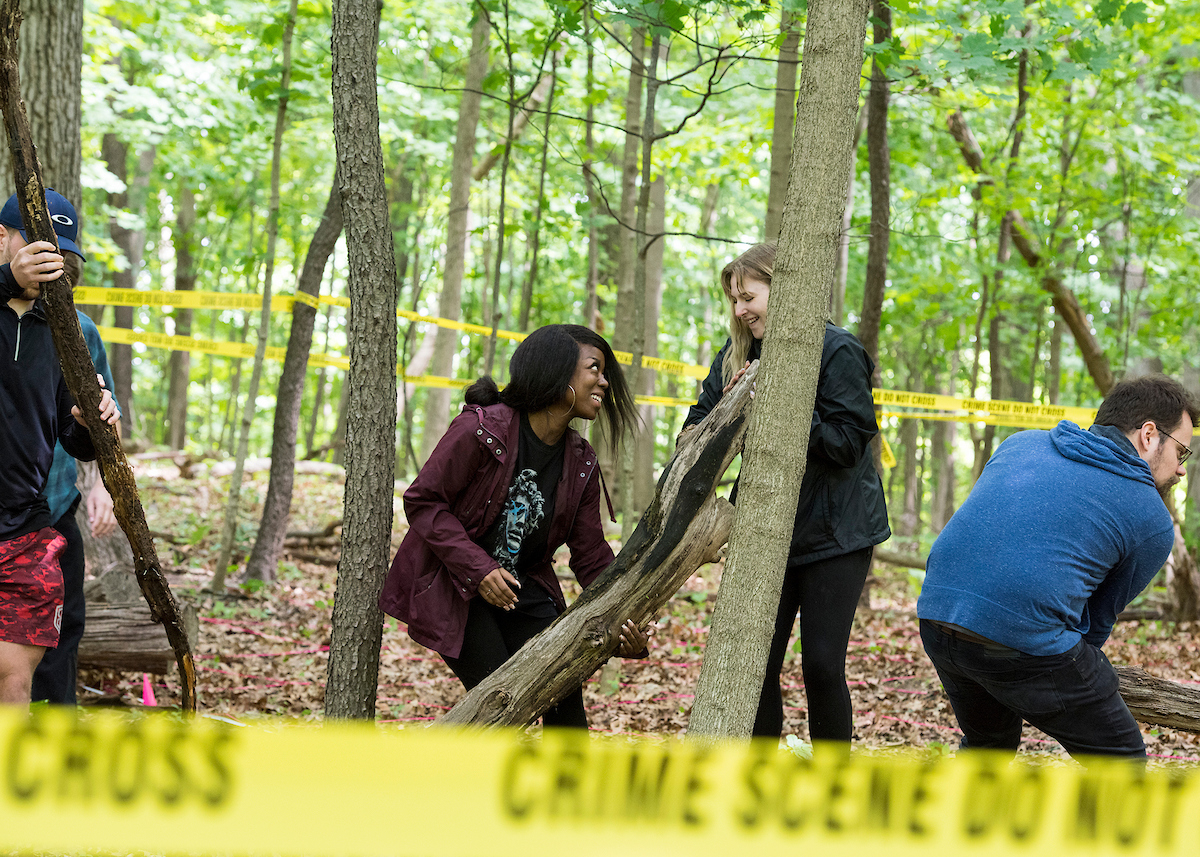 University of Wisconsin-Parkside students and local law enforcement personnel gained first-hand experience on what it's like to be a crime scene investigator as part of a Forensic Anthropology Workshop, featuring local law enforcement professionals, scientists and K-9 units that was held last week.
During the six-day workshop, which ran June 6-11, students were guided through a full mock grave excavation, where they learned about search, recovery, and analysis of crime scenes. The workshop emphasized proper techniques associated with the location, identification, and collection of human remains and attendant physical evidence in forensic context.
UW-Parkside History Major, Anthropology Minor, and Graphic Design Minor John Aasen said, "The skills I learned in this course helped me understand the process in surveying and mapping out dig sites, as well as a greater appreciation for the meticulous process in documenting anything and everything at a site. I hope to utilize these skills in the future for any potential archaeology or museum-related work I pursue after school."
This was the second year that UW-Parkside has hosted the workshop, which caters to all levels of experience, including medico-legal death investigators, and law enforcement seeking continuing education credits.
The full mock grave excavation covered various topics, including remote sensing techniques, such as aerial photography and drone / FLIR footage, and also included hands on experience with scent dogs, GPR, GPS, and Faro 3D mapping. Forensic archaeological methods, scene photography, and proper evidence collection also were covered. Students also learned about laboratory analysis and laboratory analysis of skeletal material in the form of the complete human skeleton, which included the inventory, measurement, and estimation of age, sex, ancestry, stature, pathologies, and identifying features.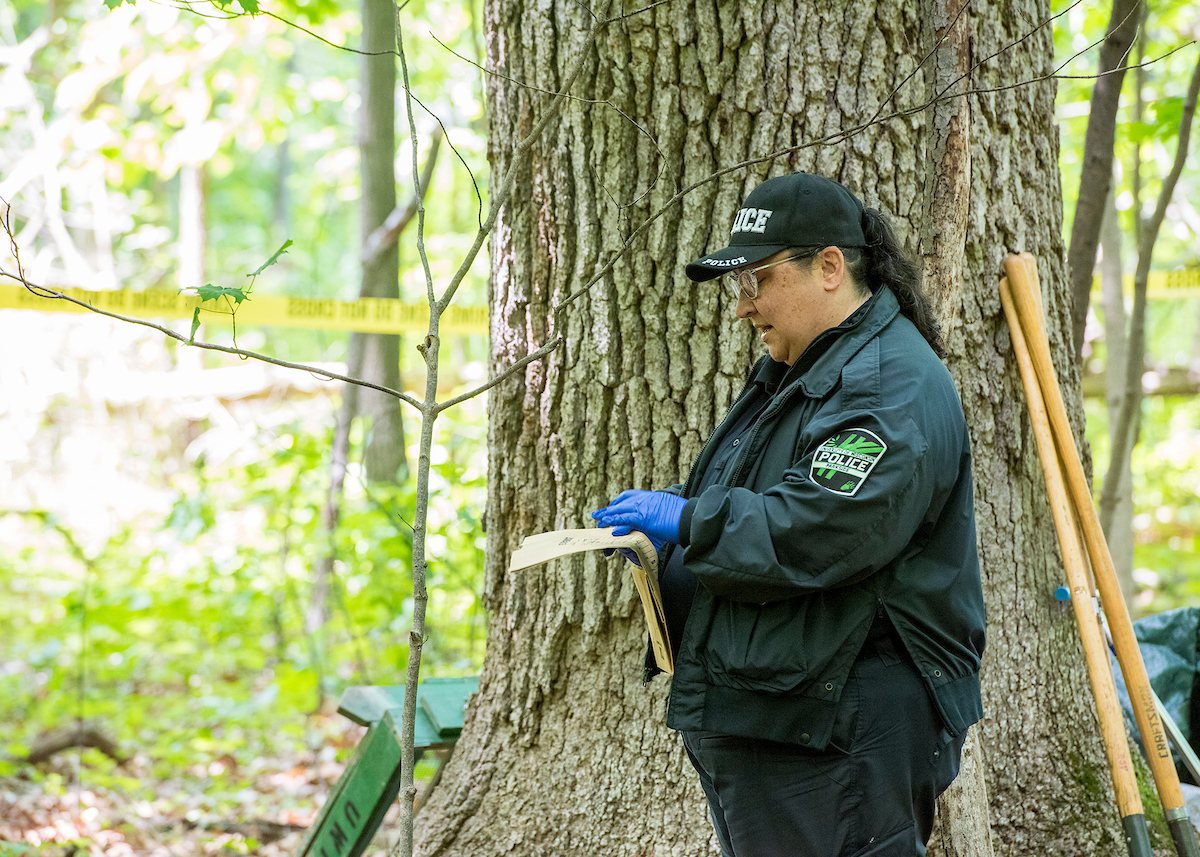 A variety of professionals from area law enforcement agencies, including Detective Brandon Ergish of the Kenosha County Sheriff's Detective Bureau, served as instructors. Officer Kelly Andrichik of the Parkside Police Department spoke to the students about a variety of issues, including evidence collection, scene photography and the mock case they would be working on. Deputy Sheriff Ryan McNally of the Racine County Sheriff Department delivered a drone presentation and Detective David Platta of the Waukesha Police Department presented a FARO 3D mapping class session.
Officer Andrichik emphasized the value of hands-on experience in helping students learn to access a real situation, which is paramount in the forensics field. "It makes such a deeper learning experience to have that be hands-on and in real time versus reading it in a text book."
Instructional sessions also included a wide range of non-law enforcement experts from the area. Jim Lacy from the State Cartography Office taught students about establishing the region of interest using aerial photography. UW-Parkside adjunct professor Dr. Janamarie Truesdell led sessions in skeletal analysis, the human skeleton, forensic anthropology basics, and cranial landmarks. She developed and coordinates the class and also serves as a deputy medical examiner.
Dr. Truesdell explains, "I'd like students to leave class with the knowledge that the investigation of death in its various forms is a constellation of experts, not a single star. Being aware of all the different aspects that come together to bring about a successful outcome, and to appreciate the value of those distinct but equal parts, of which the anthropologist is just one."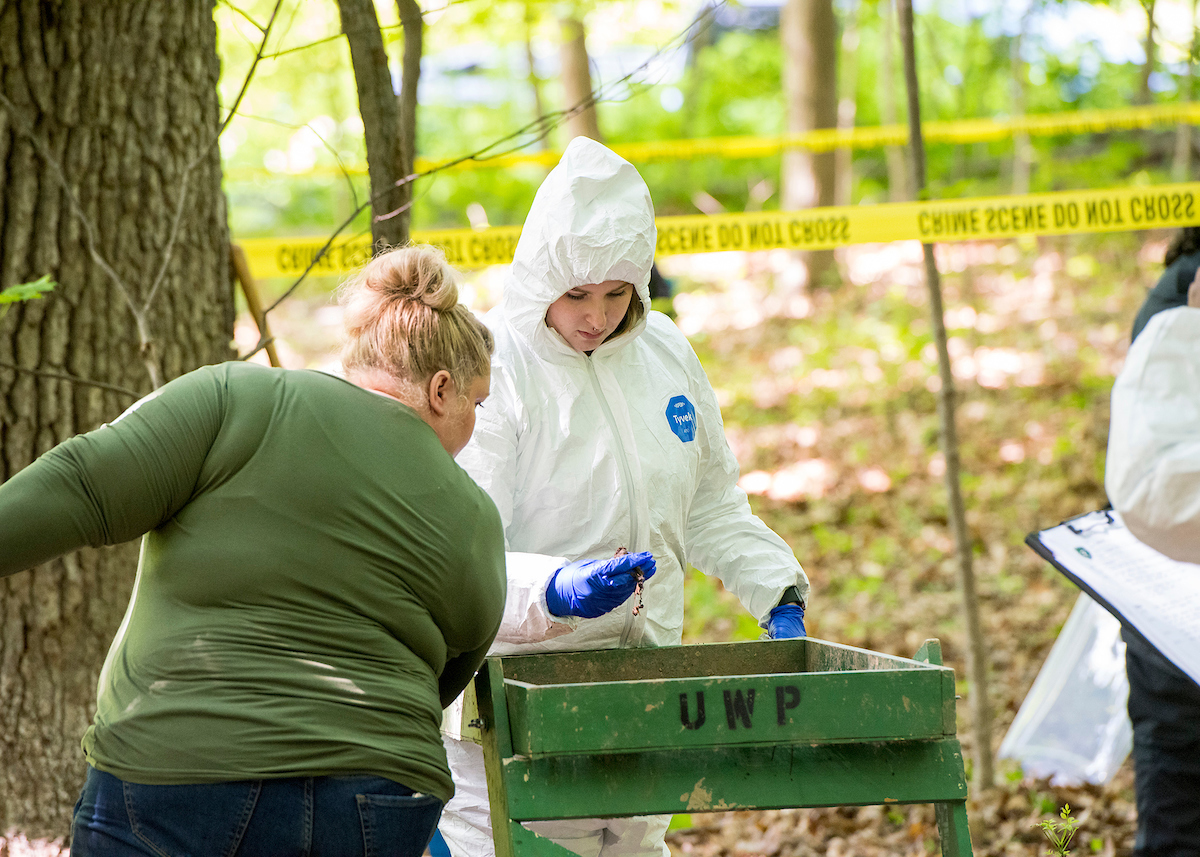 UW-Parkside Faculty, including Dr. John Ward, associate professor of geography, Dr. David Rogers, associate professor of biological sciences, and Dr. Bob Sasso, associate professor of anthropology, all contributed to the course by giving presentations in their fields of expertise
Dr. Alex Weidenhoeft, UW Madison adjunct associate professor of botany, led a session in forensic botany, and Dr. Jean Hudson, associate professor of anthropology at UW-Milwaukee, taught a zooarchaeology tutorial. UW-Parkside Photographer Alyssa Nepper provided a photography tutorial.
Andrichik hopes students gained some valuable insight from the workshop: primarily-that the actual job is not like what they see on TV. "An experience like this is not common, but it is so needed for a great result."