WiSys-led partnership wins $1 million NSF grant to make Wisconsin a global leader in sustainable ag
Published: May 12, 2023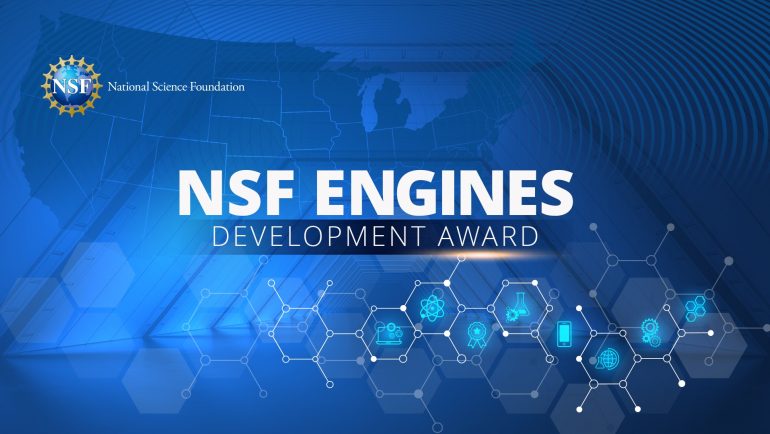 MADISON, Wis.— A Wisconsin partnership led by WiSys, a supporting foundation of the University of Wisconsin System that sparks research, innovation and entrepreneurship across the state, has been awarded $999,911 from the U.S. National Science Foundation's (NSF) Regional Innovation Engines ("NSF Engines") program.
The NSF Engines Development Award, "NSF Engines Development Award: Advancing Sustainable Agriculture in Wisconsin," will support a partnership of 30 organizations from across the state as they lay the groundwork to develop an ambitious, effective and credible regional innovation engine' that harnesses the region's talent and intellectual capital to make Wisconsin a global leader in sustainable agriculture.
Demonstrating that capability will allow this group to compete for additional NSF resources and long-term support, including a possible NSF Engines Type 2 award of up to $160 million over 10 years.
"This NSF Engine could be a key economic driver for Wisconsin," said WiSys President Arjun Sanga. "Just as a public-private partnership turned Wisconsin into the 'Dairy State' in the last century, this potential engine's public-private partnership could have a profound impact on the future of the state and the world." 
The WiSys-led Wisconsin partnership is among 44 unique teams, and one of two in Wisconsin, to receive one of the first-ever NSF Engines Development Awards, which aim to help partners collaborate to create economic, societal, and technological opportunities for their regions. The awardees span a broad range of states and regions, reaching geographic areas that have not fully benefited from the technology boom of the past decades.
"These NSF Engines Development Awards lay the foundation for emerging hubs of innovation and potential future NSF Engines," said NSF Director Sethuraman Panchanathan. "These awardees are part of the fabric of NSF's vision to create opportunities everywhere and enable innovation anywhere. They will build robust regional partnerships rooted in scientific and technological innovation in every part of our nation. Through these planning awards, NSF is seeding the future for in-place innovation in communities and to grow their regional economies through research and partnerships. This will unleash ideas, talent, pathways and resources to create vibrant innovation ecosystems all across our nation."
The WiSys-led partnership includes all 13 University of Wisconsin institutions, as well as a host of industry, nonprofit and government entities. Project partners include:
University of Wisconsin-Eau Claire
University of Wisconsin-Eau Claire Foundation (The Rural Resiliency Project)
University of Wisconsin-Green Bay
University of Wisconsin-La Crosse
University of Wisconsin-Madison
University of Wisconsin-Milwaukee
University of Wisconsin-Milwaukee Research Foundation
University of Wisconsin Oshkosh
University of Wisconsin-Parkside
University of Wisconsin-Platteville
University of Wisconsin-River Falls
University of Wisconsin-Stevens Point
University of Wisconsin-Stout
University of Wisconsin-Superior
University of Wisconsin-Whitewater
University of Wisconsin System Administration
Wisconsin Alumni Research Foundation
Wisconsin Technology Council
WiSys
Other supporters of this project include:
Annie's Project
Brigantia Ventures     
Farming for the Future Foundation (Food and Farm Exploration Center)
J.F. Brennan Company
Pablo Group
Small Business Development Center at University of Wisconsin-Superior
The Development Association
U.S. Geological Survey
Wisconsin Department of Natural Resources Waste and Materials Management Program
Wisconsin Office of Sustainability and Clean Energy
Wisconsin Economic Development Corporation
"With this NSF award, we have an opportunity to make Wisconsin a world-leader in sustainable agriculture," said Sanga. "We must, however, continue to expand the engagement of all key stakeholders throughout the state and invest our time and resources in building a strong and inclusive partnership with a diversity of voices across the region. We're thrilled to work with such a great, innovative group of partners. We're excited to tie together the entire region in a meaningful way." 
Organizations interested in learning more about or contributing to these efforts are encouraged to reach out to the group at venturehome.org/sustainableag.
ANTICIPATED OUTCOMES
The partnership plans to:
Translate use-inspired research through inter-institutional and industry collaborations.
Bolster entrepreneurial support and deliver initiatives through WiSys VentureHome®—a network of local innovation hubs.
Grow a skilled workforce through industry-focused coalitions and curriculum providers.
Support the launch of sustainability tech startups and products.
Attract investment capital from multiple sectors to fund audacious ideas in the field of sustainable agriculture.
Inform policy recommendations that support sustainable practices.
Facilitate a technical and entrepreneurial skillset among underserved populations, across the demographics of gender, geography, race, and economic status.
Identify and prepare for future needs of the agricultural value chain, including workforce needs.
DEFINING THE CHALLENGE
The plan to tackle sustainable agriculture was based on the collaborative work of the Wisconsin Bicentennial Innovation Challenges project, spearheaded by the three technology transfer offices of the University of Wisconsin System: Wisconsin Alumni Research Foundation, UW-Milwaukee Research Foundation and WiSys. 
Through this formal collaboration, launched in 2019, project leaders set out to discover Wisconsin's most significant challenges between now and the state's 2048 bicentennial year. The group conducted interviews, brainstorming sessions and focus groups with more than 50 public and private stakeholders.
Through these efforts, sustainable agriculture and stewardship of natural resources emerged as a major challenge facing Wisconsin. This is also a topic of global significance and lies at the core of the United Nations' 2030 Agenda for Sustainable Development.
ABOUT THE NSF ENGINES PROGRAM
Launched by NSF's new Directorate for Technology, Innovation and Partnerships and authorized by the "CHIPS and Science Act of 2022," the NSF Engines program uniquely harnesses the nation's science and technology research and development enterprise and regional-level resources. NSF Engines aspire to catalyze robust partnerships to positively impact regional economies, accelerate technology development, address societal challenges, advance national competitiveness, and create local, high-wage jobs.
View a map of the NSF Engines Development Awards. More information can be found on the NSF Engines program website.
---
ABOUT NSF
NSF is an independent federal agency created by Congress in 1950 "to promote the progress of science; to advance the national health, prosperity, and welfare; to secure the national defense..." NSF is vital because we support basic research and people to create knowledge that transforms the future.
ABOUT WISYS
WiSys is a nonprofit organization that works with faculty, staff, students, and alumni of the UW System to facilitate cutting-edge research programs, develop, and commercialize discoveries, and foster a spirit of innovative and entrepreneurial thinking across the state.
---
WISYS MEDIA REQUESTS:
media@wisys.org 
Craig Sauer
WiSys Marketing & Communications Associate
608-270-8431
csauer@wisys.org
NSF MEDIA REQUESTS:
media@nsf.gov