UW-Parkside Staff Member Named to AASCU'S 2023 Emerging Leaders Program
Published: June 15, 2023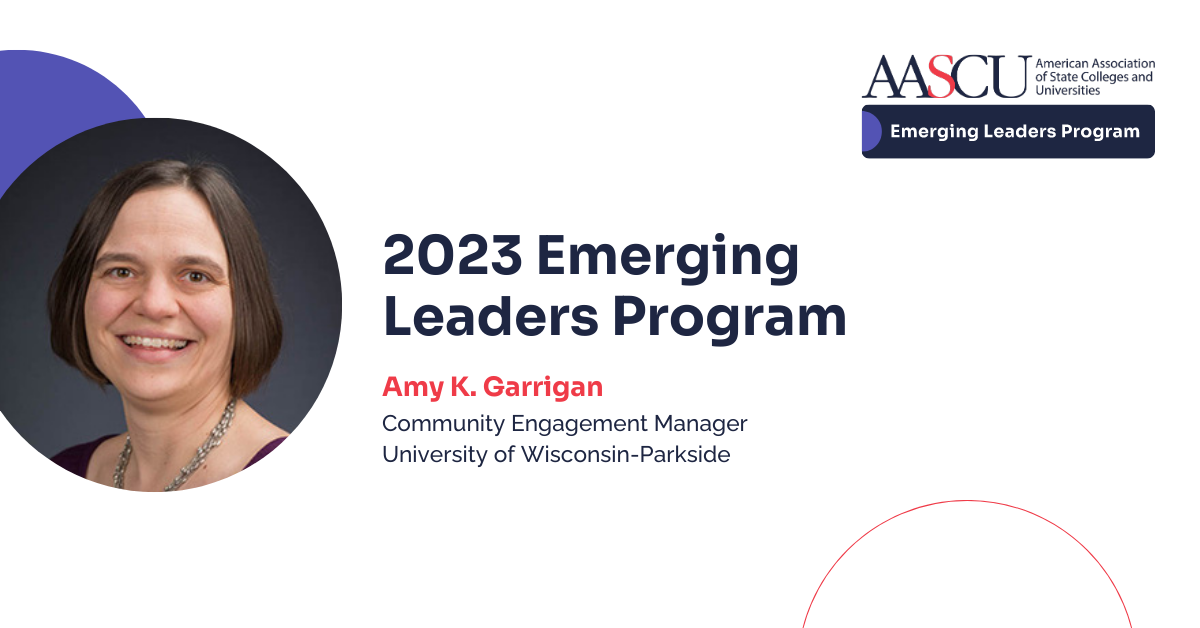 WASHINGTON, June 15, 2023– The American Association of State Colleges and Universities (AASCU) named 35 higher education professionals to participate in the 2023 Emerging Leaders Program (ELP). UW-Parkside's Community Engagement Manager, Amy Garrigan, was named a member of the cohort. Created in 2015, ELP helps prepare aspiring mid-career higher education professionals with the tools, resources, and support they need to advance their career to the next level.
 
ELP provides participants with a robust curriculum that delivers a comprehensive understanding of what it takes to succeed in the academy. During this six-month program, participants will gain insight into critical higher education topics including academic affairs, alumni relations, change leadership, project management, and national trends impacting colleges and universities.  
"The Emerging Leaders Program plays a critical role in supporting a diverse group of campus leaders preparing each to lead from where they are and prepare for future roles in higher education administration, "said Charles L. Welch, Arkansas State University System president and ELP executive sponsor. "ELP is supported by an amazing faculty of AASCU leaders including nine current or former presidents deeply committed to lifting the next generation of higher education leaders. I am excited to work with the incoming cohort and support their journeys."
 
With a curriculum designed to develop the skills and competencies necessary for the next generation of higher education leaders, the 2023 ELP cohort will demonstrate their leadership skills to their campus community by leading an on-campus project or initiative with the support of their president/chancellor or cabinet-level administrator.
View the full 2023 ELP cohort here.
---
The American Association of State Colleges and Universities (AASCU) is a Washington, D.C.-based higher education association of 350 public colleges, universities, and systems whose members share a learning- and teaching-centered culture, a historic commitment to underserved student populations, and a dedication to research and creativity that advances their regions' economic progress and cultural development. These are institutions Delivering America's Promise. Visit us at www.aascu.org.  
The University of Wisconsin-Parkside is committed to high-quality educational programs, creative and scholarly activities, and services responsive to its diverse student population, and its local, national, and global communities. We are a dynamic learning community grounded in academic excellence and focused on student success, diversity, inclusion, and community engagement. The campus serves as a premier comprehensive public institution and a destination of choice, serving as a focal point of local, regional, and global progress.
---
Media contacts:
Kellee Edmonds
Vice President, Division of Communications and Public Relations
AASCU
edmondsk@aascu.org
202.478.4662
Derek Fye
Communications Manager
University of Wisconsin-Parkside
Fye@uwp.edu | (262) 771-5419