UW-Parkside to Host Bent Compass Event to Support Veterans
Published: June 26, 2023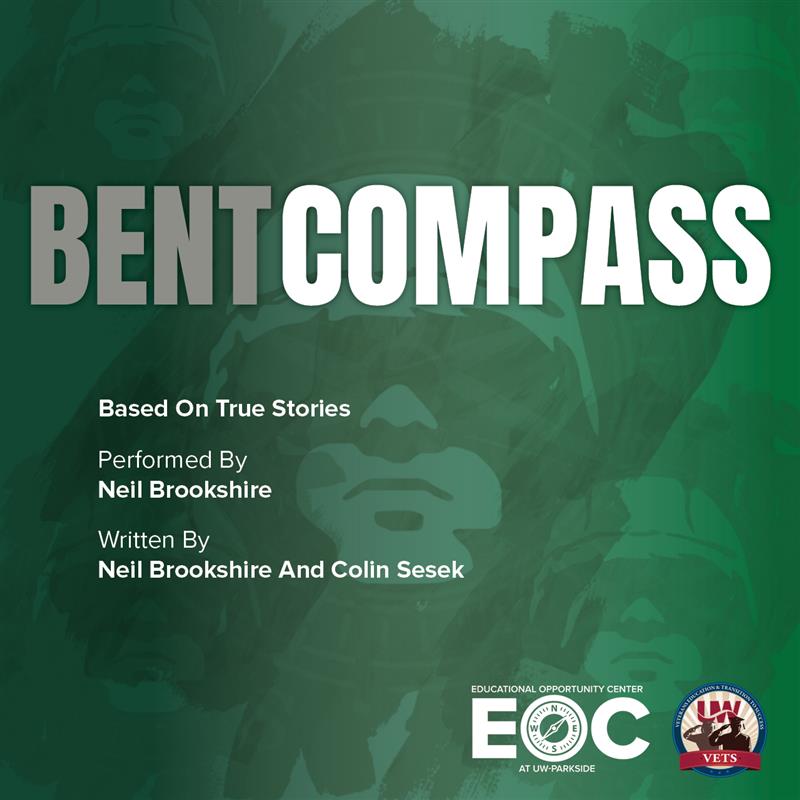 Kenosha, Wis.- The University of Wisconsin-Parkside Educational Opportunity Center, in partnership with the UW-Parkside Military and Veteran Success Center, is proud to invite the community to Bent Compass, an event highlighting the impact of veteran experiences, on July 13. Veterans, active-duty service members, and anyone who knows, works with, or teaches veterans are especially encouraged to attend.
The event will begin at 5:30 p.m. in UW-Parkside's Wyllie Hall Main Place with a military and veteran resource fair, during which community organizations will share information about housing, education benefits, mental health, and other services for veterans. Hors d'oeuvres will be served from 5:30-6:30 p.m. during the resource fair.
Participating organizations include, among others:
The Racine County Veteran Services Office
The Department of Workforce Development Office of Veteran Employment Services/Disabled Veteran Outreach Program
The Captain James A. Lovell Federal Health Care Center Community Outreach & Suicide Prevention Team
Educators Credit Union
Veterans Outreach of Wisconsin
The Mobile Vet Center
The Lake County Veterans and Family Services Foundation
UW-Parkside Educational Opportunity Center
UW-Parkside Military & Veteran Success Center
UW-Parkside Office of Scholarships and Financial Aid
The event will feature "Bent Compass," a solo theatrical performance by author and performer Neil Brookshire based on the experiences of combat medic Colin Sesek, at 7 p.m. Brookshire's powerful performance provides an opportunity to examine how past military experiences impact the present for our community's veterans through Sesek's stories, told with empathy, humor, and honesty. Bent Compass contains strong language and descriptions of war. Following the performance, Brookshire will moderate a discussion and workshop about the value of empathetic conversations.
Neil Brookshire is an actor, writer, and visual artist. He earned a BA from Boise State University and an MFA in Acting from Northern Illinois University. He lives in northern Wisconsin.
Colin Sesek, co-author of "Bent Compass," is an educator and Special Forces Army Medic. He has deployed to multiple locations in the Middle East, Asia, and Africa. He currently teaches emergency medicine to high school students, volunteers for Idaho Mountain Search and Rescue, and continues to serve in the National Guard. He lives in Boise.
UW-Parkside Hosts Mobile Vet Center
UW-Parkside is honored to welcome the Mobile Vet Center to campus with the Bent Compass event and Veteran Resource Fair scheduled for that evening.  
The Mobile Vet Center offers readjustment counseling to eligible Veterans and their families in an effort to make a successful transition from military to civilian life. Readjustment counseling can include individual, group, and family counseling, bereavement counseling, and military sexual trauma counseling. The Vet Center also offers outreach, substance abuse assessment and referral, VBA benefits, and medical screenings and referrals.  These free and confidential services are open to all military and their dependents.  
The Mobile Vet Center will be parked near the main entrance of the Rita Tallent Picken Regional Center for Arts and Humanities. 
This event is free and open to the public. Free parking for the event will be available in UW-Parkside's Parking Lot B, outside of the Rita Tallent Picken Regional Center for Arts and Humanities. The campus is located at 900 Wood Road, Kenosha WI 53144. Upon arrival, follow the directional signs to University Drive, The Rita and parking.  
Pre-registration is encouraged: https://uwparkside.qualtrics.com/jfe/form/SV_eDnohRatCwuVZWK?fbclid=IwAR1AeX2TdyiJ_ZrmRCwPuWfMJTjYSZEunkmPiFrEgVSFVkEy7znPVTsCUJQ.
---
The University of Wisconsin-Parkside is committed to high-quality educational programs, creative and scholarly activities, and services responsive to its diverse student population, and its local, national, and global communities. We are a dynamic learning community grounded in academic excellence and focused on student success, diversity, inclusion, and community engagement. The campus serves as a premier comprehensive public institution and a destination of choice, serving as a focal point of local, regional, and global progress.
---
Media contact:
Derek Fye
Communications Manager
University of Wisconsin-Parkside
Fye@uwp.edu | (262) 771-5419