HARIBO of America Receives UW System Board of Regents Business Partnership Award for support of UW-Parkside
Published: August 22, 2023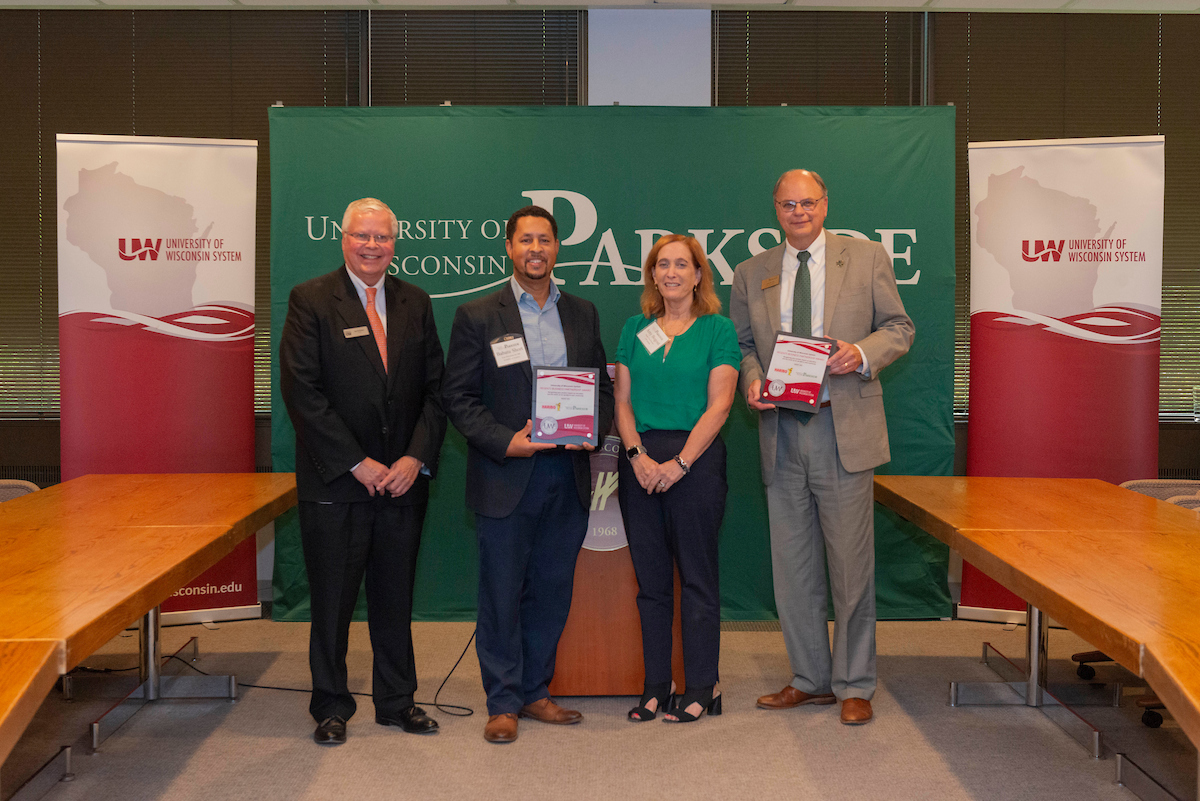 Kenosha, Wis.- The University of Wisconsin System Board of Regents has recognized HARIBO of America, Inc. with a Business Partnership Award in appreciation of their partnership with and support of the University of Wisconsin-Parkside. UW System launched the Regents Business Partnership Award to recognize companies that positively affect Wisconsin through their generosity and collaboration with universities throughout the UW System.
President of the UW System Jay Rothman discussed the importance of providing access to education and the social mobility created by that access. "We are privileged across our university system to partner with businesses leaders like HARIBO. They make such a difference. They are absolutely critical to the way our universities are functioning."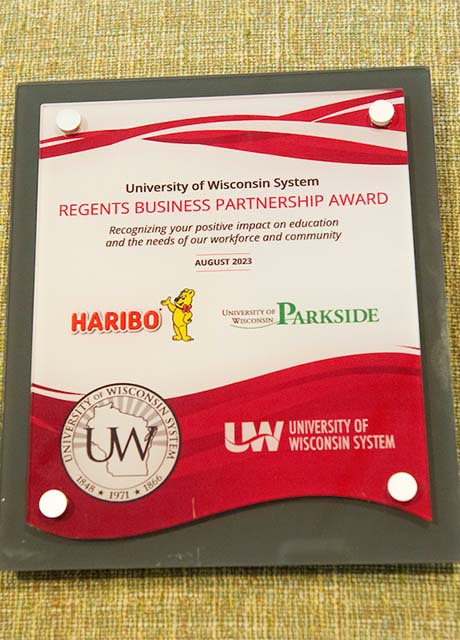 Interim Chancellor Scott Menke addressed HARIBO's commitment to UW-Parkside and the learning community. "HARIBO's support of athletics, providing challenging internships, and funding scholarships is a model of corporate sponsorship and giving and the essence of social responsibility," Menke said.
HARIBO is the world's leading manufacturer of gummi products. Globally, they employ nearly 7,000 Associates and operate 16 production sites in 10 countries. Babatu Short, Vice President of Human Resources at HARIBO of America, accepted the award on behalf of HARIBO and highlighted the mutually beneficial partnership. "At HARIBO we believe that everyone deserves access to quality, affordable education, and that's why we partner with UW-Parkside," he said. "When we chose Pleasant Prairie as the location of our first U.S. factory, we wanted to be part of the community and give back to the people who bring it to life. We're honored to help students continue their education and seize opportunities to dream big."
In 2019, HARIBO of America and the UW-Parkside announced a 10-year, wide-ranging partnership that provides more access to higher education for students, creates internships and career opportunities, and jumpstarted an impactful facility enhancement. HARIBO Court in De Simone Arena is named in honor of the company and their commitment to UW-Parkside and our community.
HARIBO has also been a generous supporter of UW-Parkside's Future Focus Fund, the university's main scholarship fund for students with high financial need. They have served as the presenting sponsor for UW-Parkside's annual day of giving, Parkside Day, for multiple years. Their leadership and support motivates other donors to give through special challenges and matches and helps to drive our Parkside Day success. Overall, HARIBO has provided more than $375,000 in support since 2019.
Linda Bevec, Employer Relations Coordinator at UW-Parkside, has worked extensively with Haribo to help provide career experience and opportunities to UW-Parkside students. "Haribo has been a wonderful employer partner for the campus and specifically the Advising & Career Center connecting with our students and sharing information about their company and the internships and career opportunities they have available," Bevec said.
UW System Regent Vice President Amy Bogost discussed the importance of business partnerships and what they do for the university system. "A university business partnership is a collaboration that can mutually build skills and innovation. By working together, higher education institutions and businesses can create new solutions to solve problems. These partnerships are vital to Wisconsin's economic strength and vibrancy."
---
The University of Wisconsin-Parkside is committed to high-quality educational programs, creative and scholarly activities, and services responsive to its diverse student population, and its local, national, and global communities. We are a dynamic learning community grounded in academic excellence and focused on student success, diversity, inclusion, and community engagement. The campus serves as a premier comprehensive public institution and a destination of choice, serving as a focal point of local, regional, and global progress.
---
Media contact:
Derek Fye
Communications Manager
University of Wisconsin-Parkside
Fye@uwp.edu | (262) 771-5419